This post today is part of the Secret Recipe Club. Each month bloggers are assigned a blog and make something from it. For February, my secret blog is Ilona's Kitchen! I knew I wanted to make a dessert and stopped instantly when I saw these Oatmeal Cranberry Sour Cream Bars. They look delicious and sound so unique with the sour cream. Ilona wrote on her blog that the next time she made these, it would be a double batch and I agree!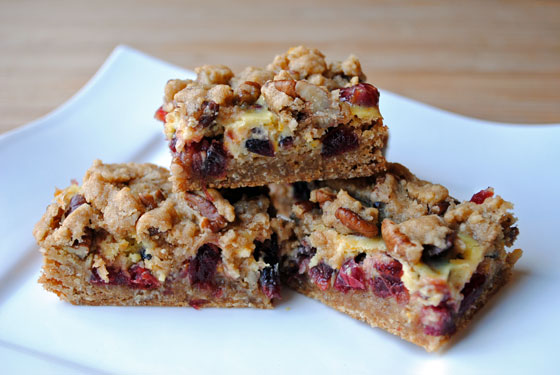 So, how's it taste?
I figured I would like these because I love oatmeal cookies, especially ones with dried cranberries, and anything that has pecans has my immediate attention. I must admit I was leery of the sour cream. I thought it would add too much of a sour flavor combined with the tart of the cranberries. Wrong! There's sugar, vanilla, and orange zest in the sour cream and it turns into this ooey, gooey, citrusy center. I substituted orange peel for the lemon peel that was in the original recipe, and that was a great decision! Orange and cranberry play so well together and I think the lemon would have been way too tart. The sour cream middle is such a great texture change to the chunky oatmeal and crunchy, nutty topping. I had a hard time stopping after eating one bar. I think I could have devoured the entire pan in one sitting! Definitely a double batch every time I make these. Thanks Ilona for introducing me to these awesome dessert bars!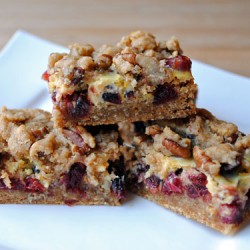 Oatmeal Cranberry Sour Cream Bars
Ingredients:
1 pouch (1 lb. 1.5 oz.) oatmeal cookie mix
1/4 tsp. ground cinnamon
1/2 cup butter, softened
1 egg
3/4 cup sour cream
3 tbsp. sugar
2 tsp. grated orange peel
1/4 tsp. vanilla
1 egg yolk
1 cup dried cranberries
1/2 cup coarsely chopped pecans
Directions:
1. Heat oven to 350°F. Line 9-inch square pan with foil, leaving 1 inch of foil extending up over sides of pan. Spray foil-lined pan with cooking spray.
2. In large bowl, stir cookie mix, cinnamon, butter, and egg until stiff dough forms. Reserve 1/4 of the dough. Press remaining dough in bottom of foil-lined pan. Bake 15 minutes.
3. In small bowl, stir sour cream, sugar, orange peel, vanilla, and egg yolk until well blended. Stir in cranberries. Spread over crust. Stir pecans into reserved oatmeal dough; crumble over cranberry mixture.
4. Bake 18 to 20 minutes or until top is light brown. Cool 30 minutes. Refrigerate 2 hours. Cut into bars. Store covered in refrigerator.