The birthday treats continue! April is a busy month for birthdays around the office, but I'm not complaining about stuffing my face with dessert every other week. I told you about "The List" in my previous post, so it's always fun to see what people choose. The winner this round was Lemon Yogurt Crumb Cake! This one made the list because it's got swirls of lemon curd on top and I swoon over lemon curd. Lemon cake, lemon curd, and a crunchy crumb topping. Success!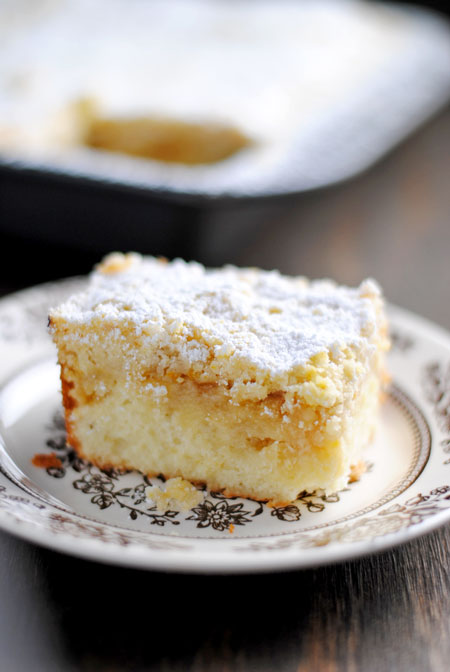 So, how's it taste?
If you dig lemon desserts, you'll love this one. There's lemon zest in the cake and lemon and orange zest in the topping. The bit of orange helps to balance out the sour from the lemons. I like my lemon desserts tart and this one is perfect! The cake isn't too sweet, so it can handle the tart goodness from the lemon curd swirled on top. The cake is really dense, too, which I like in this particular dessert. It's lightened a bit by folding in whipped egg whites, but the result is still a thick, rich batter.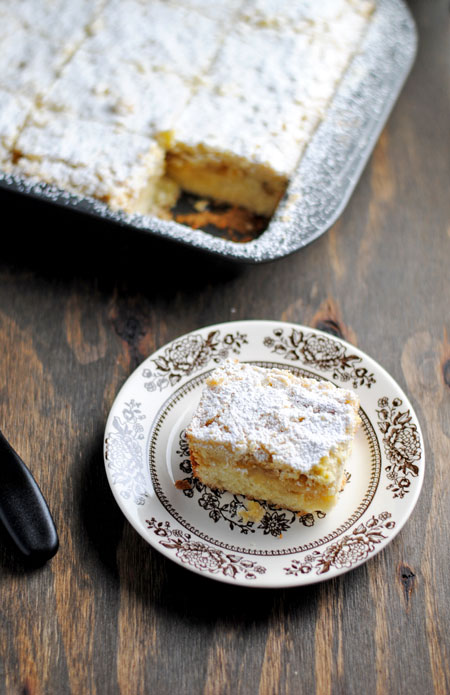 I used store-bought, but homemade lemon curd would work (and would probably be better). I was just short on time to whip that up as well. The textures of the dense cake with smooth curd swirls topped with a super crunchy crumb topping was fantastic. The topping did get a little crust-like and you really had to break through it, but eating a good dessert is supposed to be messy, right?
It's a little tricky figuring out when the cake is done. My toothpick came out clean after 50 minutes, but the center pieces weren't quite cooked all the way through. I think my mistake was not lowering the oven temperature since I used a dark pan. The center pieces were just a little gooey…but that didn't stop me from devouring them!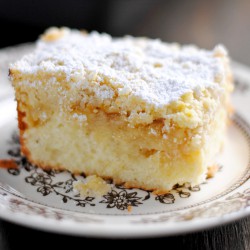 Lemon Yogurt Crumb Cake
Ingredients:
Crumb Topping
1 1/2 cups all-purpose flour
2/3 cup granulated sugar
1 tbsp. lemon zest
1 tbsp. orange zest
1/8 tsp. salt
1/2 cup cold butter, cut into pieces
Cake Batter
1/2 cup butter, softened
1 1/2 cups granulated sugar, divided
3 large eggs, separated
1 1/2 cups all-purpose flour
1/8 tsp. baking soda
1/2 cup plain Greek yogurt
1 tbsp. lemon zest
3/4 cup lemon curd (store-bought or make your own)
1/4 cup powdered sugar
Directions:
1. Prepare crumb topping: Preheat oven to 350F. Combine first 5 ingredients; cut cold butter into flour mixture with a pastry blender or fork until crumbly. Cover and chill until ready to use.
2. Prepare cake batter: Beat softened butter at medium speed with a heavy-duty electric stand mixer until creamy. Add 1 1/4 cups granulated sugar, beating 3 minutes or until fluffy. Add egg yolks, 1 at a time, beating just until yellow disappears.
3. Stir together flour and baking soda; add to butter mixture alternately with yogurt, beginning and ending with flour mixture. Stir in lemon zest.
4. Beat egg whites at high speed until foamy; gradually add remaining 1/4 cup granulated sugar, 1 tablespoon at a time, beating until stiff peaks form. Fold into batter. Pour batter into a greased and floured 9-inch square (2-inch-deep) pan. Dollop with lemon curd; gently swirl with a knife. Sprinkle crumb topping over batter.
5. Bake at 350F for 45 to 50 minutes or until a wooden pick inserted in center comes out clean. Remove from oven; dust with powdered sugar. Serve warm, or cool on a wire rack 1 hour.