Oh Symphony Brownies. You must be named as such because I hear violins playing with each bite. Ok, I'm just being silly, but that would be a great commercial for these right? They're called Symphony Brownies because tucked in the middle of all that brownie goodness is an entire layer of the Symphony candy bar. If you've never had one, I've got to assume you've been on a deserted island. Stop reading and go get one now. I'll save your spot in this post until you get back. 😉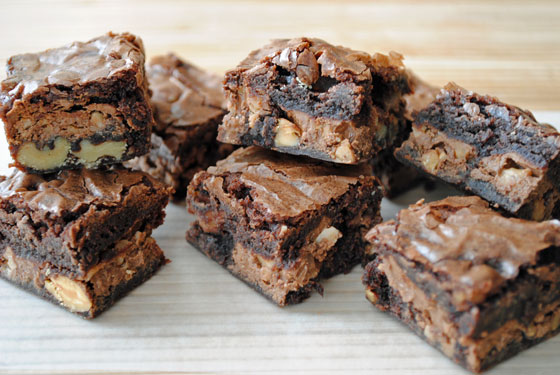 So, how's it taste?
Now that we've remedied that issue, you know what I mean when I say the chocolate in the candy bar is so creamy and rich. It's not like a regular Hershey's bar. Then it's got chunks of almonds and toffee bits. So good by themselves, so you can start to imagine them in a brownie. I used a brownie mix with walnuts, but use whatever type you prefer. Dark chocolate brownies, brownies with chocolate chips, or get crazy and make your own. It might be difficult when testing your brownies for doneness since it's covered in candy bars, your toothpick won't come out clean. Try to poke between the candy bar squares or check that the sides aren't getting too dry and overcooked. The brownies will continue to cook for a bit while they're cooling.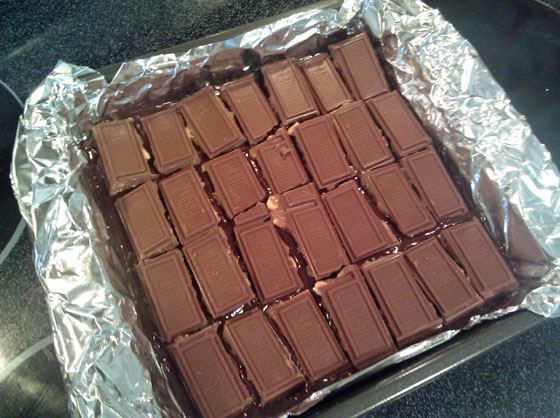 These brownies are super rich, so I cut them into tiny squares. It also makes me feel better when I inhale 3 or 4 of them because they're so small it barely counts, right? Right?! That creaminess from the candy bar shines through and then you get the fudgy brownie and chunks of almonds, walnuts, and toffee. I love how toffee crunches and gets stuck in your teeth. That is a sign of a truly good dessert!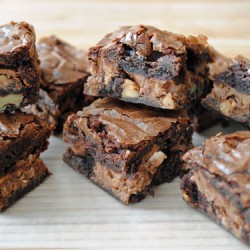 Symphony Brownies
Ingredients:
1 box brownie mix with walnuts (whatever brand you prefer, size will vary)
(don't forget eggs & oil for brownie mix)
2 (6.8 oz.) Hershey's Symphony giant candy bars with almonds & toffee, broken into squares
Directions:
1. Prepare the brownie mix according to package directions.
2. Line a 9x9-inch brownie pan with aluminum foil and spray foil with cooking spray. Spoon in half of the brownie batter and smooth with a spatula.
3. Place the squares of the candy bars side by side on top of the batter. You'll have four squares left over...enjoy a snack! Cover with the remaining brownie batter.
4. Bake according to package directions. Let cool completely, then lift from pan using the edges of the foil. This makes it easy to cut into squares.