Last week was my mom's birthday and she loves Whoppers. So her birthday sweet treat was a no-brainer with Whoppers Cupcakes. I was so excited to bake these and surprise her with them. Although I'm not a huge fan of malted milk flavor, these cupcakes were awesome! Make that amazing! Make that incredible! You get the picture?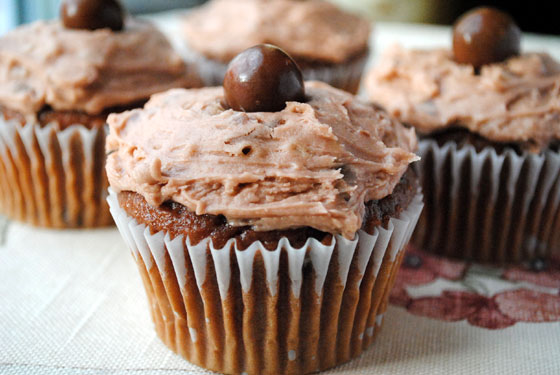 So, how's it taste?
I. Loved. Them. Holy cow they were good. They tasted exactly like Whoppers. The cake was a perfect match for the sweet buttercream. The cake wasn't too sweet and had a nice chocolate flavor with tiny bursts of rich chocolate from the mini chips. (I wouldn't recommend using regular size morsels as they would overpower the cake.) The buttercream was OMG tasty. Sweet and filled with that malted milk flavor. I think using the chocolate malted milk powder really brought it all together. The crunch from the crushed Whoppers was a nice change in texture inside the buttercream. I took the leftovers to work and one coworker told me it was the best cupcake she'd ever eaten. Hello! How's that for a compliment?! Although the folded in Whoppers lost their crunch overnight, the taste was still spot on. If you're going to make these the night before, wait until just before serving to garnish with the whole Whopper so it doesn't get soggy.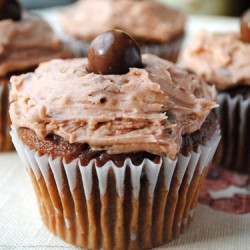 Whoppers Cupcakes
Ingredients:
Cupcakes
1 package (18.25 oz.) yellow cake mix
1 box (3.8 oz.) instant chocolate pudding mix
1 cup sour cream
1/3 cup vegetable oil
1/4 cup water
4 large eggs
1 tsp. vanilla extract
1 cup mini morsels chocolate chips
Buttercream
8 tbsp. (1 stick) butter, room temperature
3 1/2 cups confectioners' sugar, sifted
5 tbsp. malted milk powder (I used chocolate malted milk powder)
1/4 cup milk
1 tsp. vanilla extract
40 malted milk balls (Whoppers), coarsely crushed
24 malted milk balls (Whoppers), for garnish
Directions:
1. Preheat oven to 350. Line two cupcake pans with paper liners.
2. Place cake mix, pudding mix, sour cream, oil, water, eggs, and vanilla in a large mixing bowl. Blend with mixer on low speed for 30 seconds until the ingredients are well blended, then stop the machine and scrape down the sides of the bowl with a rubber spatula. Increase the speed to medium and beat for 2 minutes more, scraping down the sides again if needed. The batter should look smooth and thickened. Fold in the chocolate chips, making sure they are well distributed throughout the batter. Spoon 1/3 cup batter into each lined cupcake, filling it three quarters of the way full.
3. Bake the cupcakes until they spring back when lightly pressed with your finger, 18-20 minutes. Remove the pans from the oven and place them on wire rack to cool for 5 minutes. Remove cupcakes from pan and place them on a wire rack to cool for 15 minutes before frosting.
4. Meanwhile, prepare the buttercream. Place the butter in a large mixing bowl. Blend with an electric mixer on low speed until fluffy, 30 seconds. Stop the machine and add the confectioners' sugar, malted milk powder, milk, and vanilla. Blend with the mixer on low speed until the sugar is incorporated, 1 minute. Increase the speed to medium and beat until light and fluffy, 1 minute more. Fold in crushed Whoppers. Frost each cupcake and garnish with whole Whopper.