Merry Christmas! Today's the big day! I hope you're enjoying a wonderful holiday with family and friends. These Holiday Layer Bars are perfect for today. A gingersnap crust sprinkled with white chocolate, cranberries, candied orange peel, pistachios, and coconut. This is probably the easiest bar on the planet to make. You don't even have to stir the butter and gingersnaps to make the crust!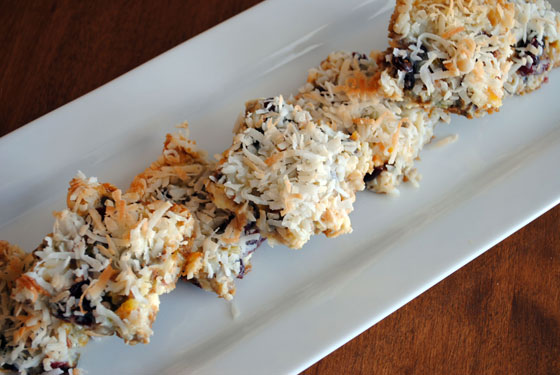 So, how's it taste?
These are the ooey, gooey-ist bars ever. Extremely decadent and rich, which is perfectly appropriate for a celebration. It is truly a layer bar. First start with melted butter, then top with your crushed gingersnaps. No stirring! Top the crust with white chocolate, cranberries, candied orange peel, and pistachios. Pour over the sweetened condensed milk and finish with a hefty sprinkling of coconut. This is definitely a treat for anyone with a serious sweet tooth. I do wish you could see more of the different colors of all the ingredients on the top. They get covered up by the condensed milk. The red from the cranberries, orange from the peel, and green from the pistachios would look so festive for Christmas! I will definitely make these again, but I think I'll up the amount of orange peel and lessen the amount of white chocolate. The white chocolate is a bit much with all that condensed milk and I'd like for the fruit and nuts to shine through more. Plus I'm extremely addicted to candied orange peel! It is so good to snack on by itself. Check out my post where I show you step-by-step how to candy orange peel at home!
Yield: 42 bars
Prep Time: 25 min
Cook Time: 25 min
Holiday Layer Bars
Layered with gingersnaps, white chocolate, cranberries, orange peel, pistachios, and coconut - these bars make beautiful treats.
Ingredients:
1/2 cup butter, melted
1 1/2 cups finely crushed gingersnaps (about 25 cookies)
6 oz. white chocolate, chopped (or white chocolate morsels)
2/3 cup dried cranberries
1/3 cup diced candied orange peel
1 cup pistachios, chopped
1 (14 oz.) can sweetened condensed milk
1 1/3 cups flaked or shredded coconut
Directions:
1. Preheat oven to 350F. Pour melted butter into a 9x13-inch baking pan or dish. Tilt pan or dish to coat the bottom with butter. Sprinkle crushed gingersnaps evenly over butter.
2. Layer white chocolate, cranberries, candied orange peel, and pistachios on top of crushed gingersnaps. Pour sweetened condensed milk evenly over fruit and nut layers. Sprinkle with coconut.
3. Bake about 25 minutes or until coconut is lightly golden brown. Cool in pan or dish on a wire rack. Cut into bars.
4. Store bars in a single layer in an airtight container. Store in the refrigerator for up to 3 days or freeze for up to 3 months. Thaw, if frozen, before serving.
per serving (1 bar): 134 calories, 7g fat, 16g carbs, 1g fiber, 2g protein
This post contains affiliate links.