Ah, another office birthday! Usually I know exactly what I'm going to bake, but I couldn't decide between about five different desserts. I asked the birthday boy what flavor he'd like and without hesitation he said snickerdoodle! Hrm. I thought there had to be a recipe out there for Snickerdoodle Cupcakes. I found several, but finally decided on one for all the rave reviews it received. I can't brag enough on these cupcakes. You all know chocolate is my main squeeze, but these are earth-shattering good. They are so good they almost don't need any frosting. The birthday boy got married back in March and one of their cake flavors was snickerdoodle. Did the cupcakes live up to the wedding cake? Yep! Not only that, but they were better!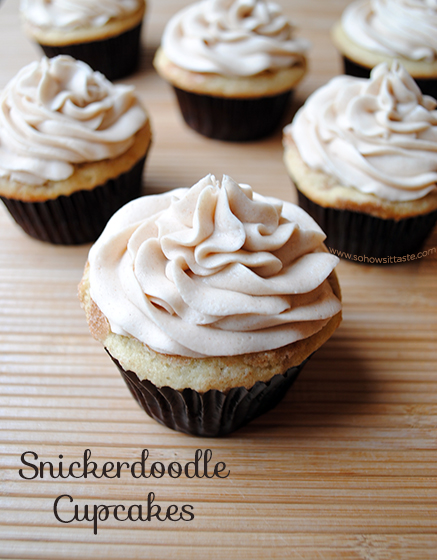 So, how's it taste?
You can probably already tell these cupcakes were a big hit. I've been counting calories for a bit now and I had zero willpower against these beauties. I inhaled two of them! I had to test one right out of the oven because I was worried they were undercooked. A few of the cupcakes sank, but I figured out that was because of the cinnamon sugar layer in the middle. That cupcake by itself was so good, I really had to hold myself back from devouring the entire batch. Then of course I had to taste one with buttercream. The cupcakes aren't too terribly sweet, so the cinnamon buttercream gives a big punch of sugary sweetness. Oh I just absolutely loved these! The batter does seem a bit much for just a dozen cupcakes. I got 14 out of my batch and several of them overflowed a bit, so I really think you could get 1 1/2 dozen out of this recipe. The buttercream makes quite a bit, too, so I'd definitely try to squeeze the batter into 18 cupcakes so you don't waste any buttercream. You could pile the buttercream really high, I guess, but I'm not a fan of that much buttercream to cupcake ratio. These cupcakes are so delicate and light that they really don't need much buttercream at all. Leave it off completely and call it breakfast!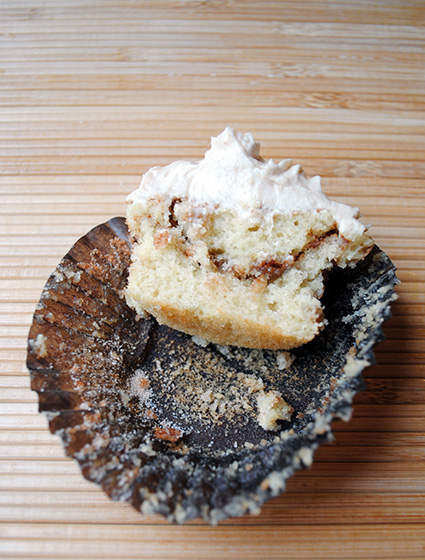 In my last post I mentioned going to step class again for the first time in years. I loved every minute of it! The teacher was awesome. Not too tough on the choreography, but not too simple that I got bored. I was nervous because it had been so long. During class the instructor shouted, "Leah, you are rockin' it! Those memories are really coming back!" I was so embarrassed, but happy I could keep up. Always good to hear you're rockin' an aerobics class! Today is step again but with a different teacher. We'll see if I rock this one. Who knew the gym would be so much fun?…and I need it after these cupcakes. 😉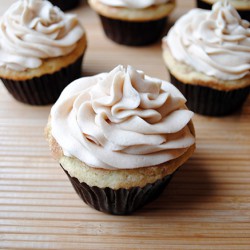 Snickerdoodle Cupcakes
Ingredients:
Cupcakes
1 2/3 cups all-purpose flour
1/2 tsp. baking powder
1/4 tsp. baking soda
1/2 tsp. salt
1/2 cup unsalted butter, melted
1 1/2 cups granulated sugar, divided
1 large egg
1/4 cup plain yogurt
3/4 cup milk (any will do, I used almond milk)
1 tbsp. vanilla extract
2 tsp. ground cinnamon
Buttercream
1 cup butter, softened
4 cups powdered sugar, sifted
3-4 tbsp. milk
1 tsp. pure vanilla extract
1 1/2 tsp. ground cinnamon
Directions:
1. Preheat oven to 350F degrees. Line muffin tin with cupcake liners and set aside.
2. In a medium bowl, mix together flour, baking powder, baking soda, and salt. Set aside.
3. In another medium bowl, add the melted butter and 1 cup of the sugar. Whisk to mix. Whisk in egg, yogurt, milk, and vanilla extract until combined. Slowly mix in dry ingredients a little at a time until no lumps remain.
4. In a small bowl, mix the remaining 1/2 cup of sugar and cinnamon. Set aside.
5. *Spoon about 2 tablespoons of batter into each muffin well. Top each with 1 teaspoon of the cinnamon-sugar mixture. Top with another heaping tablespoon of batter, until the wells are about 3/4 full. Top each with 1 teaspoon more of the cinnamon-sugar.
6. Bake for 19-21 minutes or until a toothpick inserted in the center comes out clean. Cool completely before frosting.
7. For the buttercream, beat butter until light and fluffy. Add sugar a 1/2 cup at a time until completely incorporated, adding up to 4 tablespoons of milk if the frosting gets too thick. Add vanilla and cinnamon, beating until just combined. Pipe buttercream on top.
*Note: I got about 14 cupcakes out of this recipe. It's a lot of batter for 12 cupcakes and some overflowed a little. You could reduce the batter a bit for each cupcake and stretch the recipe to 18 cupcakes. The buttercream recipe makes enough for 18 cupcakes, depending on how much buttercream you add to each cupcake.