Oh how I love a merging of two obsessions. It's been a while since I've had a combo dessert. What's not to love about a dessert that let's you have the best of both worlds? In this case, chocolatey brownies AND pumpkin pie! The second I saw this pie, I knew I'd make it for Thanksgiving. It's almost a little Halloweenish with it's black and orange swirls, but oh so perfect for the biggie holidays, too. This Pumpkin Brownie Swirl Pie served warm with a scoop of really good vanilla ice cream is heaven. The brownie is the crust and the top is both swirled together. Sweet and perfectly spiced pumpkin mixed with chocolate brownie is genius.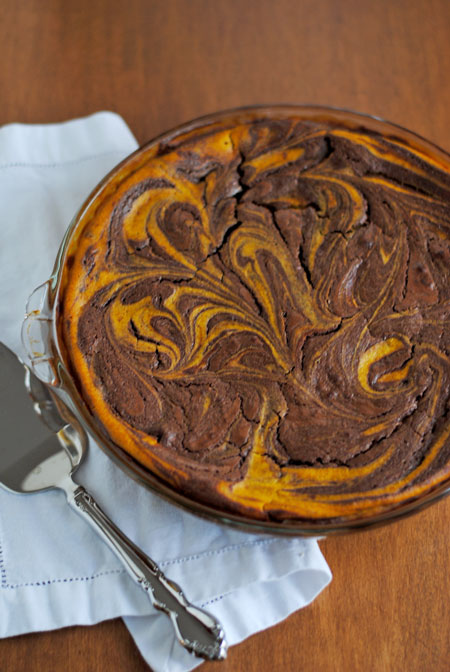 So, how's it taste?
This very much exceeded my expectations. I knew I loved brownies and pumpkin pie and that it would be pretty good together, but oh boy was this a treat! You know how cream cheese swirl brownies rock? This is the same concept, but with spiced pumpkin. It was such a creamy texture mixed in with the more dense brownies. Served warm, it's just begging for vanilla ice cream so I highly suggest you do that. The brownie mixture is really thick and I added an extra tablespoon of water than the recipe called for to thin it even more. It made it easier to swirl and didn't change the texture. When you add the brownie on top, it will pretty much cover all of the pumpkin pie, but once you get your swirl on, it will start to show through. Just keep on swirling until you get a pretty pattern showing both.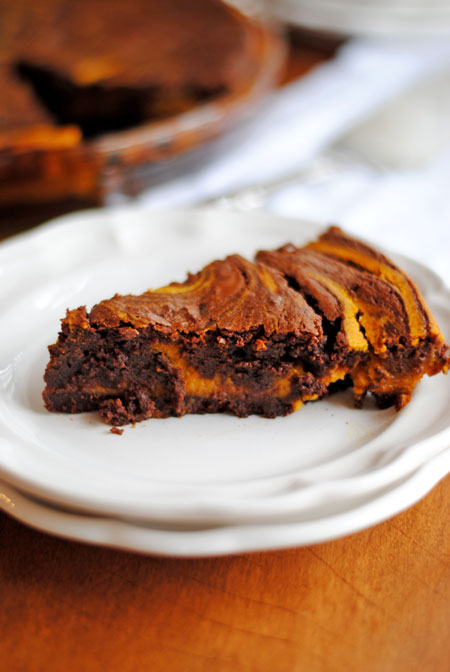 The brownie mixture is the crust as well. About 1/3 of the brownie mixture gets baked alone first to form it. I think I'll bake the crust a little less time next time. I ate a slice a few hours after I made this and the crust was great, but with the leftovers the crust was a little harder. I still managed to continue eating slices though. I'm such a trooper! Ha! This is such a pretty dessert and perfect for this holiday season. I hope you make it.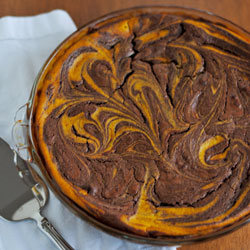 Yield: 8 to 10 servings
Prep Time: 55 min
Cook Time: 1 hr
Total Time: 1 hr 55 min
Pumpkin Brownie Swirl Pie
Ingredients:
Brownie Filling
1 stick unsalted butter, plus more for the pie plate
1 12 -oz. bag semisweet chocolate chips
2/3 cup packed light brown sugar
2 large eggs
1 tsp. pure vanilla extract
1/2 cup all-purpose flour
2 tbsp. unsweetened cocoa powder
1/2 tsp. baking powder
1/4 tsp. salt
Pumpkin Filling
1 cup pure pumpkin puree
1 cup heavy cream
1 large egg
1/4 cup granulated sugar
1/4 cup all-purpose flour
1/2 tsp. pumpkin pie spice
1/4 tsp. salt
Vanilla ice cream, for serving (optional)
Directions:
1. Preheat the oven to 350 degrees F. Butter the bottom and side of a 9 1/2-inch deep-dish pie plate.
2. For the brownie filling, heat butter, chocolate chips, and brown sugar in a medium saucepan over medium heat, whisking occasionally, until butter and chocolate are melted. Remove from heat. Whisk in eggs, one at a time, then vanilla, whisking until smooth. Whisk in flour, cocoa powder, baking powder, and salt until combined.
3. Pour about one-third of the brownie batter into the prepared pie plate; set aside the remaining batter. Bake until just starting to set and the top is shiny, about 20 minutes.
4. Meanwhile, make the pumpkin filling. Combine pumpkin puree, heavy cream, egg, granulated sugar, flour, pumpkin pie spice, and salt in a medium bowl; whisk until smooth.
5. Pour pumpkin filling over warm brownie layer. Stir 1 tablespoon (I used 2 tablespoons total) water into remaining brownie batter, then spoon batter onto pumpkin filling. The brownie batter will almost completely cover the top. Use the back of the spoon (I used a knife) to pull brownie batter into pumpkin filling and create a swirled pattern. Bake until pie is set, 40 to 45 minutes. Transfer to a rack and let cool completely. Serve with vanilla ice cream.