You may have noticed it's been a little skimpy around So How's It Taste for a few months. There's good reason for that and today's the perfect day for all kinds of celebrating! That's why I'm showing off this Tall, Dark, and Stout Chocolate Layer Cake! Before I get to this deliciously amazing cake, I've got some explaining to do. A few months back, I was laid off from my job of almost 7 years. Laid. Off. That has never happened to me and I wouldn't wish it on my worst enemy. My world stopped. I was afraid to buy Oreos. I didn't need Oreos and I suddenly couldn't afford them if there was going to be an end to my income. Cue meltdown in the grocery store. Cue meltdown for days actually. And cue the amazing support from my mom and my friends. I am one very lucky girl.
Fast forward to a month later, and my company that just laid me off, offered me my job back. Trust me, I wanted to tell them no. I wanted to tell them lots of things in not so nice language, but I'm not a risk-taker. I'm a planner and any job was better than no job, especially around the holidays. I stayed and I wasn't happy. But that's not where this story ends! Yesterday was my last day at that company. A few weeks ago, I accepted a job offer for a new adventure! Soon I'll be starting a new chapter with an amazing group of people. It was bittersweet leaving my old company (and I'm missing my friends there already), but I am so excited to be joining such a great group and looking forward to my first day!
Not only do I have a new job to look forward to, but today is my birthday AND it's snowing in Nashville! So you can tell why today is the perfect day for celebrating…and for cake!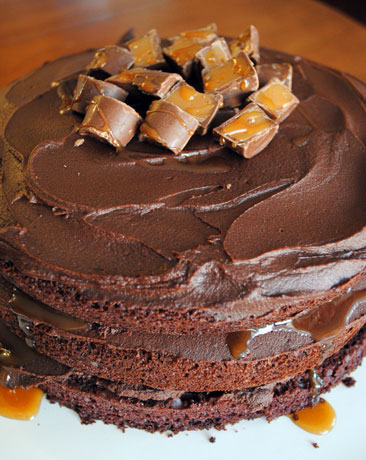 So, how's it taste?
It looks like it would be over-the-top rich, right? It's not. It's perfect. The stout is subtle, but you can definitely taste it and it works wonders enhancing the devil's food cake. I thought the frosting would be thick and rich, but it's actually quite fluffy and airy. It thickens in the fridge, but you'll want it to be at room temperature so you can spread it easily over the layers. It's almost like a mousse and so light, that it's dangerous! I felt like I could eat several pieces in one sitting! The touch of the caramel drizzle was just enough sweet for balance. I like how this cake is messy and dripping with caramel, too. I topped it with Rolos candies cut in half, but any chocolate/caramel garnish would work. Chocolate curls would be great, too. Whether your celebrating a new job, a birthday, or just the fact that it's another day and you need chocolate in it…this cake is for you!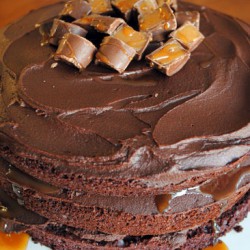 Tall, Dark, and Stout Chocolate Layer Cake
Ingredients:
Cake
1 box devil's food cake mix
1 1/4 cups stout beer
1/3 cup vegetable oil
3 eggs
Frosting
12 oz. semisweet baking chocolate, finely chopped
1 1/2 cups whipping cream
1/2 cup butter
Filling
6 tbsp. caramel topping
Garnish
Rolos, cut in half
Directions:
1. Heat oven to 350°F (325°F for dark or nonstick pans). Grease bottoms only of three 9- or 8-inch round cake pans. Make cake batter as directed on box, using cake mix, beer, oil and eggs. Pour about 1 1/2 cups batter into each pan.
2. Bake 18 to 22 minutes or until toothpick inserted in center comes out clean. Cool 10 minutes before removing from pans. Cool completely.
3. Meanwhile, for frosting, place chocolate in medium mixing bowl. In 2-quart saucepan, heat whipping cream and butter to just boiling over medium heat. Pour cream mixture over chocolate; stir with whisk until melted and smooth. Cover and refrigerate 1 hour; stir. Refrigerate about 1 to 1 1/2 hours more or until spreading consistency.
4. Place 1 cake layer on serving plate. Frost top of layer with 1 cup of the frosting. Drizzle with 3 tablespoons caramel topping. Top with another cake layer, 1 cup of the frosting and remaining 3 tablespoons caramel topping. Top with remaining cake layer and frosting. Garnish with Rolos, if desired.