Don't you love it when two desserts come together and you get the best of both worlds without choosing? Yes, me too! Chocolate Chip Cheesecake Bars do just that. It's a chocolate chip cookie. It's cheesecake. It's cheesecake sandwiched between two layers of chocolate chip cookies! The recipe couldn't be easier. I made these bars for a coworker's birthday recently. I needed something delicious, but quick and easy. Sometimes it gets hard baking during the week and I had a bajillion other things to do as well. But instead of being stressed, I made it easy on myself! I created these bars in no time thanks to refrigerated cookie dough. Quickly whip up the cream cheese layer and that's it!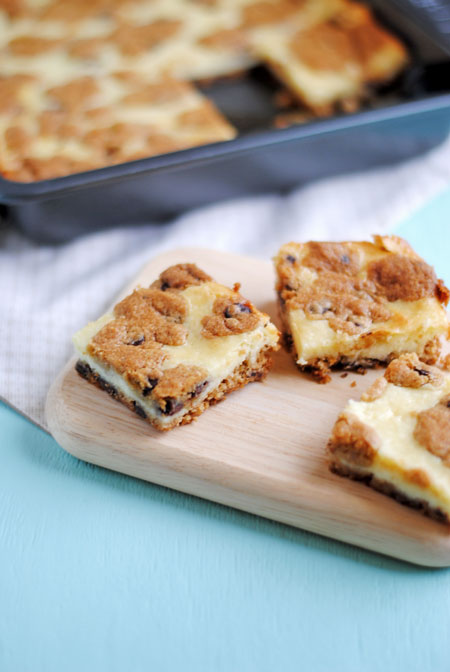 So, how's it taste?
I was really happy with the taste of these bars. Even though it's a Pillsbury recipe, I prefer Nestlé refrigerated cookie dough. It certainly made this recipe a cinch. I used a 9-inch pan and I think this would work better in an 8-inch. Instead of using half the cookie dough on the bottom, I used about 3/4. That didn't leave much for the top, but it's ok because you want some cheesecake peeking through. I think next time I may buy two rolls of cookie dough and just bake any extra dough (bonus cookies for the baker!). I added a bit of vanilla to the cheesecake layer because it was missing a little something. That touch of vanilla made it perfect.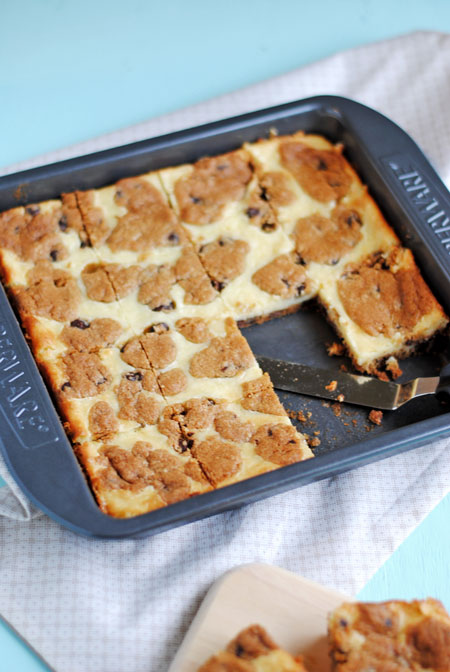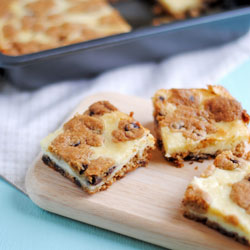 Yield: 16 servings
Prep Time: 10 min
Cook Time: 35 min
Total Time: 3 hr 20 min
Chocolate Chip Cheesecake Bars
Ingredients:
8 oz. cream cheese, softened
1/2 cup sugar
1/2 tsp. vanilla
1 egg
16.5 oz. roll refrigerated chocolate chip cookies
Directions:
1. Heat oven to 350F. In small bowl, beat cream cheese, sugar, vanilla, and egg until smooth.
2. In ungreased, 9- or 8-inch square pan, break up half of cookie dough. With floured fingers, press dough evenly in bottom of pan to form crust. Spread cream cheese mixture over dough. Crumble and sprinkle remaining half of dough over cream cheese mixture. (It won't completely cover the top.)
3. Bake 35 to 40 minutes or until golden brown and firm to the touch. Cool 30 minutes. Refrigerate at least 2 hours or until chilled. For bars, cut into 4 rows by 4 rows. Store in refrigerator.
per serving: 200 calories, 10g fat, 25g carbs, 0g fiber, 2g protein