You know those houses you drive by this time of year and they've still got their Christmas decorations up? Well, I'm the blogger equivalent to that. It's mid-January and most folks are looking for healthy recipes and don't want anything to do with holiday goodies, especially eggnog. I can't help it. Life happens when you're planning and my little blog has suffered a bit in the update area, but I'm back in the swing of things! And we're going to talk about eggnog. I actually made these Mini Eggnog Donut Muffins right after Christmas…in 2011. I held them for a year because I felt silly posting them so late, but here we are and I'm bending the rules!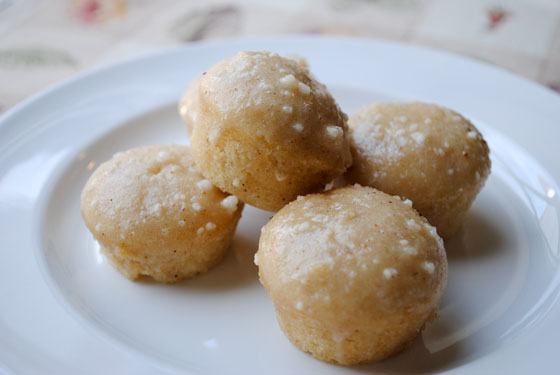 So, how's it taste?
I had so much leftover eggnog that I went crazy making eggnog recipes so it wouldn't go to waste. Yep, there's more to come. Think of it as getting an early start on Christmas 2013! I thought these muffins were so cute. I like sipping on eggnog, but I can't drink a full glass of it. That's why I love goodies that are flavored with eggnog. These muffins are perfect. You can really taste the eggnog and get the warmth from the nutmeg. They're so tiny, they're dangerous though. I was constantly popping these in my mouth thinking "oh I'll just have one more." You can see from my picture that I was too lazy to sift the confectioners' sugar, hence the lumps. They still tasted great despite their appearance. The glaze was much thinner than I expected, but you could dip them a few times if you want it to be thicker and show up more. Bookmark this recipe for December 2013!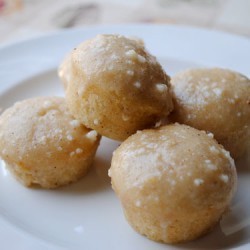 Mini Eggnog Donut Muffins
Ingredients:
Muffins
1/4 cup butter, at room temperature
1/4 cup canola or vegetable oil
1/2 cup granulated sugar
1/3 cup light brown sugar
2 large eggs
2 2/3 cups all-purpose flour
1 1/2 tsp. baking powder
1/4 tsp. baking soda
1 1/4 tsp. ground nutmeg
3/4 tsp. salt
1 tsp. vanilla extract
1 cup eggnog
Glaze
2 tbsp. butter, melted
1 1/2 cups confectioners' sugar, sifted
1/2 cup eggnog
3/4 tsp. vanilla
1/8 tsp. cinnamon
1/8 tsp. ground nutmeg
Directions:
1. Preheat oven to 350°F. Lightly spray your mini muffin pans with non-stick cooking spray and set aside.
2. Using a mixer, cream together the butter, oil, and both sugars until smooth. Add eggs until combined.
3. In a medium bowl, whisk together the flour, baking powder, baking soda, nutmeg, salt, and vanilla.
4. Add dry ingredients into the butter/sugar mixture, alternating with the eggnog and beginning and ending with the flour. Make sure all ingredients are thoroughly combined.
5. Spoon the batter into the prepared pans. Bake the muffins for 10-12 minutes, or until they're a pale golden brown and a toothpick inserted into the middle comes out clean. Remove pans from the oven and let cool for five minutes.
6. For the glaze, combine butter, sugar, eggnog, vanilla, cinnamon, and nutmeg in a large bowl. Whisk until smooth. Dip the tops of the muffins into the glaze and place on a wire rack until set. You may want to dip the muffins a second time.