I've had this cake planned for weeks to bring to work for Easter. I couldn't wait for them to see my Easter Kit Kat Cake. After my cousin posted a similar cake on Facebook, I thought it was the cutest ever. Almost too cute to eat! The inspiration for this cake came from one that had M&M's as the topping. You could really almost use any candy bar you like as the outer edge, and top with any candy you like! For Easter, I thought it would be fun to make it look like an Easter basket. I colored some coconut and sprinkled the top with Cadbury Mini Eggs.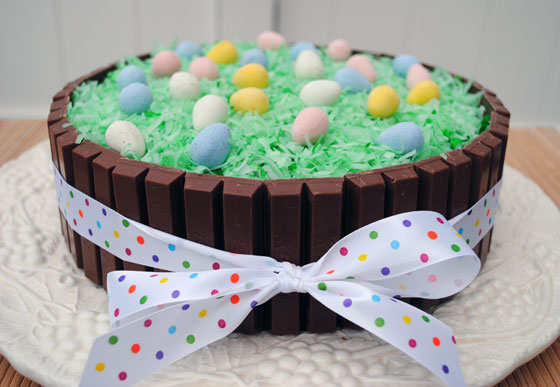 So, how's it taste?
I used a box cake mix for this to make it super easy. My favorite box mix/tub combination is yellow cake with chocolate frosting. Feel free to make your cake and icing from scratch. You'll need enough for a two-layer, 8″ or 9″ cake. Any flavor combination would work for this treat. Strawberry, coconut, German chocolate. Whatever you feel like pairing with a Kit Kat! My coworkers loved it. It was so pretty, no one dove into it like they usually do. I finally had to be the one to make the first cut. It was as delicious as it was pretty. Sure to be a hit at your Easter shindig!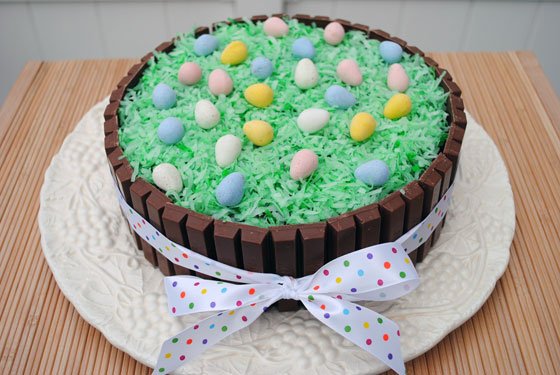 Easter Kit Kat Cake
Ingredients:
your favorite cake
your favorite icing
22 (.49 oz. size) Kit Kat bars (I bought 3 packs of 8 of the snack size)
sweetened coconut flakes (I used about 1/3 to 1/2 of a 14 oz. bag)
green food coloring
Cadbury Mini Eggs
ribbon
Directions:
1. Bake your favorite cake recipe for a two-layer, 8" or 9" cake. (For this cake, I used Duncan Hines yellow cake mix.) Make sure to even out your layers so there's some room left at the top for your coconut.
2. Frost with your favorite icing. (For this cake, I used Duncan Hines chocolate icing.)
3. Press the Kit Kat bars around the cake gently.
4. Place the coconut in a zippered plastic bag. Add drops of green coloring (I used 4) and close the bag. Shake until the color blends evenly. Add more coloring if necessary.
5. Sprinkle the coconut over the top of the cake. Add the mini eggs.
6. Tie a ribbon around the Kit Kat bars.