Happy Blogiversary to So, How's It Taste! Can you believe it's been three years? THREE years since my first post. I almost don't believe it. Looking back at my first and second year blogiversaries, I detect a chocolate theme. This should come as no surprise to any of my readers. I love chocolate! Last year I celebrated with Dark Chocolate Souffles that were figure-friendly. Um, so not the case this year. I've done a complete 180 and will celebrate the big 3 with Chocolate-Covered Key Lime Pie. I'm pretty sure these aren't anywhere close to being kind to your waistline!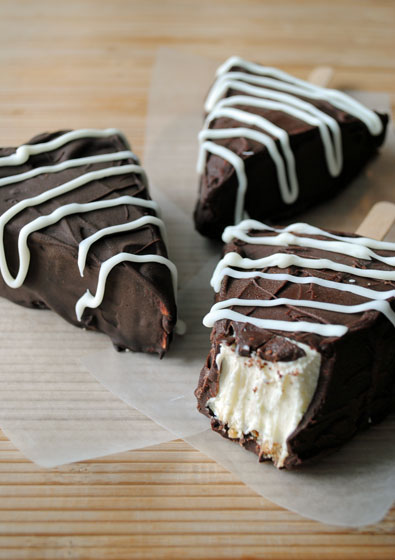 So, how's it taste?
Pretty freakin' fantastic! What's not to love? A creamy, tart, sweet slice of key lime pie surrounded in chocolate. You may think citrus and chocolate is an odd combination, but trust me on this one. This particular Key Lime Pie recipe is perfect for freezing and covering in chocolate. It doesn't get rock hard when it's frozen, so once you crack through that layer of chocolate, your teeth just sink into creamy lime goodness. I covered some slices in semi-sweet chocolate and some in dark chocolate. I don't know which I liked best, they were both really good.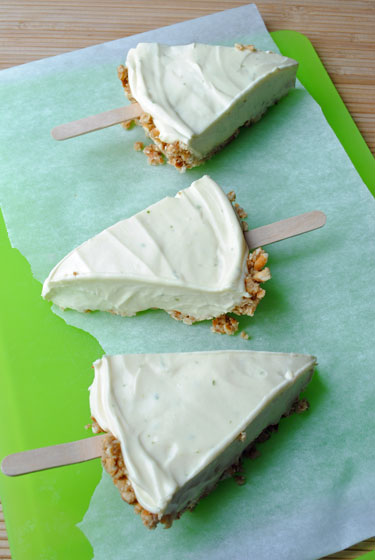 I think the slices are quite huge, so find a buddy to share with you. The pie is pretty rich on its own, so covered in chocolate would put even a chocoholic like me in a serious sugar coma. I think slicing the pie into 16 slices would have been more practical. Instead of dipping the slices into chocolate, I chose to "frost" them with chocolate. Dipping would require melting way too much chocolate and probably wasting it, too, and I don't waste chocolate in my house. Holding the slice by the popsicle stick made it easy to frost it with an offset spatula. I figured out about 1/2 cup of morsels will frost one slice of this size.
Since the slices are so big, a great way to serve this is to cut the slices into almost bite-sized chunks. I put the chunks in cupcake liners and took them to work that way. Perfect for everyone to have a piece or two!
__________
I want to say thank you to everyone that reads this little ol' blog of mine. It started out as nothing special and has grown into something I'm extremely proud of. It's cool to have an archive of all my posts and see how I've grown throughout the years. Not to mention the great friends and people I've met and keep meeting along the way thanks to our mutual love of food. Your support means the world and encourages me to continue to share my eating adventures in and out of the kitchen…and of course to answer the question "so, how's it taste?"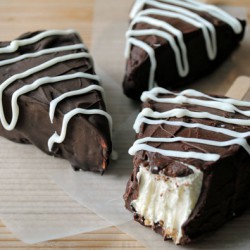 Chocolate-Covered Key Lime Pie
Directions:
1. Prepare Key Lime Pie with Pretzel Crust and let set in refrigerator for 4 to 6 hours.
2. Slice pie into 8 equal portions. Pretzel crust may be a little crumbly and some may come off, but that's ok.
3. Place slices onto a sheet lined with parchment paper and gently push in a popsicle stick about halfway. Leave some space on the sheet in between slices. Freeze for about 6 hours.
4. For covering each slice with chocolate, it's best to work in batches of two slices at a time. Microwave 1 cup of morsels for 30 seconds on high. Stir and microwave for another 30 seconds. Microwave in 15-second intervals if the morsels aren't completely melted. Using a small offset spatula, spread the melted morsels all around the pie slice, holding the stick for support. When the entire slice is covered, place it back on the sheet with parchment paper and return to the freezer. Continue with the remaining slices.
5. Place one square of almond bark in a plastic sandwich bag. Microwave in 30-second intervals, kneading the bag in between until the almond bark is smooth. Snip the corner of the bag with scissors and pipe onto chocolate-covered pie slices. Return to the freezer until ready to serve.