♫ ♪ If you like piña coladas, and getting caught in the rain. ♫ ♪  Yep, sang that the entire time I was making and eating and writing this post about Piña Colada Icebox Pie. I can't help it, it's catchy! You're welcome for the ear worm. 😉 This was our dessert after eating Beer-Brined Barbecue Chicken and Ranchero Corn on the 4th. I really couldn't wait to dive in, but oh did we have to wait. I've mentioned a million times before how I'm notorious for not reading through a recipe until I'm actually making it. (You'd think I would learn my lesson by now.) So yeah, didn't see that whole part about "chill four hours" until I was in the thick of making pie. So I made the pie and let it chill overnight because it was crazy late already. What torture! I'm telling you it was worth the wait and then some. It starts with a pecan shortbread crust speckled with coconut. Next is a gooey, thick layer of pineapple filling. On top of that is a coconut cream cheese layer. The final layer is coconut whipped cream. Just take my advice and plan ahead!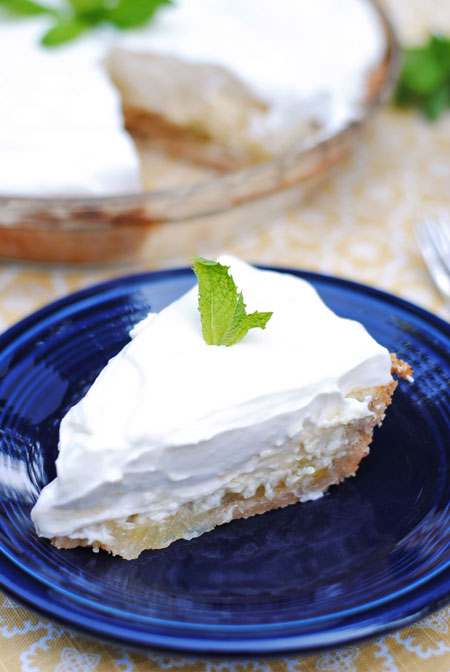 So, how's it taste?
You'd think a slice of this pie would be incredibly rich and decadent and it's actually not. It tastes really refreshing and light. Trust me, it's not figure-friendly though! I'll be the first to tell you that I do not like shortbread. I despise those Keebler Sandies, even the ones with pecans and toffee…BUT, put them in a crust with coconut for pie and I'm quickly changing my tune. They are perfect! I think this pie would also work with the toffee variety. It's slightly sweet and holds up to all the layers. The pineapple filling is sweet, but tart, too. I loved the chunks of crushed pineapple for a change in texture.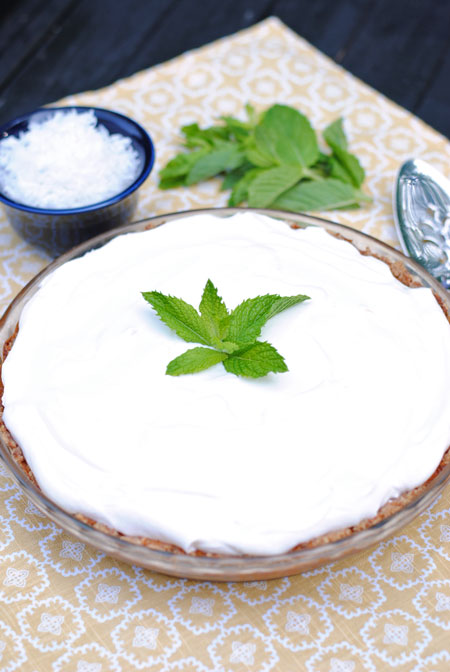 The coconut cream cheese layer is heavenly. It's thick and creamy and not overly sweet since it's just cream of coconut added. Please note that cream of coconut is not pretty in the can. You may think it's spoiled, but it's actually supposed to look that way. It's kind of goopy and a most unpleasant grey/beige color. Don't worry, just press on! I liked how the pineapple layer didn't have coconut and the coconut layer didn't have pineapple, so you could really distinguish the two flavors.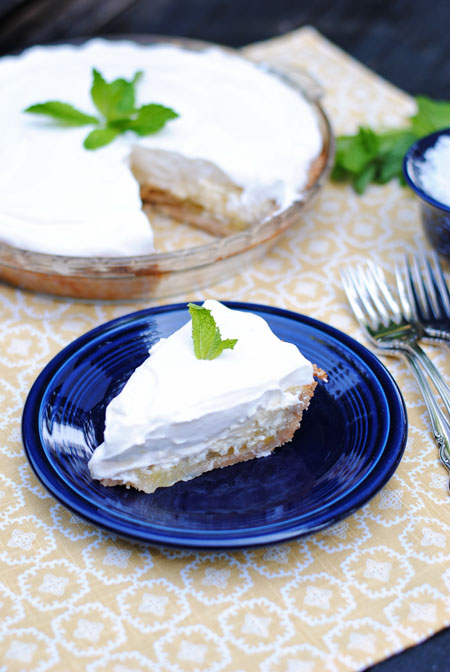 The coconut whipped cream is da bomb! It's seriously just whipping cream with cream of coconut. This is how I want to make homemade whipped cream from now on. Ever so slightly sweet and hinted with coconut. I was licking spoons and bowls right and left that had this on it. Good thing we're all family here, right? I hope you enjoy this pie as much as we did…and this video!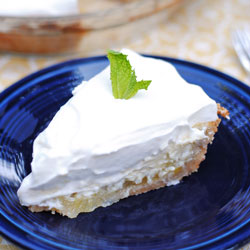 Yield: 8 servings
Total Time: 6 hrs 20 min
Piña Colada Pie
Ingredients:
Crust
2 cups pecan shortbread cookie crumbs (about 16 cookies) (I recommend Keebler Sandies)
1 cup sweetened flaked coconut
1/4 cup butter, melted
Pineapple Filling Layer
1/3 cup sugar
2 tbsp. cornstarch
1 (8 oz.) can crushed pineapple in juice
Coconut Cream Cheese Layer
1 (8 oz.) package cream cheese, softened
1 cup cream of coconut* (save the rest for the whipped cream)(I recommend Coco Lopez)
2 large eggs
Coconut Whipped Cream
1 cup whipping cream (not heavy)
1/2 cup cream of coconut*
*Note: Cream of coconut has a dark grey-ish/beige-ish color. It's not spoiled (even though it looks that way)!
Directions:
1. Preheat oven to 350F. Stir together crust ingredients; firmly press on bottom and up sides of a lightly greased 9-inch pie plate. Bake 10 to 12 minutes or until lightly browned. Transfer to a wire rack; cool completely (about 30 minutes).
2. Stir together sugar and cornstarch in a small heavy saucepan; stir in pineapple. While stirring constantly, bring to a boil over medium-high heat; cook (keep stirring!) 1 minute or until thickened. Remove from heat; cool completely (about 20 minutes).
3. Beat cream cheese at medium speed with a heavy-duty electric stand mixer, using whisk attachment, until smooth. Gradually add 1 cup cream of coconut, beating at low speed just until blended. (Chill remaining 1/2 cup cream of coconut until ready to use.) Add eggs, 1 at a time, beating just until blended after each addition.
4. Spread cooled pineapple mixture over bottom of piecrust; spoon cream cheese mixture over pineapple mixture.
5. Bake 38 to 42 minutes or until set. Cool completely on a wire rack (about 1 hour). Cover and chill 4 hours.
6. Beat whipping cream at high speed until foamy. Gradually add remaining 1/2 cup cream of coconut, beating until soft peaks form; spread over pie.