Last week I shared Vanilla Madeleines with you. I bought my first madeleine pan and went crazy making them. I'm a girl that likes variety, so not only did I make the original vanilla, but also Chocolate Madeleines. I'm a chocoholic, so I was really looking forward to these rocking my world. Soft, pillowy, little cakes dusted with cocoa or confectioners' sugar, I couldn't wait to taste the chocolate version.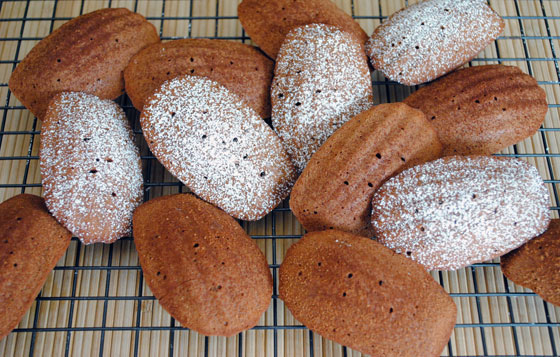 So, how's it taste?
They were good, but not great. Not enough chocolate oomph for me. They still have that awesome light, delicate, cakey texture, which I love about madeleines. While the vanilla madeleines were fine with just a dusting of confectioners' sugar, the chocolate version really needs some kind of glaze. I dusted a few with the sugar and a few with cocoa powder. I preferred the sugar dusting for just a bit of extra sweetness, but they still pale in comparison to how much I liked the vanilla. Wait, did I just admit that I like the vanilla version of something over the chocolate?! Whoa! But yes, it's true. Maybe my taste preference for chocolate just needs to be the rich, overboard kind. If you like just a hint of chocolate, you'll probably enjoy these madeleines "naked," but next time I make these, I'm slathering them with some kind of glaze!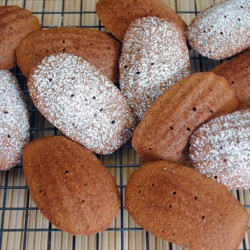 Chocolate Madeleines
Ingredients:
2 cups all-purpose flour
2 tbsp. unsweetened cocoa powder, plus extra for dusting
1 tsp. baking powder
Coarse salt
6 large eggs, room temperature
1 cup granulated sugar
2 tbsp. packed light-brown sugar
2 sticks unsalted butter, melted
1 tbsp. plus 1 tsp. honey
3/4 tsp. pure vanilla extract
8 oz. bittersweet chocolate, melted
Confectioners' sugar, for dusting
Directions:
1. Whisk together flour, cocoa powder, baking powder, and 3/4 teaspoon salt in a medium bowl.
2. Whisk together eggs and granulated and brown sugars with a mixer on high speed until pale and fluffy, about 10 minutes. Sift flour mixture over top in two additions, folding in after each addition. Fold in melted butter in 2 additions, then honey, vanilla, and bittersweet chocolate. Refrigerate, covered, for at least 2 hours.
3. Preheat oven to 350F. Let batter stand at room temperature for 10 minutes. Generously butter 2 standard-size or 2 mini nonstick or aluminum madeleine pans using a pastry brush or spray with cooking spray.
4. Transfer batter to a pastry bag, and snip tip to create a 1/2-inch opening. Pipe some batter into molds, filling each about three-quarters full. Bake on middle rack until pale gold, 8 to 11 minutes (6 to 8 minutes for mini madeleines). Immediately shake madeleines out. Wash and rebutter molds. Repeat with remaining batter. Dust baked madeleines with confectioners' sugar or cocoa powder.