This recipe for Key Lime Pie with Pretzel Crust brings back so many memories for me. I first made it in my tiny, one bedroom apartment in Tuscaloosa, Alabama, that had an even tinier kitchen. Zero counter space, but it was the first time I had a place all by myself and I loved it. It was also a few months after the cooking bug hit me and I was baking and cooking and having all kinds of kitchen adventures in that little space. I made this pie several times that Spring. It's got a crunchy pretzel crust for something a little different.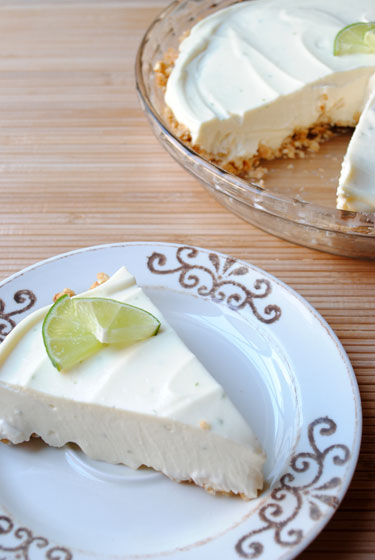 So, how's it taste?
Obviously I like it or I wouldn't have made it so much! It's so smooth and creamy, and very rich. You absolutely need a food processor for this. Using a stand mixer doesn't get it quite as smooth and it might be a little lumpy. I like this pie because it's only a few ingredients and there's no eggs. It's basically lime cream cheese and condensed milk in a pretzel crust, but there's not much I wouldn't do for cream cheese. This pie is perfectly tart, but it's got enough sweet in it to balance that out. The pretzel crust is great. I really like the contrast of the salty pretzels with the sweet pie filling. I leave a few pretzels in chunks because I like that texture, but it does make the crust a little crumbly. You could certainly process the pretzels a bit more and get them to a finer crumb. If the pretzel crust isn't your thing, a traditional graham cracker crust works well or try a chocolate cookie crust!
I've made this pie using reduced fat and fat-free cream cheese. Reduced fat was ok, fat-free was gross. But if you're going to have pie, then have pie and go for the full fat version! You can also serve this pie frozen if you like. It's still a creamy texture and won't get rock hard.
Psst! Something special is happening in a few days on my blog. Find out how this pie is involved!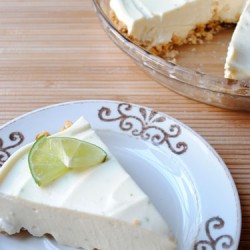 Key Lime Pie with Pretzel Crust
Ingredients:
Pretzel Crust
1 1/4 cups crushed pretzels
1/2 cup butter, melted
1/4 cup sugar
Pie Filling
2 (8 oz. each) packages cream cheese, softened
1 tsp. grated lime peel
1/2 cup lime juice (about 3-4 limes)
1 (14 oz.) can sweetened condensed milk
Directions:
1. For the crust, mix all the crust ingredients. Press mixture firmly against bottom and side of pie plate. Refrigerate until firm.
2. For the pie filling, place all filling ingredients in a food processor. Cover and process until smooth. Pour into crust.
3. Cover and refrigerate until set.