We've made it to the last of the Cookie Baking Day cookies from 2013. It went by way too fast! I hope you enjoyed the selections from this year. I know we sure enjoyed eating them! Last but not least are the Vanilla Orange Cranberry Cookies. You will not believe how fabulous they smell. An entire orange is zested into the batter and makes the most glorious orange-scented cookies you will ever smell/eat. The classic combination of orange and cranberry is almost a must-have for the holidays!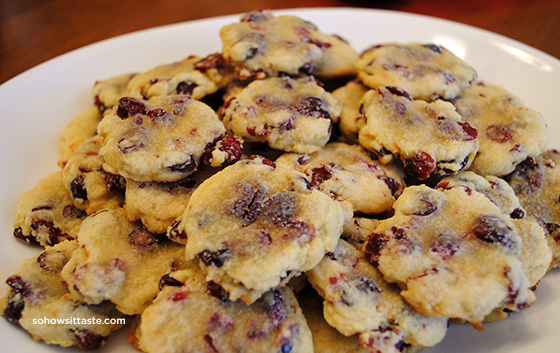 So, how's it taste?
This cookie got rave reviews before it ever touched anyone's lips. I'm telling you, that orange smell is intoxicating! I do love a good orange/cranberry combo in cookie form. You can also detect the vanilla and that bit of sweet helps balance the tart cranberry. I would highly suggest decreasing the amount of cranberries. The original recipe calls for two cups and as you can see in the pic, it's just too much. I've adjusted the recipe below to one cup. I like cranberries, but I'd like a bit more cookie in these. We scooped the dough in double the amount, and the cookies still came out really small. I think I'd scoop them a bit bigger next time. Maybe a tablespoon size instead of two teaspoons. This is a fantastic recipe to add to your collection!
Other goodies from Cookie Baking Day 2013:
Cream Cheese Spritz Cookies
German Chocolate Cake Cookies
Milky Way Red Velvet Cake Cookies
Dark Chocolate Walnut Oatmeal Cookies
Gooey Butter Cookies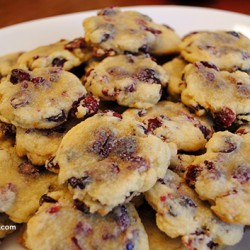 Vanilla Orange Cranberry Cookies
Ingredients:
1/2 cup butter
3/4 cup sugar
grated peel of 1 medium to large orange
1 tsp. vanilla extract
1/4 tsp. baking powder
1/2 tsp. salt
1 large egg
1 1/2 cups all-purpose flour
1 cup dried cranberries
Directions:
1. Preheat oven to 425F. Lightly grease two baking sheets, or line them with parchment.
2. In a large bowl, beat together the butter, sugar, orange peel, vanilla, baking powder, and salt.
3. Beat in the egg. The mixture may look slightly curdled; that's ok.
4. Add the flour and dried cranberries, stirring until well combined.
5. Drop the dough by heaping teaspoonfuls onto the baking sheets, leaving about 1 1/2" between them. A level teaspoon cookie scoop works very well here; dough balls will be about 1 1/4" in diameter. Using the flat bottom of a glass dipped in sugar, flatten the cookies slightly, to a scant 1/2" thick. (We scooped ours in two teaspoonful measurements.)
6. Bake the cookies for 6 to 7 minutes, until they're barely set, and a light golden brown around the edges. Don't over-bake; if you do, the cookies will be hard, not soft and chewy. Gently lift one of the cookies and look at the bottom; if you've used parchment, it shouldn't be brown. If you're baking on a dark cookie sheet without parchment, it should be light (not dark) brown.
7. Remove the cookies from the oven, and cool them right on the pan. If you need a pan to bake the remainder of the cookies, give the cookies about 5 minutes to set before transferring them to a rack to cool completely.