Nothing gets my mouth salivating like dessert. If I had it my way, I'd eat it every meal for my meal. I have a killer sweet tooth and if it weren't for practicing a bit of willpower, you'd see me on that My 600-lb. Life show. These Brownie Goody Bars put that willpower to the ultimate test. A brownie topped with vanilla frosting, sprinkled with roasted and salted peanuts, and topped with a peanut butter-chocolate-rice crispy mixture is a dessert lover's dream. It's got sweet and salty, crunchy and creamy. It's over the top, rich, and something you need to make right now!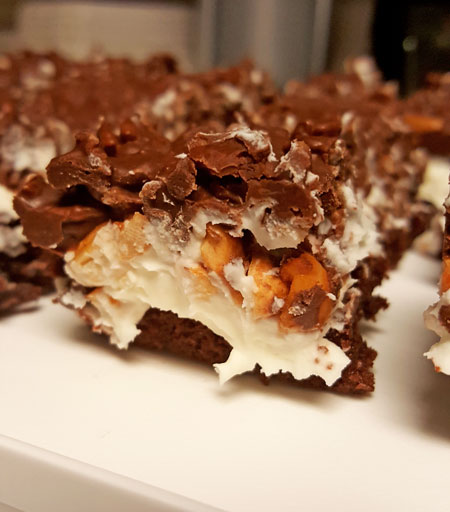 So, how's it taste?
The thing about being the office birthday treat maker is that you have no control over when the birthday is, duh. Right smack in the middle of me trying to shed a few pounds was another coworker's birthday. He picked these. I jumped for joy and then oh crap. I'm so in the zone with eating right and working out…but brownies and frosting and crunchy, peanut buttery, chocolatey things!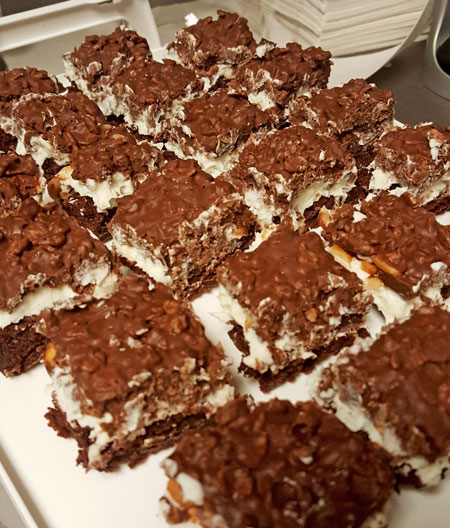 Luckily, these bars are so rich that you don't need a very big piece to indulge. I'm pretty proud of myself because I only ate three. The old me would've easily had 10 or more over the span of a few days. These bars lasted three days in the office because they make so many. It's only out of a 9×13 pan, but I cut them into 64 bars, instead of the recommended 24. No one wants diabetes, right?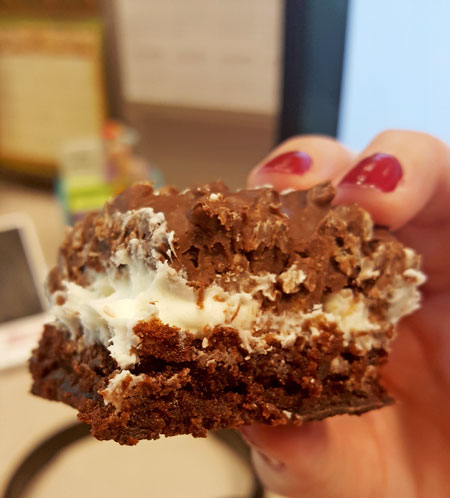 I'm happy to report that the rice crispies stayed crispy for all three days. I thought for sure they'd get stale after one. Nope! You really can't beat the texture of rice crispies and crunchy peanuts. Make a batch if you dare, and hey, if you don't want to overindulge, these are a good way to make new friends. 🙂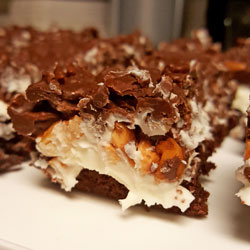 Brownie Goody Bars
Ingredients:
1 box fudge brownie mix
water, vegetable oil, and eggs called for on brownie mix box
1 container vanilla frosting
3/4 cup salted peanuts, coarsely chopped
3 cups crisp rice cereal
1 cup creamy peanut butter
1 bag (12 oz) semisweet chocolate chips (2 cups)
Directions:
1. Heat oven to 350F. Grease bottom only of 9x13-inch pan with cooking spray or shortening. (For easier cutting, line pan with foil or parchment so it overhangs, then grease foil on bottom only of pan.)
2. Make and bake brownies as directed on box. Cool completely. (You'll need to adjust the baking time since brownies in a 9x13 will be thinner. Don't bake them as long as a 9x9.)
3. Frost brownies with frosting. Sprinkle with peanuts; refrigerate while making cereal mixture.
4. Measure cereal into large bowl; set aside. In 1-quart saucepan, melt peanut butter and chocolate chips over low heat, stirring constantly. Pour over cereal in bowl, stirring until evenly coated. Spread over frosted brownies. Refrigerate 1 hour or until set before cutting. For bars, cut into 6 rows by 4 rows. (I cut 8 rows by 8 rows since these are very rich.) Store tightly covered at room temperature or in refrigerator. (I'd store in fridge since they get a bit gooey at room temperature.)