The decadent ending to my Spring Dinner Party was Tiramisu Ice Cream. I knew I wanted to make homemade ice cream for dessert, but I didn't want an everyday flavor. I've had this one bookmarked as a must-make and thought it would go perfectly after the pasta. The salad was light, the pasta was light, so it was time to turn it up and give my guests something rich. This ice cream did not disappoint.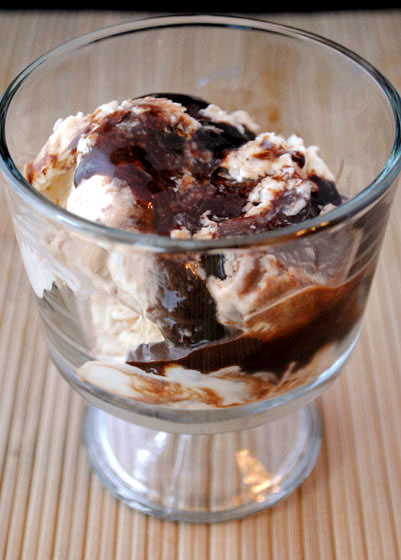 So, how's it taste?
What an ending to our dinner! Pure indulgence in every bite. The ice cream tastes exactly like the filling of traditional tiramisu. Silky smooth with hints of Kahlua and brandy. It was heaven. The mocha ripple complimented it so well with its subtle coffee flavor. Ice cream with a river of chocolate running through it…yes, please! You won't believe how easy this is to make. Eggs aren't in the recipe, so there's no scary tempering involved. Mix the ingredients in a food processor, chill, then let your ice cream maker finish the work. The mascarpone creates the thick, rich consistency.
Dinner party tip: This dessert is perfect for dinner parties as it's a must to make it ahead of time. Make it a few days early and simply scoop it out for your guests right before serving. The mocha ripple takes the place of any topping, making it even easier. If you really want to work ahead, scoop each serving into its own dish a few hours before and store in the freezer. Grab and serve to your guests when ready!
Spring Dinner Party Menu:
Spring Salad with Fresh Mozzarella and House Dressing
Bread Machine Dinner Rolls
Turkey and Pancetta Meatballs
Pasta with Mint Pesto and Fava Beans
Tiramisu Ice Cream
Wine of your choice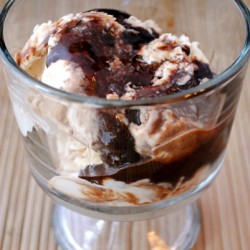 Tiramisu Ice Cream
Ingredients:
Ice Cream
2 cups mascarpone (do not substitute cream cheese)
1 cup half-and-half
2/3 cup sugar
Pinch of salt
1/4 cup Kahlua
3 tbsp. brandy
Mocha Ripple
1/2 cup sugar
1/3 cup light corn syrup
1 tbsp. instant coffee granules
6 tbsp. cocoa powder
1/2 tsp. vanilla extract
Directions:
1. For the mocha ripple, whisk together the sugar, corn syrup, instant coffee granules, and cocoa powder in a medium saucepan. Heat over medium, whisking constantly, until the mixture begins to bubble at the edges.
2. Continue to whisk until it just comes to a low boil. Cook for 1 minute, whisking frequently. Remove from the heat, stir in the vanilla, and let cool. Chill in the refrigerator before using.
3. For the ice cream, puree the mascarpone, half-and-half, sugar, salt, Kahlua, and brandy together in a food processor until smooth and the sugar is dissolved. Chill thoroughly in the refrigerator.
4. Freeze in your ice cream maker according to the manufacturer's instructions. As you remove the ice cream from the machine, alternate layers of mocha ripple with the tiramisu ice cream in your storage container.