I was looking for an individual-sized sweet treat to share with my classmates on our last day of class this past Monday. I wanted something fairly easy to make since I was running low on time last weekend. Searching through one of my favorite recipe sites, Pillsbury.com, I found these Nutty Chocolate Hot Bites. They looked so cute and with that chocolate chip cookie crust, I was instantly sold. Now what's all this "hot" business with a dessert like this?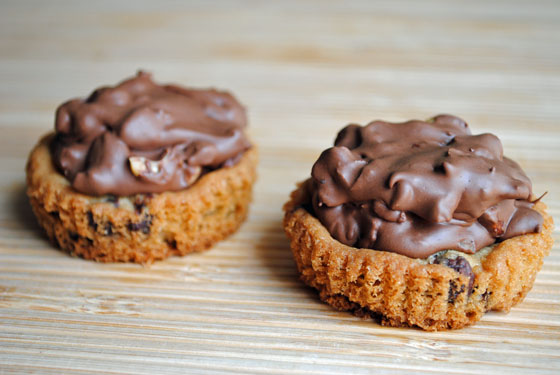 So, how's it taste?
This dessert has a nice surprise inside. There's a touch of cayenne in the chocolate-nut topping! Not enough to burn your tongue, but just enough to give a slight warming effect after you eat one. When I asked folks if they could guess the secret ingredient, most couldn't tell the cayenne was there until after I mentioned it. You could up the cayenne a bit if you really want to taste it, which I might do next time. I'm a big fan of cayenne and chocolate as you can see from this Hot Chocolate Ice Cream, these Cinn-Chili Chocolate Cupcakes with Cinnamon Buttercream, and these Mexican Brownies. Out of all four, these "hot bites" have the least heat.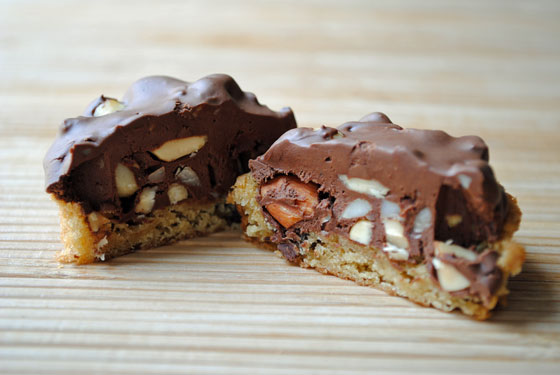 I liked them when they were freshly made, but I loved them the next day. I'm not sure what kind of scientific stuff happens to them overnight, but wow they were so much better the next day! The chocolate chip cookie base got a little softer (I baked mine about a minute too long, so they were crispier than I wanted) and the topping really came into its own with texture. It was creamier and the flavors came together. It's dark chocolate, but mixed with the marshmallow creme, it tastes like milk chocolate. So I don't recommend using milk or semisweet chocolate chips or the topping will be way too sweet. I used mixed nuts, but you could certainly go with all peanuts, all cashews, all pecans, etc. There are so many nuts in the mixture that some friends thought the secret ingredient was peanut butter. I think when I make them again, I'll reduce the nuts down to one cup. I'm a big nut lover, and they were borderline too much for me.
Overall this is a great dessert. I like the individual sizes and it's very easy to make. If you don't want to make them with cayenne, try using cinnamon. Cinnamon and chocolate make a great combination as well, without the heat. These will last for several days stored in a tightly-sealed container.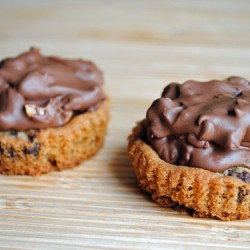 Nutty Chocolate Hot Bites
by Pillsbury
makes 24 servings
per serving: 190 calories, 10g fat, 22g carbs, 1g fiber, 2g protein
Ingredients:
1 (16 oz.) package refrigerated chocolate chip cookies (24 cookies) (not the roll, the break & bake)
1 1/4 cups mixed nuts
1 1/4 cups dark chocolate baking chips
1 1/4 cups marshmallow creme
2 tbsp. half-and-half
1/8 tsp. ground red pepper (cayenne)
Directions:
1. Heat oven to 375°F. Place paper baking cup in each of 24 regular-size muffin cups. Place 1 cookie dough piece in each cup. Using floured fingers, press dough to flatten slightly. Press thumb into middle of cookie dough to create an indent.
2. Bake 7 to 10 minutes or until golden brown. Cool in pans 15 minutes. Remove from pans to cooling rack. Cool completely, about 20 minutes.
3 Meanwhile, remove Brazil nuts from mixed nuts; coarsely chop Brazil nuts. In 2-quart saucepan, heat chocolate chips, marshmallow creme, half-and-half, and red pepper over medium-high heat, stirring occasionally, until chips are melted and mixture is smooth. Stir in Brazil nuts and remaining mixed nuts.
4. Drop about 1 heaping tablespoon nut mixture onto each cookie. Let stand about 15 minutes or until chocolate is set. To serve, remove bites from paper baking cups.
*Note: I found these taste better the next day, so make the night before you plan to serve them.