If you remember from my sugar cookie post a little over a year ago, I used to hate sugar cookies. Then I started baking the best sugar cookie recipe and using fun cookie cutouts and icing to make a sugar cookie I'd actually eat. Then it seemed the food blogging world exploded with everyone making Soft Frosted Sugar Cookies. Being a reformed hater, I knew I'd try these someday and jumped at the chance when throwing my friend a bridal shower. I thought they'd be perfect decorated in a pale lavender to go with our theme. Did they live up to their food blogging world fame?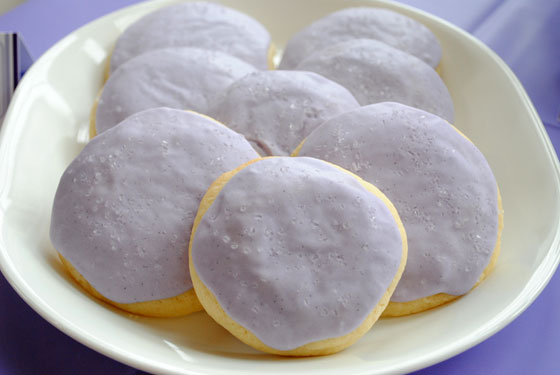 So, how's it taste?
I'm a sucker for a soft cookie. I like my chocolate chip cookies chewy and soft, so I had high expectations for these sugar cookies. Taste-wise, they did not disappoint! The flavor is such a classic, scrumptious vanilla and sugar. It's sweet and soft and just perfect. The cookie isn't terribly sweet, which works because the icing is super sweet. Together they make a pretty amazing cookie. I also like that it takes no time to ice them. Grab a spatula and slap it on there and that's it. No piping bags necessary.
Baking the cookies took some trial and error though. Out of the 10 or so blogs I read that had made these, none of them talked about the ridiculous amount of spreading that happens during baking. Or that despite their cute appearance in pictures, these cookies are freaking HUGE. I'm glad I baked them in batches because my first batch ended up in the trash. They had spread way too much and basically covered the entire baking sheet to form one big blob. On the second batch, I decided not to touch the ball of dough and I only put 9 on the baking sheet. The instructions said to flatten the ball slightly, but I recommend leaving it alone. It's also good to periodically stop and chill the dough again as it starts to come to room temperature. This will help with the spreading.
Now there's nothing wrong with a huge cookie, but when they're this soft, they tend to break and fall apart under their own weight. If you look closely at my picture, you can see the wrinkles in a few cookies that are starting to buckle. When I make these again, I'll scoop only 1 1/2 tablespoons of dough into a ball. Either using half a recipe and making 24 regular-sized cookies, or using the full recipe and making 48 regular-sized cookies.
To answer the question, yes they absolutely lived up to their food blogging popularity.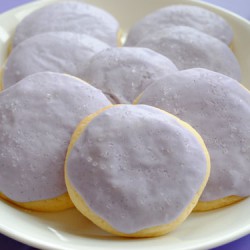 Soft Frosted Sugar Cookies
Ingredients:
Cookies
4 1/2 cups all-purpose flour
4 1/2 tsp. baking powder
3/4 tsp. salt
1 1/2 cups (3 sticks) unsalted butter, room temperature
1 1/2 cups sugar
3 large eggs
5 tsp. vanilla extract
Frosting
5 cups confectioners' sugar, sifted
1/3 cup (5 1/3 tbsp.) unsalted butter, melted
1 tbsp. vanilla extract
7-8 tbsp. milk (plus more, as needed)
Food coloring (optional)
Sprinkles/coarse sugar/edible decorations (optional)
Directions:
1. For the cookies, line baking sheets with parchment paper. In a medium bowl blend the flour, baking powder, and salt. Using an electric mixer, combine the butter and sugar on medium-high speed until soft and fluffy, about 2-3 minutes. Add eggs one at a time, mixing well after each addition and scraping down the bowl as needed. Add the vanilla. Adjust mixer speed to low and add the dry ingredients, mixing just until incorporated and evenly mixed. Cover and chill the dough for 1 hour.
2. Preheat the oven to 350F. Scoop 3 tablespoons of dough and roll into a ball for very large cookies or scoop 1 1/2 tablespoons of dough for regular-sized cookies. Place ball of dough on the prepared baking sheet. Repeat with the remaining dough, spacing the cookies at least 2-3 inches apart. The dough will dramatically spread during baking and flatten out. Make sure you space them pretty far apart. Bake about 10-12 minutes or just until set. The edges should be no more than very lightly browned. Let cool on the baking sheet for 10 minutes. Transfer cookies to a wire rack to cool completely.
3. For the frosting, place the confectioners' sugar in bowl of an electric mixer. Add the melted butter, vanilla, and milk and blend until smooth. Add additional milk as necessary, 1 teaspoon at a time, until you reach your desired consistency. Tint with food coloring, if desired. Use an offset spatula or spoon to frost the cooled cookies. Top with sprinkles, coarse sugar, or other edible decorations, if desired. Store in an airtight container.