I saw this No-Bake S'mores Pie in my feed reader a month ago and just knew I was going to make it. I was looking for the perfect recipe to use up a big bag of marshmallows I had on hand without having to resort to making krispy treats (is that a bad thing?). This pie sounded right up my alley with a thick chocolate filling, easy graham cracker crust, no baking, and I get to use my kitchen torch!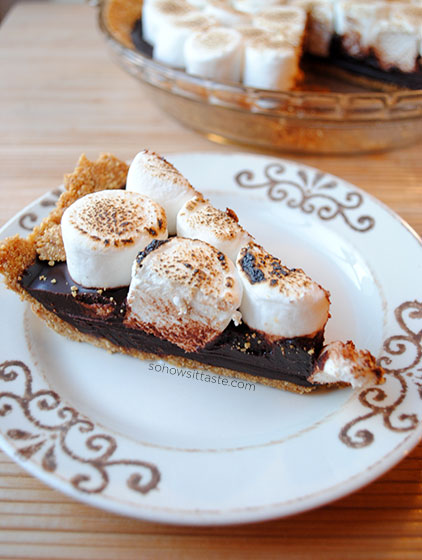 So, how's it taste?
It lived up to my expectations and more! Instead of bittersweet, I used semisweet chocolate. I was afraid bitter would be, well, too bitter. You definitely don't want to use milk chocolate, and semisweet turned out just right. Chocolatey and rich and just the right amount of sweet. The graham cracker crust was super easy to make and goes so well with the chocolate. It's a nice texture contrast to the smooth filling. The crust has a very notable salty taste, which I enjoyed at first, but then wished it were just a teensy bit less the more slices I ate. If you prefer to not taste the salt or plan to serve this to kids (my kid tasters didn't like the crust), I'd take the salt down to 1/2 teaspoon.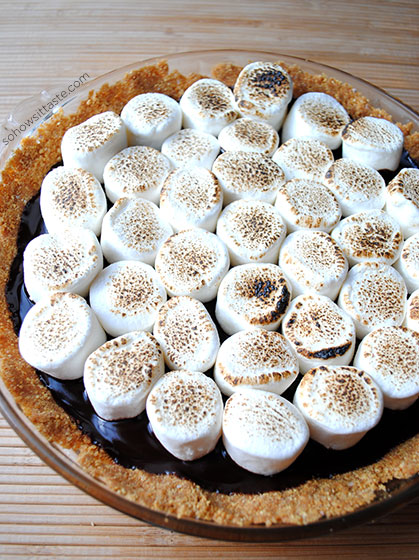 The best part, of course, was torching the marshmallows. I had so much fun setting this pie on fire! How often do you get to say that? You can get them as toasty as you want, too. I had a few marshmallows blaze up, but just blow them out so they don't burn too much. I think the next time I make this pie, I'll change it to mini marshmallows or a marshmallow creme top. The large marshmallows were a huge pain to cut into slices. I used a crazy sharp serrated knife to get through them. They made for awkward eating, too. Sometimes you'd get nothing but a big huge bite of marshmallow. We all agreed mini would work much better. Either way you choose, this no-bake pie is a perfect dessert for keeping your kitchen cool on these hot summer days.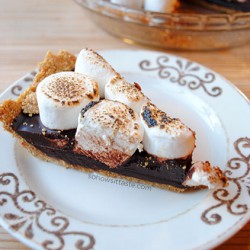 No-Bake S'mores Pie
Ingredients:
Crust
1 1/2 cups graham cracker crumbs
1/4 cup malted milk powder
2 tbsp. granulated sugar
1/2 to 3/4 tsp. kosher salt
1/4 cup unsalted butter, melted
1/4 cup heavy cream
Filling
1/3 cup heavy cream
1 1/2 tsp. light corn syrup
8 oz. bittersweet or semisweet chocolate, finely chopped
2 1/2 tbsp. unsalted butter, cut into cubes
Topping
1 (10 oz.) bag large marshmallows
Directions:
1. For the crust, in a large bowl, whisk together the graham cracker crumbs, malted milk powder, sugar, and salt. (I used 3/4 tsp and you could really taste it. You may want to use 1/2 tsp. if that doesn't appeal to you.) In a small bowl, whisk together the melted butter and heavy cream; pour over crumb mixture. Mix together until all of the dry ingredients are evenly moistened. (Get in there with your hands if you need to!) Transfer mixture a 9-inch pie plate and press evenly along the bottom and up the sides. Refrigerate while the chocolate filling is prepared.
2. For the filling, combine the heavy cream and corn syrup in a small saucepan and heat over medium heat. Warm the mixture until it is just barely boiling. Remove from the heat and add chopped chocolate. Gently stir until all of the chocolate is melted and combined. Add the butter and stir until melted and incorporated.
3. Pour the chocolate filling into chilled pie crust and spread into an even layer. Gently press marshmallows into the chocolate filling, completely covering the top of the pie with marshmallows. Chill the pie (1 1/2 hours at least) to allow the chocolate to set. Test by touching the middle marshmallow and seeing if it moves around easily in the chocolate, if so, it needs to chill longer. Use a kitchen torch to toast the marshmallows. Marshmallows may catch on fire, just blow out, if so. Serve immediately or store in refrigerator. Pie can sit out at room temperature for several hours.