Om nom nom! These Dark Chocolate Walnut Oatmeal Cookies were my absolute favorite from Cookie Baking Day this year. I seriously debated not sharing them so I could have more to myself. They're big, chewy, and have the perfect ratio of chocolate to nuts to oatmeal to dough. Nothing beats a classic chocolate chip cookie, but this one sure comes close.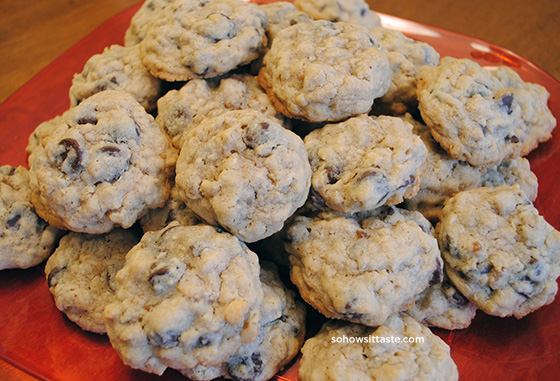 So, how's it taste?
I almost hate to include the oatmeal in the title because this is unlike any oatmeal cookie. It's not very much, so you probably wouldn't notice it if you didn't know it was there. It does help to bulk the cookie though. That dark chocolate. Oh that dark chocolate. Not too sweet, just simply perfect. The walnuts also add to the texture, but they are not front and center at all. You get this chewy cookie, but not super soft thanks to the walnuts and oatmeal. Then little bursts of dark chocolate, just to give a hint of sweet. Then in the background you notice the touch of cinnamon and an ever so slight bit of salt. I was too lazy to buy the sea salt for the top, but I don't think it needs it. You can detect the salt since it's kosher salt, so I almost feel like topping it with more would be overkill. Anne Burrell calls these Super Yummy cookies and she's right!
Other goodies from Cookie Baking Day 2013:
Cream Cheese Spritz Cookies
German Chocolate Cake Cookies
Milky Way Red Velvet Cake CookiesGooey Butter Cookies
Gooey Butter Cookies
Vanilla Orange Cranberry Cookies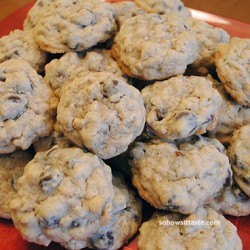 Yield: 3 dozen
Prep Time: 15 min
Cook Time: 15 min
Total Time: 35 min
Dark Chocolate Walnut Oatmeal Cookies
Ingredients:
2 cups all-purpose flour
1 cup rolled oats (old-fashioned, not quick cooking)
1 tsp. baking powder
1/2 tsp. ground cinnamon
1/2 tsp. kosher salt
1 cup brown sugar
1/2 cup granulated sugar
2 sticks unsalted butter, at room temperature
2 eggs
1 tsp. vanilla extract
12 oz. dark chocolate chips
1 cup walnuts, chopped
Large flake sea salt, for garnish (optional)
Directions:
1. Preheat the oven to 350F.
2. In a small mixing bowl, combine the flour, oats, baking powder, cinnamon, and kosher salt; set aside.
3. In large mixing bowl or the bowl of a stand mixer, combine the brown sugar, granulated sugar, and butter. Using an electric beater or the paddle attachment of the stand mixer, beat together the butter and sugar until light and fluffy. Add the eggs one at a time and beat them into the butter and sugar mixture. Add in the vanilla as well.
4. With a rubber spatula or with the stand mixer on low, gradually add the flour mixture into the butter/sugar mixture. Mix until just combined. Fold in the chocolate chips and walnuts.
5. Spoon the cookie dough by 2-tablespoon-size balls onto an ungreased cookie sheet, placing them about 2 inches apart. Place the cookie sheet in the oven. Bake for 12 to 13 minutes. (They look a little watery when they first start baking. Don't panic! They eventually look like normal cookies.)
6. When the cookies come out of the oven IMMEDIATELY sprinkle each cookie with a few grains of sea salt. This is really important to do while the cookies are hot. (This step is optional. I didn't add the sea salt on top.)
7. Let the cookies cool for 2 to 3 minutes and then transfer them to a cooling rack.