I have a lot of explaining to do on this post. First, why am I making Sage & Maple Cornbread Stuffed Pork Chops for Thanksgiving and second, why are those pork chops so ginormous! The first question is easy and much, much less embarrassing than the second. My mom simply does not like turkey. Now before you go feeling sorry for me, I always manage to get my hands on some delicious turkey, so I'm not deprived, and honestly it's quite nice not eating the same ol' same ol' every year. The reason why the pork chops are so thick? Read on for my flabbergasted moment in Publix…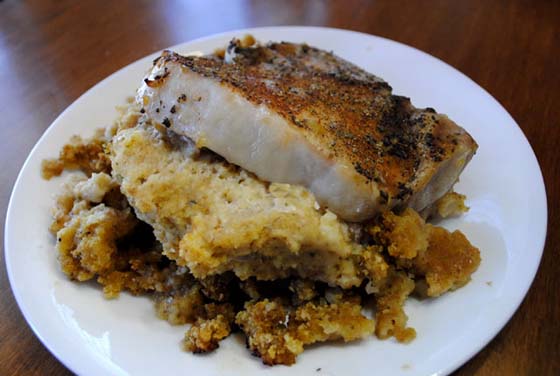 So, how's it taste?
Let me tell you despite their appearance, these pork chops were delicious. The touch of maple in the cornbread stuffing combined with the sage and seasoned salt was perfect for a holiday main dish. Simple ingredients and flavors, but all together was so good with pork. I have a weak spot for cornbread dressing, so this dish was right up my alley. Goes great with cranberry sauce, too! Another plus is you can prepare the chops the night before and pop them in the oven the next day to make dinner a snap.
Now on to my blushing-fest in Publix. I needed 1 1/2 inches thick chops and they don't normally package them that thick, so I asked the butcher to cut some for me. Well, the butcher was quite the cutie patootie with gorgeous blue eyes, so I'm already stammering like a kid asking for the special cuts. Plus I'm dressed like I'm trying to get picked for an ambush makeover. Then he asks me if I prefer the loin chops or the rib chops, and I say loin.
Mr. Blue Eyes says, "Oh, you prefer the loin?" I about lost it! I just stared at him like a deer in headlights! Did he really just ask that? Oh, wait, he's talking about the pork chops! He grabs an already packaged hunk of pork "loin" and asks me if he can just cut it down the middle. I was so embarrassed and turning bright red at this point that I just said yes and barely looked at the size. So there you have it. That's why our pork chops are about 4 inches thick. The picture above was enough for 4 servings and I had two of them! I guess I better primp next time I go to Publix and be prepared for "preferring the loin!"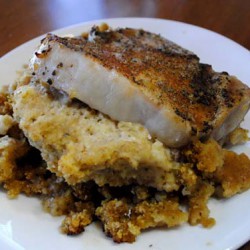 Sage & Maple Cornbread Stuffed Pork Chops
Ingredients:
2 tbsp. butter or margarine
1 cup frozen bell pepper and onion stir-fry (from 1-lb bag), large pieces cut up
3/4 cup water
1 tsp. dried sage leaves
3/4 tsp. seasoned salt
2 cups cornbread stuffing mix (from 6-oz package)
3 tbsp. real maple syrup or maple-flavored syrup
4 bone-in pork loin chops, about 1 1/2 inches thick (2 1/2 to 3 lb)
Directions:
1. Heat oven to 350°F. Spray 13x9-inch (3-quart) glass baking dish with cooking spray. In 10-inch skillet, melt butter over medium-high heat. Add bell pepper and onion stir-fry; cook 3 to 5 minutes, stirring occasionally, just until tender.
2. Stir in water, 1/2 teaspoon of the sage and 1/4 teaspoon of the seasoned salt. Heat to boiling. Stir in stuffing mix and 1 tablespoon of the syrup until moistened. Remove from heat.
3. Cut pocket in each pork chop, cutting into side towards bone. Spoon about 1/2 cup cornbread mixture into each chop, pressing in firmly. Sprinkle both sides of stuffed pork chops with remaining 1/2 teaspoon sage and 1/2 teaspoon seasoned salt; place in baking dish. Drizzle remaining 2 tablespoons syrup over chops. Spoon any remaining stuffing around chops.
4. Cover tightly with foil; bake 45 minutes. Uncover dish; bake 10 minutes longer or until meat thermometer inserted in pork next to bone reads 160°F. If desired, serve with pan drippings.
*Note: The chops can be stuffed ahead and refrigerated up to 8 hours in advance. When it's time to get dinner ready, bake them as directed in the recipe, adding a little additional time, if necessary.