Pestos are great. Yes, there's the traditional one with basil and pine nuts, but you really can get quite creative. I've made a mint pesto and even a broccoli pesto. The possibilities are endless really. In all of those varieties, I've used olive oil. It never occurred to me to make it with anything else, until I discovered this Arugula Pesto. It's made with vegetable broth and that cuts the calories way, way down, but doesn't sacrifice any flavor. I didn't even miss the cheese! (Yep, you read that right.)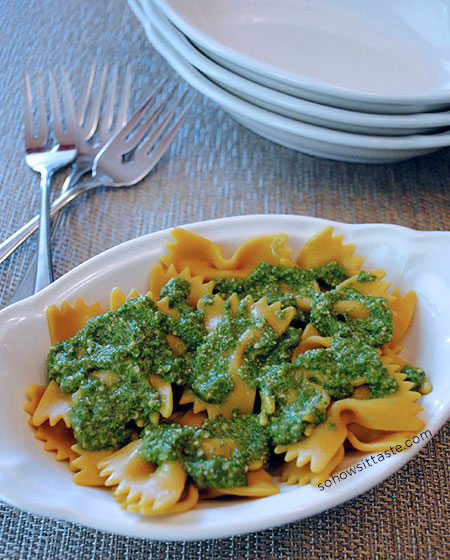 So, how's it taste?
It's just as delicious as its olive oil cousins. Using arugula gives it a peppery bite that I really liked, even though I'm not a huge fan of a mouthful of the leaves. I think it plays nicely with the garlic and that's why I enjoyed it so much more as a pesto. The vegetable broth really didn't add much flavor and acted as the binder to bring it all together. I didn't miss the olive oil at all. The lemon juice brightened up the dish and the walnuts added just a bit of texture. I was skeptical, but happy this recipe was a winner.
It does need a touch of salt though, so after you blend all the ingredients, I'd add a bit of salt and pepper to your liking. This recipe comes from a pretty strict diet cookbook where salt is pretty much banned, so add it at the end if you think it needs it. You could top your pasta with freshly grated Parmesan and that would add a touch of saltiness, too.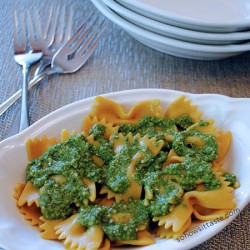 Arugula Pesto
Ingredients:
2 cups arugula
1/4 cup low-sodium vegetable broth
1 garlic clove
1 tbsp. fresh lemon juice
2 tbsp. walnuts
salt & pepper, to taste
Directions:
1. Using a blender or food processor, blend all ingredients until smooth. Add salt and pepper to taste.
2. Serve over pasta. If too thick, thin with a bit of pasta water to desired consistency.