Over two years ago (am I slow or what?), my friend Beth over at Eat. Drink. Smile. held a slow cooker contest and the winner was this Slow Cooker Thai-Style Peanut Pork. It sounds absolutely amazing and I've had it on my brain for a long time. Now that it actually feels like Fall in Nashville, it's slow cooker time! I love using my slow cooker because it pretty much does all the work for me and fills my house with the most incredible smells. The hard part is waiting eight hours to eat!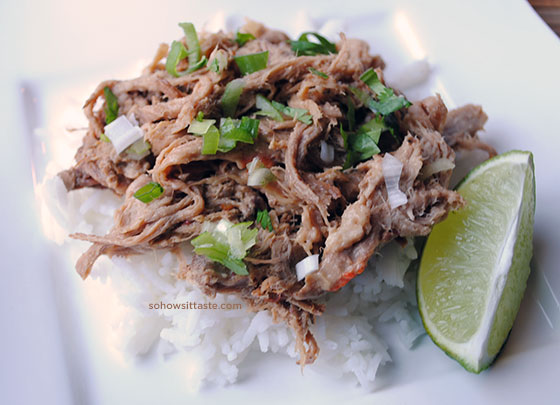 So, how's it taste?
It lived up to its expectation! I can taste why this one was a winner. Some slow cooker recipes call for a bit of extra work, but not this one. It's a cinch to get everything ready and let it cook away. As Beth and other commenters noted, the sauce should be doubled. The original recipe comes from Cooking Light and I almost hesitated to double it because the calorie count is at 413 already and you all know how I like to keep it low! But I'm also not one to be skimpy on sauce or condiments, so I doubled it. It seemed like at lot of sauce at first, but the pork quickly soaked it up. It was delicious doubled, but honestly I think it would still be just as fantastic if you didn't. The pork would shine a little bit more instead of the peanut butter. There's a lot of flavor in this dish with the peanut butter and teriyaki. It's not overly sweet though. The rice vinegar balances it out and leaves a slight tang. The red pepper flakes bring a nice punch of heat, too.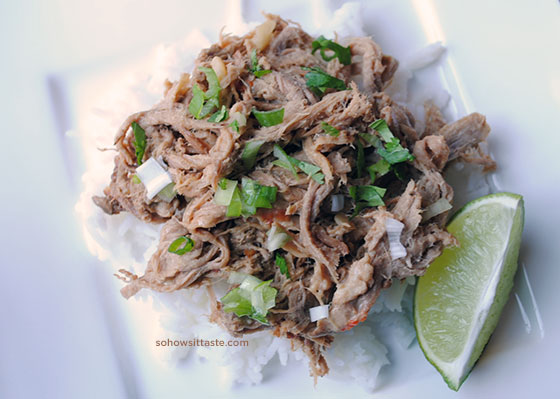 A few things I noted that I'll change for next time. I let mine cook for 8 hours and I think that was too long, so I'll start checking it around 6 hours next time. The pork wasn't dry from all the sauce, but it was headed that way, so I think less cooking time would have been better. In my picture you don't see much of the red bell pepper. It pretty much dissolves in the slow cooker and I was left with red bell pepper skins. I picked them out when I was shredding the pork. I'd add them in later so they don't turn to mush or leave them out altogether. Lastly, the toppings are essential! There's some kind of magic that happens when you add a squeeze of lime, chopped green onions, and cilantro. (Ok, I'll let it slide if you hate cilantro.) It really pulls the dish together, so don't forget them! (See another topping discovery I made sort of by accident.)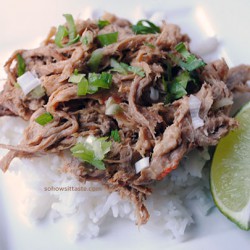 Slow Cooker Thai-Style Peanut Pork
Ingredients:
2 lbs. boneless pork loin, cut into 4 pieces
2 julienne-cut red bell peppers (I opted to chop mine and only used 1)
1/2 cup teriyaki sauce
4 tbsp. rice vinegar
2 tsp. crushed red pepper
2 garlic cloves, minced
1/2 cup creamy or crunchy peanut butter (I used crunchy)
1/2 cup green onions, chopped
2 tbsp. cilantro, chopped
2 tbsp. dry-roasted peanuts, chopped (if you use crunchy PB, you can skip this)
8 lime wedges
basmati rice, cooked
Directions:
1. Trim excess fat from pork. Place pork and next 5 ingredients (pork through garlic) in an electric slow cooker. Cover with lid, and cook on low-heat setting for 8 hours. (I'd suggest checking meat after 6 to 7 hours so as not to overcook.)
2. Remove pork from slow cooker, and coarsely chop or shred. Add peanut butter to liquid in slow cooker; stir well. Add pork back to slow cooker.
3. Serve pork with rice and top with green onions, cilantro, peanuts, and a squeeze of lime.