This food blogging business definitely has its rewards. I love it and that's rewarding enough for me. But it also has its downside. I'm looking at you extra pounds! I've started cooking and baking a lot more and well, you can kinda tell. So I try to balance it out with some recipes that are more figure-friendly (and regular dates with my treadmill!). One recipe I really enjoy is Honey Mustard Chicken and Carrots. Incredibly easy to prepare and lots of flavor for around 260 calories per serving. Not too shabby!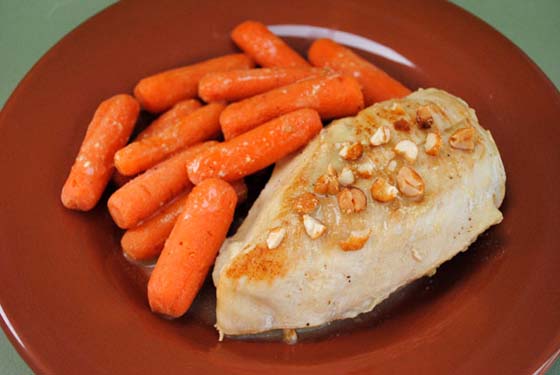 So, how's it taste?
It's such a simple recipe, but I loved the combination of honey mustard, apple, and peanuts. Let's face it, chicken can be really bland so it needs all the help it can get. I added salt and pepper to my chicken while it cooked to spice it up. It cooks in apple juice which really adds a touch of sweetness and freshness. The carrots cook in the juice as well and we all know sweet is a perfect match to cooked carrots. The honey mustard balances out all that sweet. It's an added treat to have the crushed peanuts on top. It might be diet food, but you'd never know it.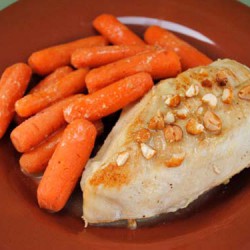 Honey Mustard Chicken and Carrots
Ingredients:
2 tsp. butter
4 boneless skinless chicken breast halves
1/2 cup apple juice
2 cups ready-to-eat baby-cut carrots
2 tbsp. sweet honey mustard
3 tbsp. coarsely chopped honey-roasted peanuts
Directions:
1. In 10-inch nonstick skillet, melt butter over medium-high heat. Add chicken; cook 5 to 8 minutes, turning once, until chicken is browned on both sides.
2. Add apple juice. Reduce heat to medium; cover and cook 5 minutes. Add carrots; cover and cook 5 to 10 minutes or until juice of chicken is clear when center of thickest part is cut (170°F) and carrots are crisp-tender.
3. With slotted spoon, remove chicken and carrots from skillet; place on serving platter and cover to keep warm. Stir mustard into liquid in skillet. Spoon mustard sauce over chicken and carrots; sprinkle with peanuts.