Something sounds familiar here, right? On Monday, I posted Shrimp Linguine with Ricotta, Fennel, and Spinach and now I'm giving you a pizza version with Sausage, Fennel, and Ricotta Pizza! I've gone pizza crazy in my kitchen, so I hope you aren't sick of them because I've got more coming up. I'm obsessed with using my pizza stone and how it gets the crust so crispy. I'm also obsessed with the pizza dough from Publix, my local grocery store. They have a little fridge in the bakery and you can buy bags of pizza dough. Last week they were buy one, get one free, so let's just say my freezer is stocked. Thankfully Cooking Light had an issue a few months back full of low calorie pizzas. I'm pretty much going to make every one of them. Pizza without the guilt? Yes, please!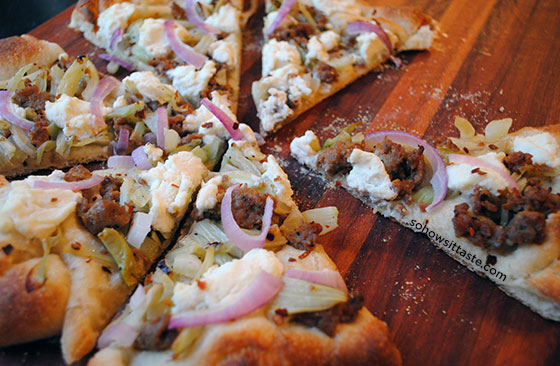 So, how's it taste?
You know I've been a fennel junkie lately. I love the stuff. It's pretty potent raw (and I'm not a licorice fan), but when that stuff cooks in olive oil or butter, it gets magical. It mellows out and gets very subtle, but you still know it's there. It's absolutely wonderful on pizza (here's more proof in my Spring Vegetable Pizza with Gremolata). I happen to have turkey sausage in my freezer and leftover ricotta from the the other recipes, so I only needed the dough and onion. It's a very simple pizza, but wow on the flavor! I used hot turkey sausage and added the crushed red pepper and my pizza had a nice kick that I loved. The ricotta gets mixed with minced garlic and I liked the creamy dollops here and there instead of spreading it out (which that would be fine, too). The red onion goes on top raw and bakes with the pizza, but I would have preferred to cook it with the fennel.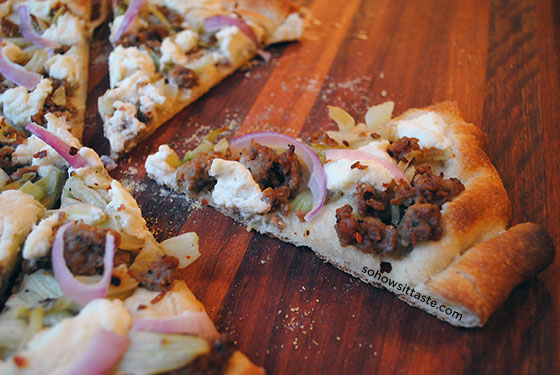 I've bragged so much on Publix's pizza dough, but I strayed from it on this one. Publix's dough comes in 16-ounce balls and that's way too much for my pizza stone. I ended up buying a canned Pillsbury pizza crust (I know, oh the shame!) and it was just ok. It comes out in a rectangle and I tried to cut it and reposition it to make a circle with not much success. While it did crisp up, it's too sweet. It tastes just like their croissants and I didn't love it for a savory pizza. I wised up and bought the Publix dough and cut it in half to make smaller pizzas! Sometimes I surprise myself with all my genius. 😉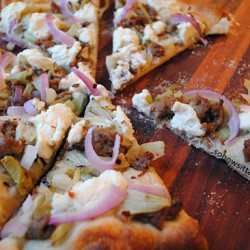 Sausage, Fennel, and Ricotta Pizza
Cooking Light, April 2013
makes 4 servings (2 slices)
per serving: 344 calories, 9.9g fat, 15.5g protein, 46.4 carbs, 7.6g fiber
Ingredients:
12 oz. refrigerated fresh pizza dough
1 (4 oz.) link Italian turkey sausage
1 cup thinly sliced fennel bulb
1 tbsp. cornmeal
1 tbsp. extra-virgin olive oil
1/3 cup part-skim ricotta
1 tsp. minced fresh garlic
1/3 cup thinly sliced red onion
2 tsp. fennel seeds
1/2 tsp. crushed red pepper
1/2 tsp. freshly ground black pepper
1/8 tsp. kosher salt
Directions:
1. Place a pizza stone or heavy baking sheet in oven. Preheat oven to 500° (keep pizza stone or baking sheet in oven as it preheats). Let pizza dough stand at room temperature, covered, while oven preheats.
2. Heat a large nonstick skillet over medium-high heat. Remove casing from sausage. Add sausage to pan; cook 4 minutes or until lightly browned, stirring to crumble. Add fennel bulb; cook 4 minutes or until tender.
3. Roll pizza dough into a 16-inch oval on a lightly floured surface. Carefully remove pizza stone from oven. Sprinkle cornmeal over pizza stone; place dough on pizza stone. Brush dough evenly with oil. Sprinkle sausage mixture evenly over dough, leaving a 1-inch border. Combine ricotta and garlic in a small bowl; top pizza with teaspoonfuls of ricotta mixture. Sprinkle red onion and remaining ingredients evenly over pizza. Bake at 500° for 11 minutes or until golden. Cut into 8 slices.