No, your eyes aren't deceiving you. This may look like my Italian Zucchini Crescent Pie, but instead it's Zucchini & Caramelized Onion Quiche! Since my recent turn from a zucchini hater to a zucchini lover, I'm cooking it all the time now. Usually I cut it into big chunks and roast it in my oven with other veggies, but thanks to these two recipes, I've learned it cooperates very nicely in quiche form. Thin slices with that pretty green edge make for an equally good-looking dish, too.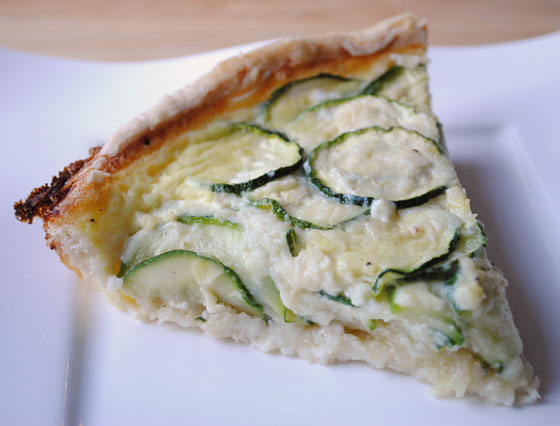 So, how's it taste?
Gosh this was so good! I'm a sucker for quiche anyway and this one has a layer of caramelized onions at the bottom that I just loved. Slowly cooked, sweet onions are awesome. I used skim milk instead of 1% and it worked great. However, I do think three cloves of garlic was too much. I'll reduce it down to two cloves next time. I also liked how one serving was a sixth of the quiche. Sometimes with these low calorie quiche recipes, they'll be eight servings, which is too small. A slice of this quiche was pretty satisfying for a light lunch.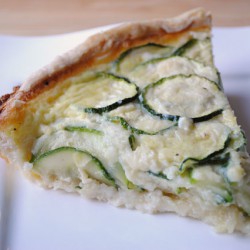 Zucchini & Caramelized Onion Quiche
Ingredients:
1/2 (14.1 oz.) package refrigerated pie dough
1 tbsp. olive oil
4 cups (1/8-inch-thick) slices zucchini
3 garlic cloves, minced
3/4 tsp. kosher salt, divided
1/2 cup finely chopped Basic Caramelized Onions
1 cup 1% low-fat milk (I used skim)
1 1/2 tbsp. all-purpose flour
1/2 tsp. freshly ground black pepper
3 large eggs
2 oz. Parmigiano-Reggiano cheese, grated (about 1/2 cup) (I used Asiago)
Directions:
1. Preheat oven to 425°.
2. Roll dough into a 12-inch circle. Fit dough into a 10-inch deep-dish pie plate. Fold edges under; flute. Line dough with foil; arrange pie weights or dried beans on foil. Bake at 425° for 12 minutes or until edges are golden. Remove weights and foil; bake an additional 2 minutes. Cool on a wire rack.
3. Reduce oven temperature to 375°.
4. Heat a large nonstick skillet over medium-high heat. Add oil to pan; swirl. Add zucchini and garlic; sprinkle with 1/4 teaspoon salt. Sauté 5 minutes or until crisp-tender. Cool slightly.
5. Arrange Basic Caramelized Onions over bottom of crust; top with zucchini mixture. Combine remaining 1/2 teaspoon salt, milk, flour, pepper, eggs, and cheese in a medium bowl, stirring well with a whisk. Pour milk mixture over zucchini mixture. Bake at 375° for 35 minutes or until set. Let stand 10 minutes before serving.