You're going to see some low-calorie, healthy dishes pop up a little more on the blog. I'm on a "diet" so to speak (hey, bathing suit season is coming way too fast!), yet I don't feel like I'm dieting because I'm making some tasty dishes. Like these Turkey Sloppy Joes. They are some serious sandwiches. I was floored at how much I liked them considering I was watching my calories. I've been eating the leftovers daily and after sandwich number six, I still look forward to this meal. That can be really, really hard to do after you've eaten the same thing over and over. So you know these have to be that good!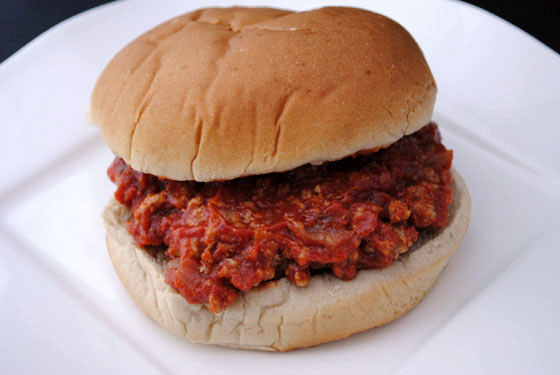 So, how's it taste?
Remember Manwich? That stuff in the can that's super easy to make? That's what my version tastes like. I have nothing against Manwich, I actually crave it now and then. It's probably more sentimental as that was the first meal I made in my new house almost five years ago. But these sloppy joes are better. The flavor is just unreal. It's savory, tangy, a little spicy, and just plain comforting. I couldn't believe how good they tasted. I like to add a slice of fat-free American cheese to mine, for a grand calorie total of 247. Yep, 247 for a big ol' sloppy joe!
I've made a number of recipes from Patti LaBelle's book and some are real flops or need a lot of doctoring, but I hit the jackpot with the sloppy joes. I did recalculate her calories though. In the book, she has them at 330 calories each, but there's no way they are that much unless she's counting a high-calorie, whole wheat bun. I try to lower the calories everywhere I can. I hope you enjoy these as much as I do!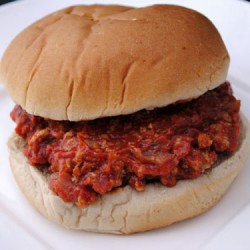 Turkey Sloppy Joes
Ingredients:
1/2 cup chopped red onion
1/2 cup chopped celery
3 garlic cloves, minced
1 lb. 95% lean ground turkey (not 99% lean ground turkey breast)
8 oz. low-sodium tomato sauce
6 oz. low-sodium tomato paste
1/2 cup chili sauce
1 tbsp. white wine vinegar
1 tsp. chili powder
1 tsp. sugar substitute (like Splenda)
1 tsp. seasoning salt
1/2 tsp. ground cumin
1/2 tsp. dried oregano
1/4 tsp. black pepper
8 whole wheat hamburger buns*
*Note: Nutrition information does not include buns. I use Healthy Life wheat buns, which add 80 calories per serving.
Directions:
1. Coat a large skillet with fat free cooking spray and heat over medium heat. Add the onion, celery, and garlic. Cook until just tender, about 4 minutes. Add the turkey and cook, breaking up the meat with a spoon, until the turkey is no longer pink, about 5 minutes. Drain off any excess fat.
2. Stir in the tomato sauce, tomato paste, chili sauce, white wine vinegar, chili powder, sugar substitute, seasoning salt, cumin, oregano, and pepper. Cover and simmer, stirring frequently, for 15 minutes to blend the flavors.
3. Divide the mixture equally among the hamburger buns to make sandwiches.