If you follow me on social media, you would have seen my enormous cookbook collection Saturday. Well, at least part of it. I love a good cookbook. I will curl up to a cookbook like it's a novel. I thought it was funny to mention my love of cookbooks and how my collection is a bit out of control, then give you Monterey Shrimp Pasta…because I got this recipe off the back of a box of spaghetti! I failed to mention I'm more of a recipe junkie (you should see my box of loose recipes, oy!). I find it amusing that I have all these cookbooks, yet haven't used some of them. I'm too busy drooling over shrimp with spaghetti and big chunks of avocado!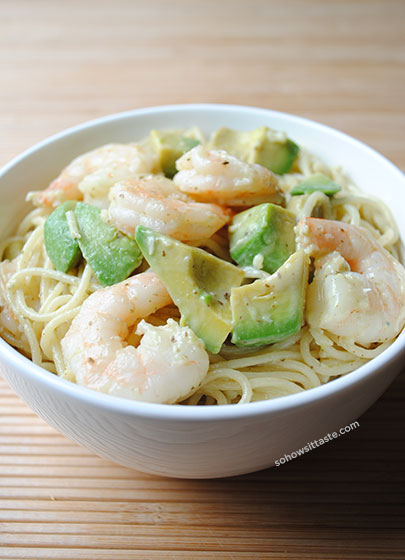 So, how's it taste?
I knew this recipe would be a winner. I was making this Chicken Carbonara and glanced at the back of the box and found this recipe. Score! It's got everything I love. Shrimp, sour cream, blue cheese, garlic, pesto, and oh that avocado! I just knew it would be creamy and delicious and I was right! They should call this rock my world pasta. If you're a fan of creamy sauces, you will love this. It doesn't sound like much to make a sauce. Just a bit of sour cream and pesto. The little bit of blue cheese and the garlic make it complete. Those chunks of avocado are what makes me swoon. Big bites of creamy avocado with the noodles and succulent shrimp. It's perfection! It takes no time to make, which during the week is much appreciated. It's nice to have a delicious dish that seems like you slaved away in the kitchen for hours. Enjoy!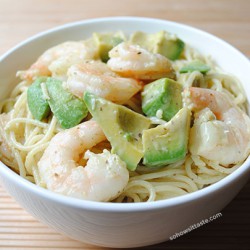 Monterey Shrimp Pasta
Publix Apron's® Simple Meals
makes 4 servings
Ingredients:
8 oz. thin spaghetti
2 tbsp. flour
1 tsp. seasoned salt
1 lb. fresh peeled, deveined medium shrimp
2 tbsp. butter
4 cloves garlic, minced
avocado, cut into bite-sized pieces
1/4 cup sour cream
1 tbsp. basil pesto
1 tbsp. crumbled blue cheese
freshly ground black pepper
Directions:
1. Prepare spaghetti according to package directions.
2. Meanwhile, place flour and seasoned salt in zip-top bag; shake to mix. Add shrimp, seal tightly and shake to coat.
3. Preheat large saute pan on medium-high 1-2 minutes. Add butter and swirl to coat. Add garlic and shrimp, saute 2 minutes; stirring occasionally.
4. Reduce heat to low. Stir in avocado, sour cream, basil pesto, and blue cheese. Simmer 5 to 7 minutes, stirring occasionally, until sauce thickens. Season with pepper, to taste. Toss spaghetti with shrimp mixture.