Baked ham is so easy, especially when you start with one that's already cooked. There are no less than a bajillion recipes for glazes, but I'm partial to ones that involve liquor…specifically Jack Daniel's like in this Whiskey-Glazed Ham. The ingredients are minimal, but wow do they add some flavor. I know it's old-fashioned, but I really like the diamond patter with cloves. I remember my grandma doing that to ham, so it's mostly sentimental, but I happen to really like the spice, too.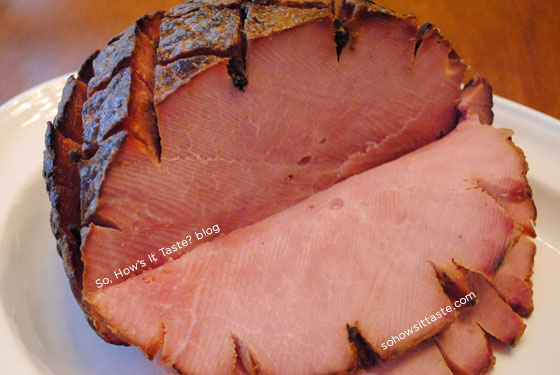 So, how's it taste?
It's not a strong taste of whiskey, but you can taste the extra sweetness and a little something over the brown sugar. See how when the ham is scored, it sort of spreads open and all that glazey goodness gets down into the meat?! It was really good. The glaze also makes a thin crust on top. Slices of smoky, salty, sweet ham and I was in dinner heaven. The leftovers? Even better! A few slices on a roll or a biscuit…mmm mmm!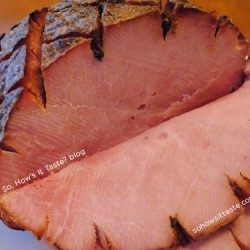 Whiskey-Glazed Ham
Betty Crocker
serves 16
per serving: 250 calories, 8g fat, 16g carbs, 29g protein, 0g fiber
Ingredients:
1 fully cooked smoked bone-in* half ham (9 to 10 lbs.)
1 tsp. whole cloves
1 cup packed dark brown sugar
2 tbsp. ground mustard
1/4 cup whiskey (I use Jack Daniel's)
*I wanted to cook a smaller ham, but couldn't find a 5 lb. ham with the bone, so I used boneless and it worked fine.
Directions:
1. Heat oven to 325°F. Spray shallow roasting pan or 15x10x1-inch pan with cooking spray. Place ham, fat side up, on rack in shallow pan. Score outside of ham in diamond pattern; insert cloves into diamond shapes. Insert ovenproof meat thermometer in thickest part of ham. Bake 1 hour.
2. In small bowl, stir together brown sugar, mustard, and whiskey. Brush 1/2 of mixture evenly over ham.
3. Bake 30 minutes. Brush with remaining mixture. Bake 40 to 50 minutes longer or until thermometer reads 140°F. If pan drippings start to burn, add up to 1/4 cup water to pan.
4. Remove ham from oven; cover with foil and let stand 10 to 15 minutes for easier carving.