Grilling days are here, so it was time to pull out my magazines dedicated to grilling. I was looking for a side to go with burgers and found Three Bean and Cheese Salad. This salad is more like a meal itself but in small portions it was a nice compliment to the burgers. It's incredibly easy to make and would be great for summer potlucks.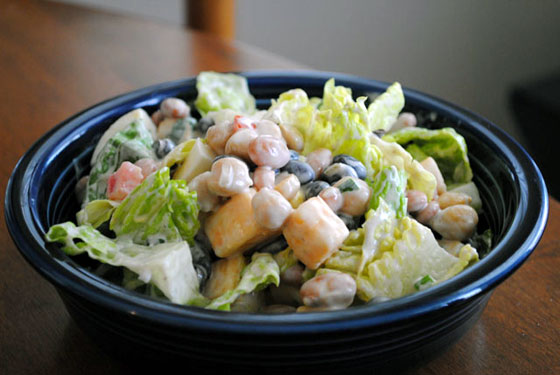 So, how's it taste?
Very refreshing and crisp! Definitely tastes like summer is around the corner. The cucumber ranch dressing is really what makes this salad impressive. I didn't think cold beans could taste so good! I also really liked the different textures. A good crunch from the romaine, creaminess from the cheese, and a hearty bite from the beans. I would like to tweak this recipe a bit the next time I make it. The amount of dressing was too much for my taste, so I recommend adding it in increments until it's to your liking. Even though the dressing has a cucumber flavor, I think this salad would be great with the addition of chopped cucumbers. I'll also cut the cubes of cheese into smaller pieces, so you get a mix of ingredients instead of a mouthful of cheese. Use Colby Jack cubes if you can't find Colby or Monterey Jack cubes separately.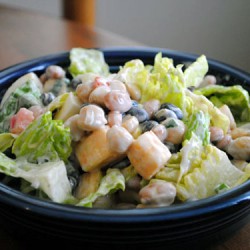 Three Bean and Cheese Salad
Ingredients:
2 eggs
6 cups torn romaine lettuce
1/2 c. sliced green onions
1 (15.5 oz.) can garbanzo beans, drained, rinsed
1 (15.5 oz.) can black beans, drained, rinsed
1 (15.5 oz.) can pinto beans, drained, rinsed
4 oz. Colby cheese, cubed
4 oz. Monterey Jack cheese, cubed
2 tomatoes, seeded, chopped
3/4 c. purchased cucumber ranch salad dressing
Directions:
1. Place eggs in saucepan. Add enough water to cover eggs by 1 inch. Bring to a boil. Remove from heat, cover, and let stand 15 minutes. Drain; rinse with cold water.
2. In large bowl, combine all ingredients except salad dressing and eggs. Toss to mix. Add salad dressing; toss to coat. Peel eggs; slice.
3. Top salad with egg slices.