You may look at this post and think it's too simple and boring, but I've been roasting potatoes (and practically any veggie for that matter) for a long time and just never thought to put them on the blog. I seriously make them all the time. Such an easy side to throw together and roasting makes any veggie taste a bajillion times better. I bought a huge bag of red potatoes not too long ago and had a few left that I needed to cook. Instead of chopping them into chunks like I usually do, I thought I'd try wedges. Roasted Potato Wedges were born and I discovered the wedge shape makes them perfect for dipping!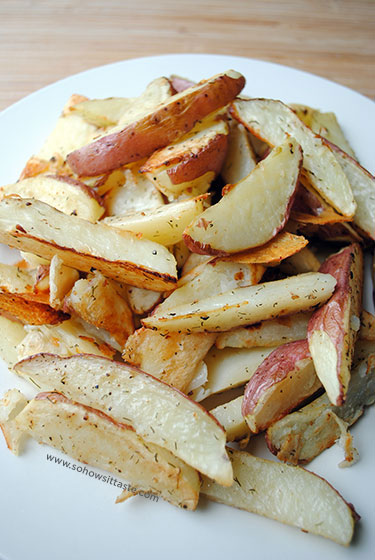 So, how's it taste?
It's a potato, so naturally I'm in love with them. Potatoes rock my world in pretty much any form, but roasting them is in my top 3. Why? They get crunchy on the outside, but stay soft in the middle…remind you of fries, maybe?! Now you see why I like them so much. They are incredibly versatile, too. The ones you see pictured have dill and I've made them before with rosemary, oregano, basil, cumin, cayenne. The list goes on. It's so fun to experiment with different herbs and spices. You can also use them as a base for other goodies. Sometimes I melt some cheddar on top or add a dollop of sour cream. I've had many meals of just roasted potatoes and nothing else. Last night I ate these for dinner and alternated between dipping them in spicy barbecue sauce and tzatziki sauce (coming up later on the the blog!). Sounds weird I know, but I also have an obsession with condiments so now you see why I like potatoes so much…they're the vehicle!
You'll see in the recipe below I don't have measurements. I eyeball everything because it depends on how many potatoes you use and what spices/herbs you use. You can make a small batch or a huge batch. See how versatile and fantastic they are! This recipe will also work for just about any other veggie. Carrots, sweet potatoes, squash, zucchini, cauliflower. Broccoli and asparagus are also great roasted, but don't need as much time to cook.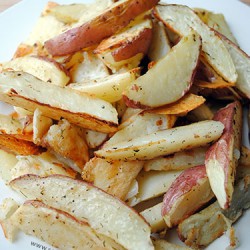 Roasted Potato Wedges
So, How's It Taste? original
Ingredients:
potatoes, cut into wedges
olive oil (just enough to barely drizzle your batch)
salt & pepper
dried herbs/spices of your choice
Directions:
1. Preheat oven to 425F.
2. Cut potatoes into wedges or chunks. Try to make sure they are mostly all the same size. Arrange cut potatoes on a baking sheet with sides. Potatoes should be in one layer, so use multiple baking sheets if you need to.
3. Drizzle the olive oil lightly over the top. The way I gauge it is to use less than what I think I need. You want it to barely coat all the potatoes and a little goes a long way. You'll be tempted to use more, but too much olive oil will make them soggy instead of crispy.
4. Sprinkle with salt and pepper. I use seasoned salt and freshly ground black pepper. Sprinkle with your choice of dried herbs and spices. Mix with your hands until the potatoes are all coated with the olive oil and spices. Make sure to leave potatoes in one layer.
5. Bake for 30 minutes and use a spatula to mix the potatoes at the 15-minute mark. Some will stick, so make sure you give it a good stir. Potatoes are finished when they're lightly golden brown. Remove from the oven and serve. You can store leftovers in the fridge and reheat using an oven or toaster oven, although they won't be as crispy as the first time you make them.