On my last trip to the grocery store, I found a bag of these cute, multicolored potatoes. They're a mix of purple, red, and yellow and the bag read Celebration Potatoes. I had no idea what I was going to do with them, but couldn't resist grabbing a bag. I absolutely love roasting potatoes, but these were too small to cut up and I wasn't about to attempt peeling them. So why not smash them instead! These Smashed Potatoes are a great way to shake up how you serve potatoes.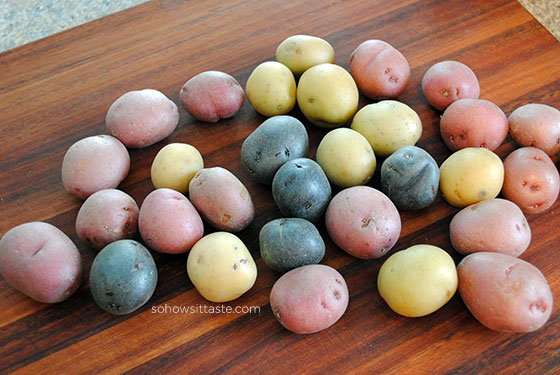 So, how's it taste?
Loved these! The colors were so fun, and I think it's the first time I've ever eaten a purple potato. Each color had a slightly different flavor. It was also nice to not have to peel them and the skins get so crunchy that I actually enjoyed eating them. You can really vary this dish with different herbs and spices. You can never go wrong with potatoes and rosemary, so that's what I used in this batch.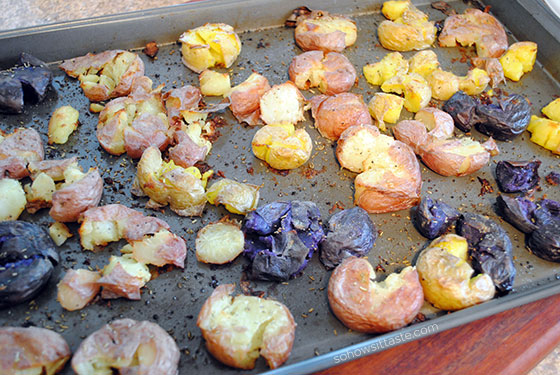 They're buttery, creamy, and crunchy all at the same time. Lots of texture and flavor. I ate these instead of fries with my Garden Turkey Burger. Perfection on a plate!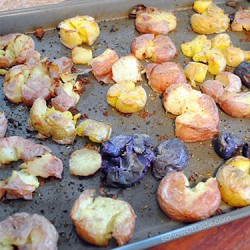 Smashed Potatoes
So, How's It Taste? original
Ingredients:
28 oz. small round potatoes
olive oil
salt
freshly ground black pepper
dried herbs/spices of your choice
Directions:
1. Preheat oven to 450F. Over medium-high heat, bring a pot of salted water to a boil. Add the potatoes and cook until they are fork tender. Drain the water.
2. Place potatoes on a baking sheet and drizzle with olive oil. Using your hands (make sure the potatoes are cool enough to handle), spread potatoes in olive oil to make sure they are covered. You want to barely coat the potatoes and a little goes a long way.
3. Using the flat side of a meat tenderizer (or rolling pin or whatever you have), gently smash the potatoes. Be careful you don't smash them too hard or you'll end up with bits of potato all over your kitchen (I may or may not have tested that!).
4. Sprinkle potatoes with salt, pepper, and your herb/spice of choice. I used rosemary for this batch.
5. Bake for 25-30 minutes or until golden brown and crispy.