Ok, this is one of those recipes that will usually cause someone to say, "duh!" It's insanely easy to prepare, but I'm just not that person that can make up their own recipe or whip something together with my pantry ingredients. I need to have something as a guideline. Apricot Peas Amandine are a great side dish as they take no time to prepare, so it leaves you more time with your main dish and other meal preparation.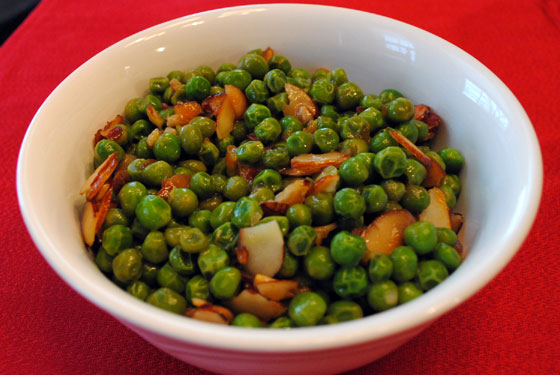 So, how's it taste?
The original recipe used canned peas and I just don't think adding preserves and almonds would make it taste good. I'll eat canned peas, but I like to cook them with chicken bouillon so they are more on the savory side, not sweet. Using frozen peas is a better alternative for the flavor I wanted. The apricot preserves added a touch of sweetness and I really liked the crunch from the almonds. You could use any preserves you like. Orange marmalade or pineapple preserves would work well, too. The ease of this dish will make it a go-to recipe for when I need a green veggie as a side.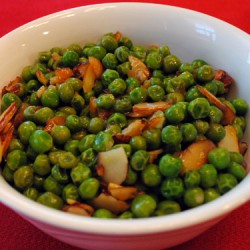 Apricot Peas Amandine
Ingredients:
1 tbsp. butter
2 tbsp. apricot preserves (or try orange marmalade)
15 oz. frozen peas
1/3 cup sliced almonds, toasted*
*To toast almonds, heat oven to 350°F. Spread in single layer on cookie sheet. Bake at 350°F. for 5 to 7 minutes or until light golden brown.
Directions:
1. Melt butter in medium saucepan. Add apricot preserves; stir until blended.
2. Gently stir in peas and almonds; cook until thoroughly heated.