Look how gorgeous this Tomato Tart turned out! This was a fantastic meatless meal with incredible flavor. Something a little different for dinner. My only complaint is that the slices were really little, so I ended up eating two pieces for a serving. Which wasn't so great for my calorie count, but awesome in the more food department!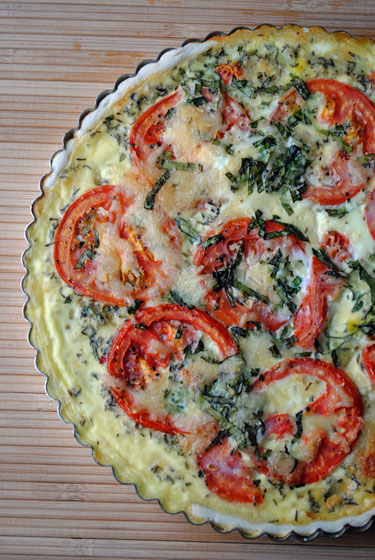 So, how's it taste?
I thought it might be a little plain with just cooked tomatoes, but that's so not the case. The olives provide a surprise saltiness and the shallots are fantastic with their delicate onion flavor. This tart is still full of delicious tomatoes, so get really good ones and really ripe ones. There's Fontina cheese covering the bottom of the tart and Parmesan in the egg mixture, so you know it's got to be good with two cheeses. I'm not really sure what the tablespoon of cornmeal does as it wasn't enough to give a noticeable crunch, but I do know the tablespoon of thyme was too much. It doesn't specify if it's fresh or dried, and I used dried. It was thyme, thyme, thyme central. I like that taste, but I'd reduce it to half a tablespoon.
They are serious when they mean use a deep-dish tart pan or a springform pan. I used a regular tart pan and it wouldn't hold all of the egg mixture and it spilled out during baking. Luckily I kind of knew this would happen and put a sheet pan underneath the tart pan, so no messy oven. I also had too much dough for the crust since I packed it all in my regular-sized tart pan. I rolled out my crust as the directions instructed and I should've left it since I wasn't using a deep-dish pan. The bottom crust was too thin and the sides were too thick! Another bit of luck, I happen to love the crust in quiches and tart, so it didn't bother me, but it also didn't get very crusty.
I think the serving size should be changed to six servings. An 8-serving tart produces quite a tiny slice. As I wrote earlier, I ended up eating two slices for a meal. Six slices would make it 325 calories each, which is much better than my 488 calories from eating two. Oops!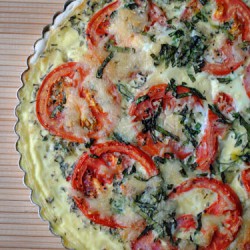 Tomato Tart
Ingredients:
1/2 (14.1-ounce) package refrigerated pie dough
Cooking spray
2 1/2 oz. Fontina cheese, shredded (about 2/3 cup)
1/2 cup pitted olives, chopped
1/3 cup sliced shallots
3 tomatoes, seeded and cut into 1/2-inch-thick slices
3 tbsp. all-purpose flour
1 tbsp. cornmeal
1 tbsp. thyme (I suggest using 1/2 tbsp. instead)
3/4 tsp. kosher salt
1/2 tsp. pepper
1 1/4 cups 2% reduced-fat milk (I used skim)
1 1/2 tablespoons shredded Parmesan
3 large eggs
2 tbsp. chopped fresh basil leaves
Directions:
1. Preheat oven to 350°F.
2. Roll dough to a 12-inch circle; press into a 9-inch deep-dish tart or springform pan coated with cooking spray. Sprinkle with fontina, olives, and shallots. Arrange half of tomato slices over shallots Combine flour, cornmeal, and thyme; sprinkle over tomatoes. Top with remaining tomato slices; sprinkle with 3/4 teaspoon salt and pepper.
3. Combine milk, Parmesan, eggs, and basil; pour into pan. Bake at 350°F for 40 minutes or until set; let stand 10 minutes.