This Rustic Squash Tart is one of those recipes I love because it's so unique and the presentation is really pretty. It looks like you put a lot of effort into it, but it's really quite easy. Well, other than peeling butternut and acorn squash. It's unique because the top is savory with the two squashes covered in herbs, but hidden underneath is a layer of spiced, sweet pecans. It sounds really odd, I know, but it just works. Baked in a flaky puff pastry, this tasty side will steal the show.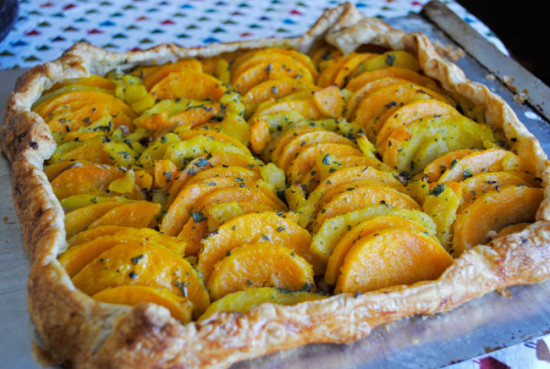 So, how's it taste?
Sounds kooky right? Trust me, it's awesome! I'm thinking because squash can be either sweet or savory and so can pecans. It sounds weird to cook the squash in the microwave, but it makes it really easy. They'll be hot coming out, so be careful when you put them in the bag to squish around the herbs and oil.
This side is almost like dessert. It reminds me of pumpkin pie, but with loads more texture. I love the flaky crust and the crunchy sweet pecans. The recipe makes two tarts, but you can half it and use small squashes to only make one. If you have more squash, just tuck it in where you can like I did. The recipe also has one tart being eight servings, but we get more than that since we cut the slices smaller for a side. You could make this a tasty vegetarian meal with one big slice though!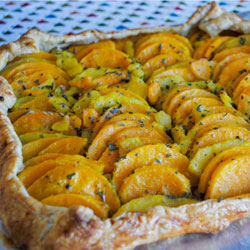 Yield: 2 tarts (16 servings)
Prep Time: 30 min
Cook Time: 35 min
Rustic Squash Tarts
Ingredients:
1 medium butternut squash, peeled, seeded and cut into 1/8-inch slices
1 medium acorn squash, peeled, seeded and cut into 1/8-inch slices
2 tbsp. water
1/4 cup olive oil
1 tbsp. minced fresh thyme
1 tbsp. minced fresh parsley
1/2 tsp. salt
1/4 tsp. pepper
1/2 cup all-purpose flour
1/2 cup ground pecans
6 tbsp. sugar
1/2 tsp. ground nutmeg
1/2 tsp. ground cinnamon
1 package (17.3 ounces) frozen puff pastry, thawed
1 egg, lightly beaten
2 tbsp. butter
*Note: This recipe makes two tarts. Half it if you only want one and use small squashes.
Directions:
1. In a large microwave-safe bowl, combine squash and water. Cover and cook on high for 5 minutes or until crisp-tender. Drain; transfer to a large resealable plastic bag. Add the oil, thyme, parsley, salt, and pepper; seal bag and shake to coat. Set aside. In a small bowl, combine the flour, pecans, sugar, nutmeg, and cinnamon; set aside.
2. Unfold pastry sheets on a lightly floured surface. Roll each pastry to 1/8-in. thickness; transfer each to an ungreased baking sheet. Sprinkle with pecan mixture. Arrange squash slices to within 1-1/2 in. of edges, alternating slices of butternut and acorn squash.
3. Fold up edges of pastry over filling, leaving centers uncovered. Brush pastry with egg. Dot squash with butter. Bake at 375F for 35-40 minutes or until golden brown.