A few weekends ago, I headed to my mom's house for a weekend of school shopping (yes, yours truly is going back to college for another degree!) and of course, tasty food. Usually I'm the one doing the cooking, but if it's time to fire up the grill, I leave that to the expert…my mom. As much as I enjoy cooking, it was kind of nice to sit back and let someone else have the spotlight. I brought a few grilling cookbooks and we made several goodies that weekend. Corn on the Cob with Taco Butter may sound simple, but we raved about it with every bite.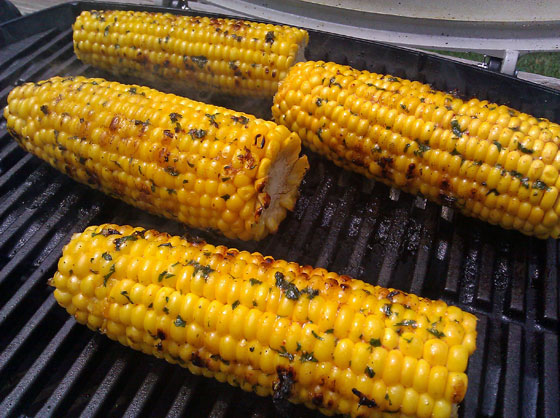 So, how's it taste?
Fresh corn is worth the minimal effort to deal with removing silks. I'm not sure what happens on the grill, but it's magic. Drenched in butter, seasonings, and fresh cilantro, this was sure to be a hit. I've eaten my fair share of corn on the cob with butter, so I was looking forward to that extra zing from the taco seasoning. Honestly, I couldn't taste that or the cilantro very much. It made for pretty ears of corn with the orange butter and flecks of green, but it didn't pack that taco punch I was expecting. Still amazingly delicious though. Fresh, grilled corn is really underrated. I've always enjoyed it, but never really realized just how good those sweet kernels can be. The original recipe called for low-sodium taco seasoning, but I had to add salt to my corn, so I'd recommend using the regular seasoning. I'd give this another try and up the seasoning ratio to see if I can get more flavor. I'm sure most of it gets wasted on the grill, so I might even try mixing the seasoning into softened butter and spreading it on the corn after it's finished grilling. Highly recommend this for your next grilling side.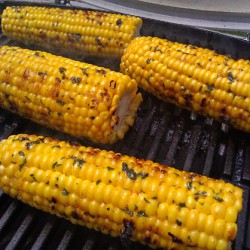 Corn on the Cob with Taco Butter
Ingredients:
1/3 cup butter, melted
2 tbsp. chopped fresh cilantro
1 tbsp. taco seasoning mix (from 1 1/4-oz. pkg.)
6 ears fresh corn, husks removed, cleaned and dried
Directions:
1. Heat grill. In small bowl, combine melted butter, cilantro, and taco seasoning mix; mix well. Brush each ear of corn with butter mixture.
2. When ready to grill, place corn on gas grill over medium heat or on charcoal grill 4 to 6 inches from medium-high coals. Cook 15 to 18 minutes or until tender, turning and brushing frequently with butter mixture.