I may have clued you in on my obsession with loaded baked potatoes, or just baked potatoes for that matter. They are such a great vehicle for any kind of topping. When I found this recipe for Loaded Baked Potato Salad, I instantly knew it was going on our menu for the 4th. It's got everything I go crazy over. Sour cream, cheddar cheese, green onions, and bacon!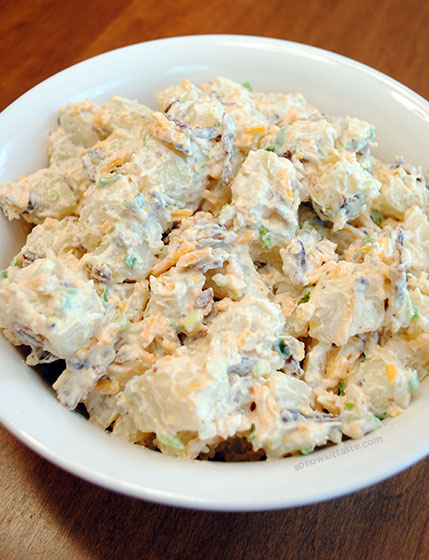 So, how's it taste?
We really loved this. It's such a fun twist on regular potato salad. Instead of boiling the potatoes, you bake them, of course! So, it's very true to the loaded baked potato flavor. I will admit it was a big ol' pain to peel all of the potatoes after they baked, and I only made 1/2 the recipe. It would have been much easier to peel them, then boil them. That wouldn't be a baked potato salad, now would it? So you do have to work a little. 😉 It's totally worth it though. I was really sad when this was gone. Another noteworthy point is letting the baked potatoes absorb the apple cider vinegar before you mix in the rest of the ingredients. This is genius. It adds another dimension to the dish, but doesn't leave a big vinegar taste. I'm doing this for all of my potato salads from now on.
I'll make sure this makes its way onto our menu again, but with a few tweaks. This side is a gut buster, obviously. It's extremely rich and heavy, so next time I'd like to try it with light sour cream and reduced fat mayo. Then I won't feel so bad when I eat vats of it! I also found that it's better at room temperature, instead of from the fridge. I tasted it right after I mixed it, and liked it much better than when it was colder later. We ate leftovers after letting them get a bit of the chill off from the fridge. But really, there's no wrong way to eat anything related to a loaded baked potato!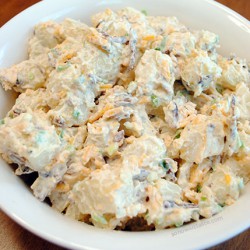 Loaded Baked Potato Salad
Ingredients:
4 lbs. russet potatoes
1-2 tbsp. olive oil
3 tbsp. apple cider vinegar
1 cup mayonnaise
3/4 cup sour cream
1 tsp. kosher salt and freshly ground black pepper
1 lb. bacon, cooked, cooled and chopped
6 green onions, chopped
1 1/2 cups sharp cheddar cheese, shredded
Directions:
1. Preheat oven to 400 degrees F.
2. Pierce scrubbed potatoes with a fork several times. Lightly coat each potato with olive oil and place on an aluminum foil lined baking sheet. Bake for 50-60 minutes or until fork tender. Remove from the oven and let cool. Remove the skins and cut the potatoes into 1-inch chunks and place in a large mixing bowl. Sprinkle with the apple cider vinegar and let rest for 15-30 minutes.
3. Mix the mayonnaise and sour cream in a small bowl and season with the kosher salt and pepper. Stir in the bacon, green onions, and cheddar cheese. Carefully fold in the chunks of baked potatoes, so it doesn't turn into mashed potatoes. Add more salt and pepper, if needed. (Be sure to check first as the bacon will add salt, too.) Serve immediately or refrigerate for 3 hours if you prefer the salad colder.