Along with the Best-Ever Gourmet Meat Loaf, I served these Buttermilk Ranch Mashed Potatoes. I must say they go together like peanut butter and jelly. I love the flavor of ranch so much, so I knew I'd enjoy these mashed potatoes. I kept a little bit of the red potato skin on to jazz up the color of the dish a bit.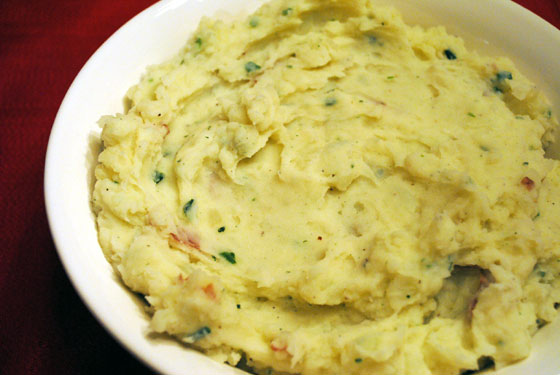 So, how's it taste?
These are my new favorite mashed potatoes. Don't get me wrong, I'm not going to turn down any kind, including this Buttermilk Chive version. But wow, what a flavor with the ranch dressing! I halved this recipe and not only did it still make a ton of mashed potatoes, but I ended up using almost the full amount of the ranch. I really wanted the ranch flavor to come through. My fellow diners enjoyed it as well and didn't think it was overkill. So if you're making the full recipe, you may want to pick up an extra packet of ranch, just in case!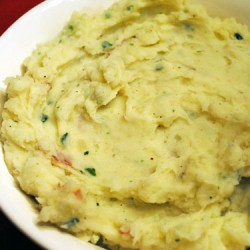 Buttermilk Ranch Mashed Potatoes
Ingredients:
5 lbs. red potatoes, cut into 1-inch cubes
1/2 tsp. kosher salt
1 cup buttermilk
1/2 cup (1 stick) butter, softened
1 envelope buttermilk ranch salad dressing mix
1/4 cup chopped fresh chives
1 tsp. kosher salt
1/2 tsp. freshly ground pepper
Directions:
1. Combine the potatoes and 1/2 teaspoon salt with enough water to cover in a Dutch oven and bring to a boil. Reduce the heat to medium-low and simmer for 20 minutes or until the potatoes are tender, drain.
2. Return the potatoes to the Dutch oven and cook over low heat for 1 minute or until any moisture evaporates. Remove from the heat and mash with a potato masher or hand mixer until the desired consistency. Stir in the buttermilk, butter, salad dressing mix, chives, 1 teaspoon salt, and pepper until blended. Serve immediately.