Every time I plan a meal, I always feel like I need "something green." It's usually an afterthought for big holiday meals because another side (like dressing) is the highlight. I love it when an unexpected side completely steals the show (like these peas from last year). These Green Beans with Walnut Parsley Sauce did just that. I craved them for days after Thanksgiving and looked forward to eating them the most. I usually don't go gaga over green beans, especially fresh. Sometimes they turn out too crunchy and bland. Not these! The walnut parsley sauce is very similar to pesto without the cheese. It turns boring green beans into a shining dish!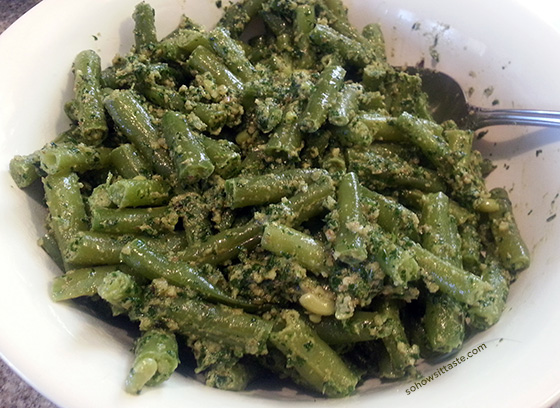 So, how's it taste?
Well, clearly I enjoyed them. They were super, super easy to make, too. The recipe called for boiling them for 5 minutes, but I cooked mine for 10 so they'd be tender and not crunchy. The sauce ingredients get blended in a food processor and then tossed with the hot green beans. That's it! It really is just like pesto, so if you wanted to make your favorite pesto for the sauce instead, go right ahead. I think these would be fabulous with a little Parmesan in the mix. This recipe is very lemony and garlicky, which is fine by me. I guess I need to stop thinking about my green veggies as just "something green" and let them do their thang!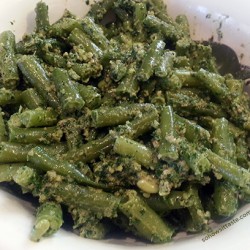 Green Beans with Walnut Parsley Sauce
Ingredients:
1/3 cup walnuts, toasted (raw ok)
1 1/4 cups fresh parsley
1 small garlic clove, smashed
2 tsp. Worcestershire
1/2 tsp. grated lemon zest
1/2 tsp. kosher salt
1/4 cup olive oil
1 1/2 lbs. fresh green beans
Directions:
1. Put walnuts, parsley, garlic, Worcestershire, lemon zest, and kosher salt in a food processor. With the motor running, add olive oil and process until coarsely blended.
2. Cook green beans in boiling salted water until tender, 5 minutes. (They'll be crunchy, so cook a bit longer if you want softer. I cooked mine for 10 minutes.)
3. Drain and top with the walnut sauce.
per serving: 237 calories, 19.5g fat, 5g protein, 15g carbs, 6g fiber