I hope you like cheese…and if you don't like spinach, you will after this Baked Spinach & Gruyere hits your tongue. It's heavenly. It's also rich and decadent and quickly turns a healthy vegetable into something sinful and not so nice to your hips. But it's the holidays! So who cares, right? It's cold outside, so a little extra padding won't hurt. There's always the gym in January, so indulge!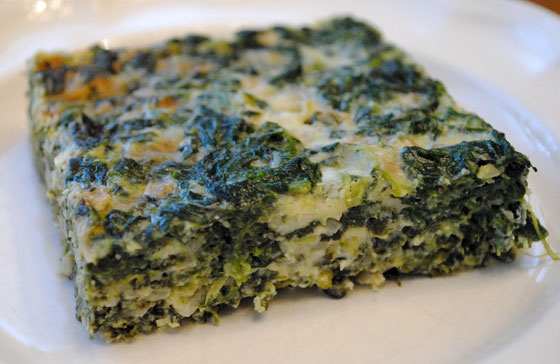 So, how's it taste?
I'm not kidding when I say it's rich and decadent. It's almost over the top. It supposedly makes 8 servings, but we get way more out of that because it's so intense. Maybe it's eight if you have a big slice of it for your main course, but I slice it smaller for a side. The shallots are cooked and reduced in white wine, then added to cream, milk, and oh that cheese! Half a pound of Gruyere and a bit of Parmesan. Very unassuming from its looks, but oh it's just delicious! I'd like to try it substituting whole milk for the cream, and skim milk for the whole milk, just to see if it's less rich. It's pretty darn good as is, but only a special occasion side, as I'd like to continue to fit into my jeans you know?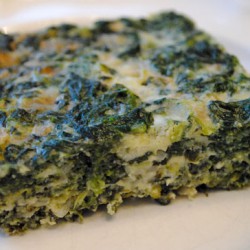 Baked Spinach & Gruyere
Real Simple
serves 8
per serving: 417 calories, 31g fat, 14g carbs, 24g protein, 5g fiber
Ingredients:
1 tbsp. olive oil, plus more for the dish
6 shallots, thinly sliced
kosher salt and black pepper
6 large eggs
1 cup heavy cream
1 cup whole milk
1/4 tsp. grated nutmeg
4 10-ounce boxes frozen leaf spinach, thawed
1/2 cup grated Parmesan (2 ounces)
2 cups grated Gruyere (8 ounces)
1 cup dry white wine
Directions:
1. Heat oven to 400° F. Coat a shallow 2 1/2- to 3-quart baking dish with oil; set aside.
2. Heat the oil in a large skillet over medium-high heat. Add the shallots, 1/2 teaspoon salt, and 1/4 teaspoon pepper. Cook, stirring occasionally, until soft, 6 to 8 minutes. Add the wine and simmer until evaporated, 4 to 6 minutes.
3. Meanwhile, in a large bowl, whisk together the eggs, cream, milk, nutmeg, 1/2 teaspoon salt, and 1/4 teaspoon pepper.
4. Squeeze the spinach to remove excess liquid. Stir the spinach, shallots, Gruyere, and Parmesan into the egg mixture. Transfer to the prepared baking dish.
5. Bake until bubbling and the top is golden brown, 45 to 55 minutes.