A little over a month ago, my mom and I went to Key West, Florida, to celebrate our birthdays. Neither of us had been before and we were really excited to get away from the winter weather and head to sunny Florida! The weather was so cold in Nashville that we were nervous our flight would be cancelled. We lucked out and everything went as planned. We have never had so much fun eating our way through a city…and oh that Key Lime Pie!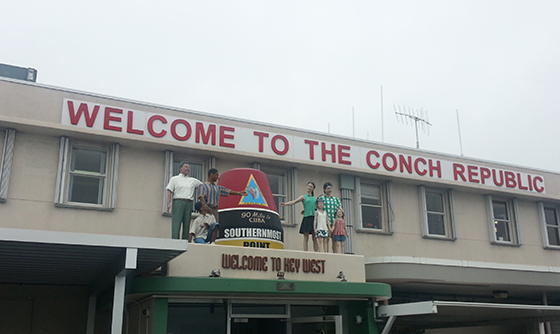 Our first stop was for a late lunch right after we landed. After walking around for a bit, we found our way to Bagatelle. I had the Key West Fish Sandwich which was the local catch of the day (Mahi Mahi), blackened, iceberg lettuce, tomato, sriracha lemon aioli on cuban bread with french fries. I loved this sandwich! Perfectly cooked and so much flavor with the blackened spices and all that sauce! I ended up eating it with a fork because the sandwich was too huge and messy to pick up.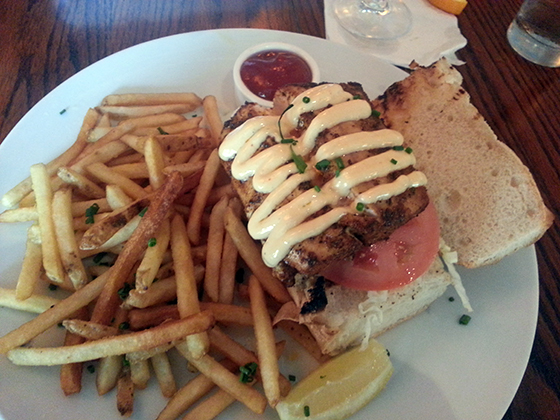 Mom had the Raspberry Walnut and Gorgonzola Salad with chicken. The chicken was disgusting. We still can't figure out why it was so gnarly. It appeared to be cooked, but had the texture of raw chicken. However, the rest of the salad was amazing. My mom talks about it to this day. It's full of candied walnuts, apples, pears, gorgonzola, and raspberry vinaigrette. And this is coming from someone who swears they hate blue cheese. I think I've converted her to gorgonzola at least. 🙂 We also enjoyed our meal with mimosas. No better way to kick off a vacation than with champagne!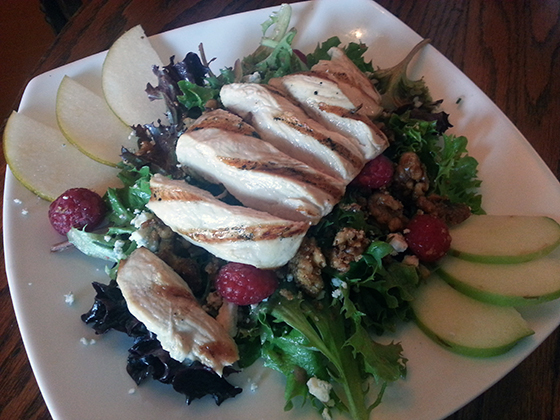 Of course next on our list was Key Lime Pie. It's EVERYWHERE and we were on a mission to find the best slice on the island. We stopped at the Key Lime Pie Factory first. It's filled with all kinds of desserts and in the back is a small refrigerated area with slices of pie. I really didn't have high hopes about it because it looked very no frills. We ordered one slice to share and grabbed a seat by the window. Digging in we discovered just how much looks can be deceiving. This pie rocked our faces off. It ended up being the best slice of Key Lime Pie on the island and I think we tried about six. We ended up going back at the end of our trip just to have it again. So there you go folks, the best Key Lime Pie in Key West is here.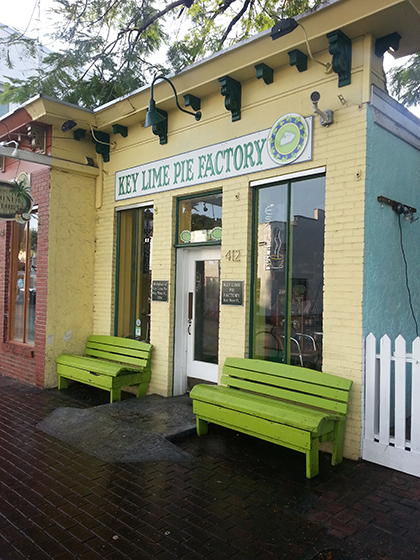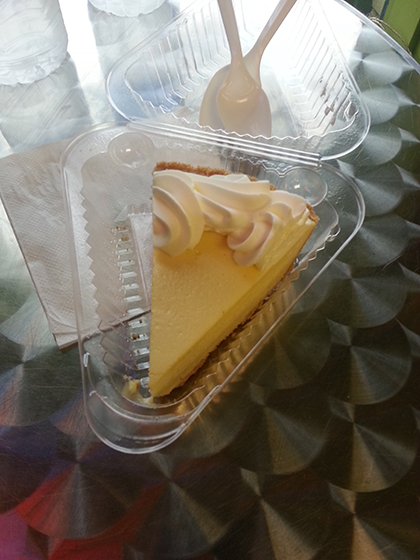 Since we had eaten a late lunch and had a slice of pie, we decided to have something small for dinner. We wandered into El Meson de Pepe. It's a Cuban restaurant and their menu is amazing. I wish we hadn't been so stuffed so we could've eaten more here. We had the best waiter ever. I think his name was Augusto and he was hilarious! We ordered tasty beverages, of course. I had a Margarita and mom had a Piña Colada. Two thumbs up on the drinks! We ordered the Mollete a la Pancho to share for our meal. It's Cuban bread stuffed with picadillo, breaded, and fried! Hello! It also comes with plantain chips. We devoured this and were so stuffed after. The bread was really thick, but still soft. Picadillo is a beef mixture that includes cinnamon and olives. Sounds weird, but it's delicious.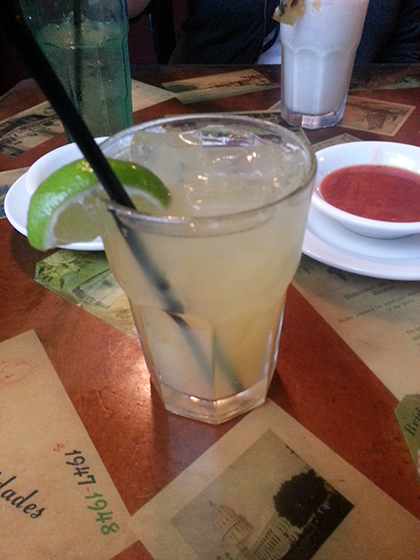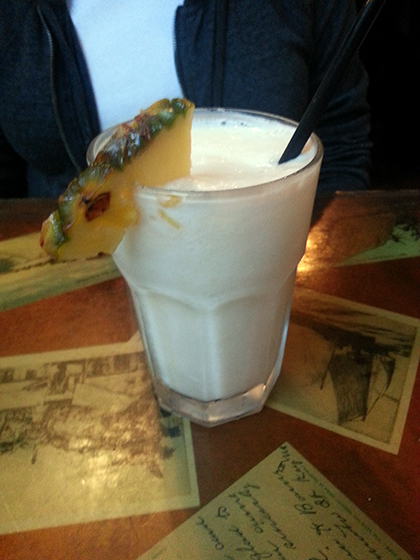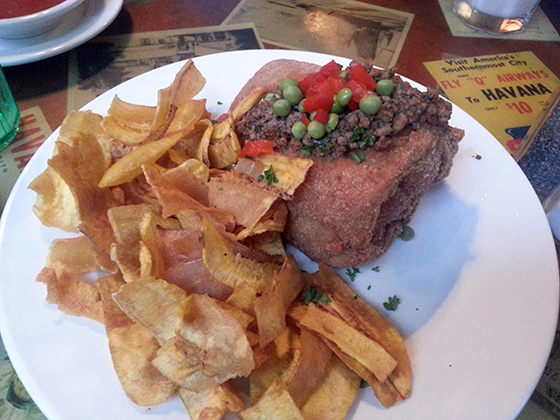 Of course, being full didn't stop us from ordering their Torta de Limon (Key Lime Pie) to go. All in the name of research right?! Their Key Lime Pie was weird. Not bad, but weird. It had meringue on top, which I don't like. We learned that the real stuff comes with meringue which blew my mind. Theirs also had this odd green syrup all over it that made it taste strange.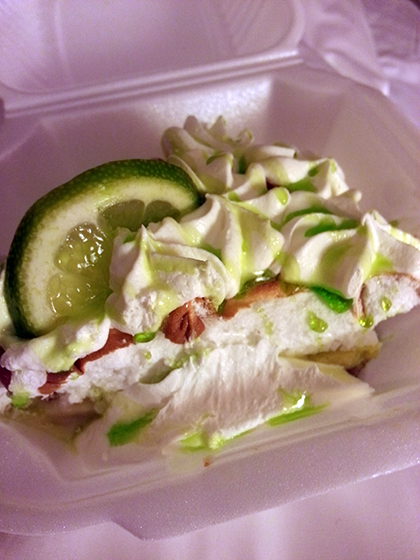 The next morning for breakfast we headed to Pepe's. This place is an institution in Key West. Go early because it gets packed! We both picked the Build Your Own Breakfast. I chose two eggs over medium, bacon, and toasted rye. Mom had scrambled eggs, bacon, and a toasted English muffin. The food was cooked just how we liked it. Extra crispy on the bacon. How fun are the mouse traps with your check?! I wish I had a place like this I could walk to every morning for breakfast…although it's probably a good thing that I don't. 😉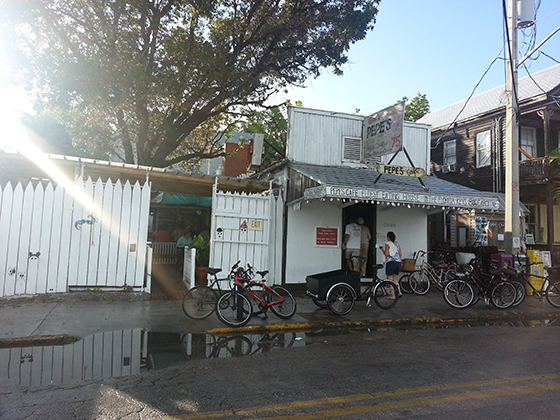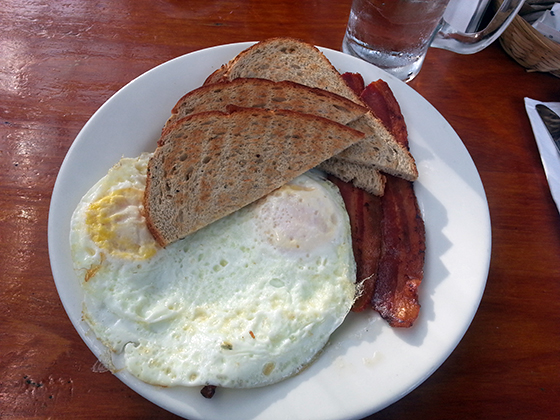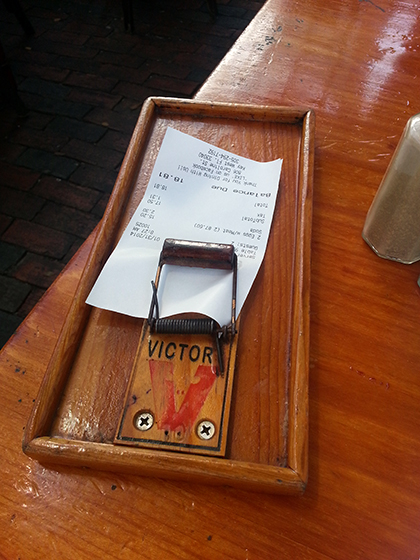 Later on for lunch we went to Blue Heaven. Another dining spot that everyone goes to. We had a bit of a wait, but it was worth it. They serve breakfast until 2 p.m., so I opted to have breakfast again! I am a sucker for eggs benedict. I had the Lobster Eggs Benedict and mom had the Chicken Salad over Arugula with Orange Cider Vinaigrette and Cornbread. The eggs benedict was lip-smacking good, but the lobster was a bit on the chewy side. I've always felt lobster is a bit overrated. It was good, but I'd get a different "Benny" next time. Mom really enjoyed her chicken salad. It was a lot of food! Thank goodness we were walking everywhere and countering all those calories. Because of course…we ordered Key Lime Pie! (Did you think I was kidding about tasting them all?) Their Key Lime Pie comes with mile high meringue so I wasn't impressed. The pie was good, but not quite as good as the first slice we had.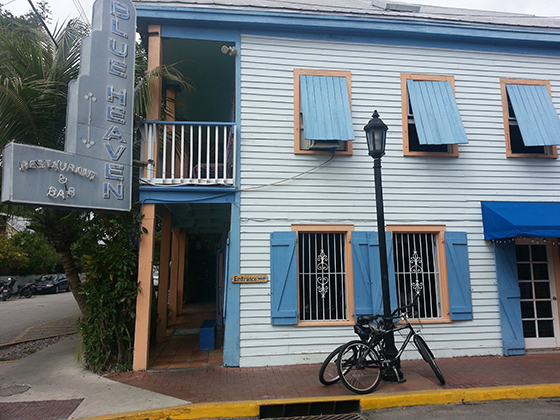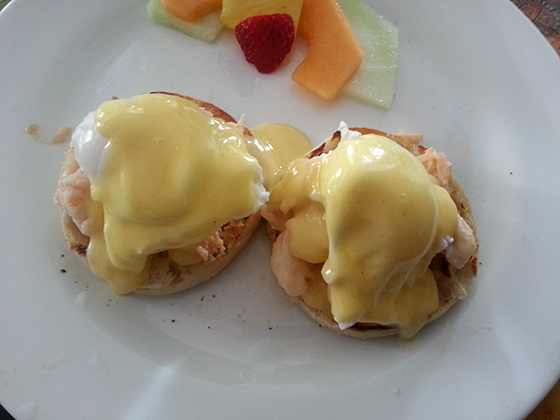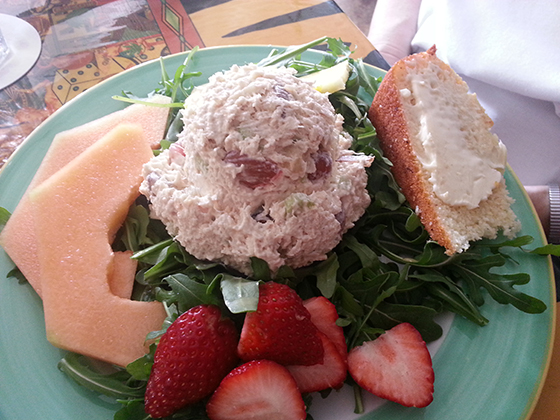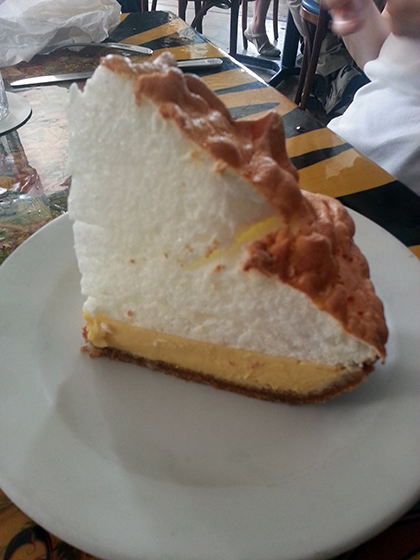 After walking around, we had to stop in Margaritaville…dont' judge! It's the original so we had to, plus I stand by their drinks. They make some damn fine boat drinks. I had the Sunset Cruise, which is tequila, DeKuyper blood orange, pink grapefruit juice, and margarita mix on the rocks. This hit the spot because I didn't want something too sweet. Mom had her beloved Bama Breeze. It's basically a piña colada with mango and orange juice.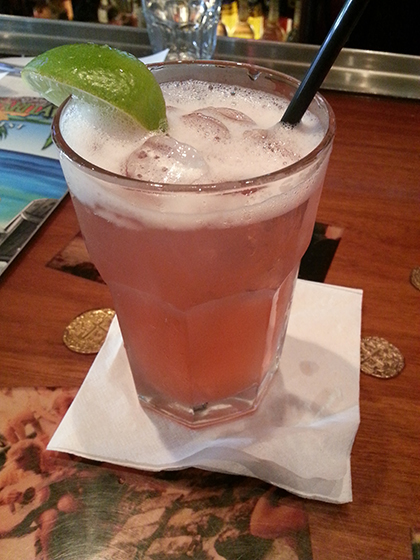 Later that night for dinner we headed to the Rum Barrel. We sat outside upstairs so we could people watch and see the sunset. This was a great spot for dinner. I had The Croce Salad with Blackened Mahi Mahi. I still dream about this salad! The Mahi Mahi arrived a little too blackened, but I was able to scrape off the extra seasonings. The salad was baby greens with crumbled bleu cheese, carrots, tomatoes, hard-boiled egg, bacon, red grapes, dried cranberries, scallions, and pistachios. It was so good! Mom had their Barrel Burger (sorry, no pic!) and really liked it. I would definitely eat here again.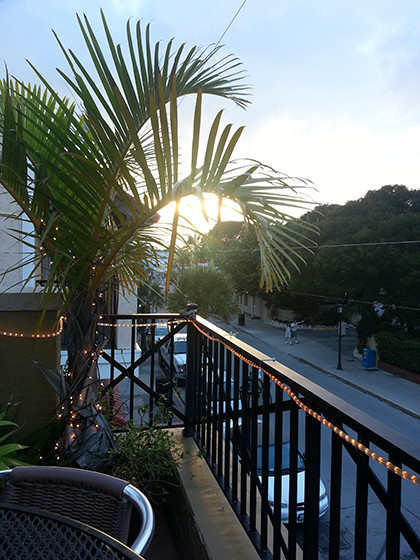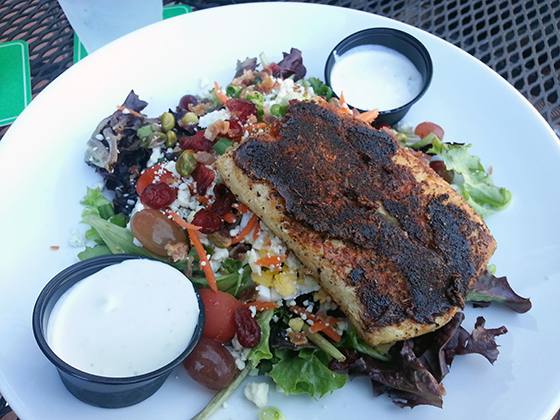 The next morning we headed out to the Southernmost Beach Cafe. This happening spot is right on the beach at, you guessed it, the Southernmost point. The wait wasn't too terribly long and you get free (delicious!) coffee while you wait. We both ordered the Biscuits & Gravy. Two eggs any style (mine over medium, mom's scrambled) with fresh baked biscuits smothered in Chef Ben's sausage gravy and served with house potatoes. It was good, but it wasn't the Southern white gravy we're used to. What made it most unpleasant was that we were seated in the sunniest, zero shade, hottest table in the house. I think we both received 3rd-degree burns while eating breakfast. At one point I was so miserable I scooted my chair into the walkway and ate my food there. This place really needs to invest in some shades. If you go, request a table out of the sun! We did order their Key Lime Pie to go because it had an Oreo crust and raspberry sauce! While the Oreo crust sounded good, it was odd with the tart key lime. Too many flavors competing with each other.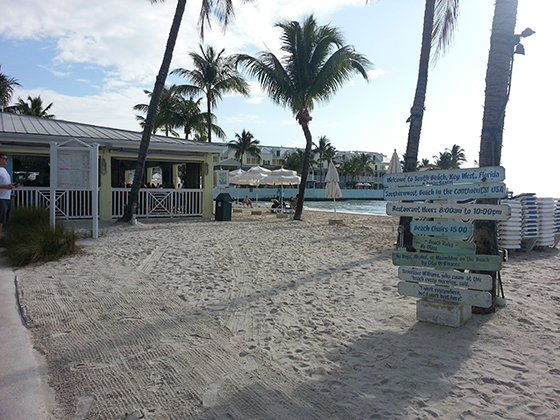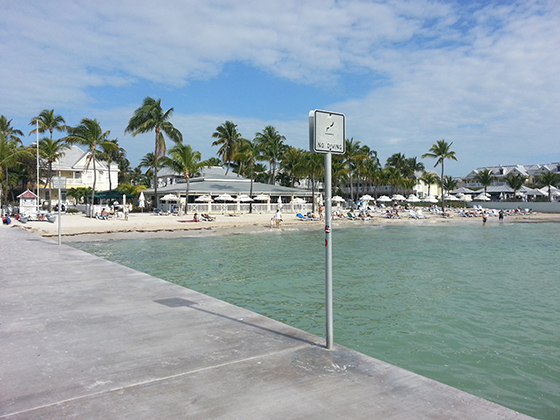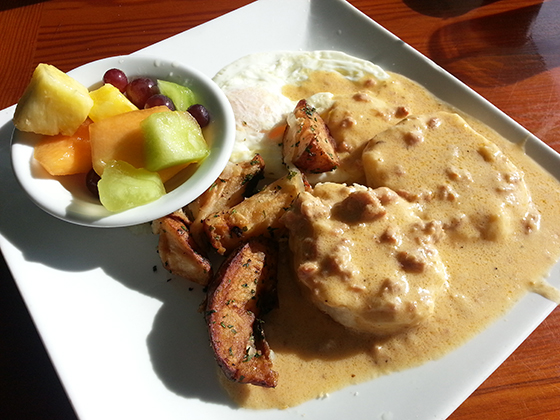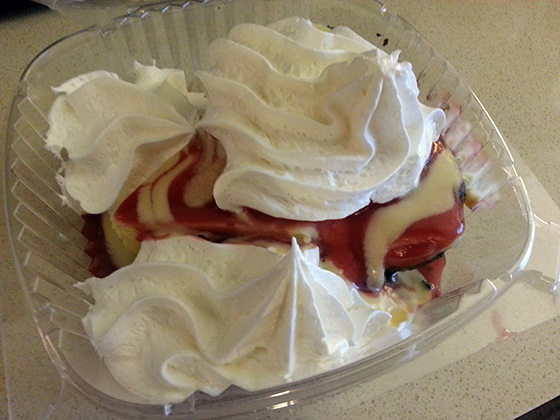 For a midday snack (yeah, we eat a lot, plus it was my birthday!) we had ice cream from the Key West Polar Bear Ice Cream Parlor. I had my absolute favorite flavor Mint Chocolate Chip! I also had to school my mom in why you shouldn't order a waffle cone. Too much ice cream (yes, that exists), too much drippy drip. Sugar cone all the way!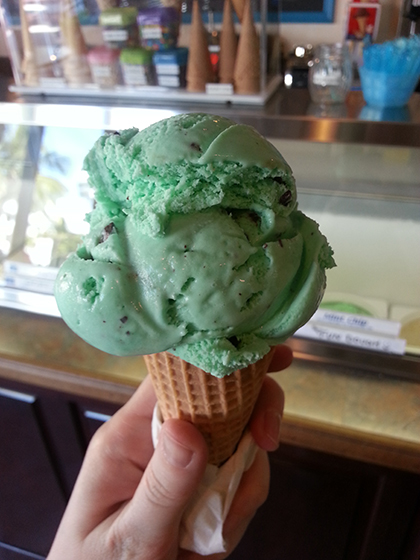 We had some time to kill that afternoon before we went on a tour, so we stopped in Island Dogs Bar. Since it was early afternoon, we pretty much had the place to ourselves. We sat at the bar and sipped on Jack and Cokes. They have a great outdoor area, too. Friendly staff and a nice place for a tasty beverage! (Sorry, no pics!)
Later that night, we headed to Kelly's Caribbean Bar and Grill for my birthday dinner. Did we ever pick a great restaurant! Remember Kelly McGillis from Top Gun? She used to own the place, hence the name. We both went nuts over this place. The atmosphere was incredible. We sat outside in their courtyard and it was just so pretty and relaxing. I ordered the Mahi Mahi prepared coconut encrusted with mango-ginger butter. It also came with veggies and Caribbean rice. Mom ordered the Jerk Chicken with the same sides. I snuck a bite and it was so tender, juicy, and spicy!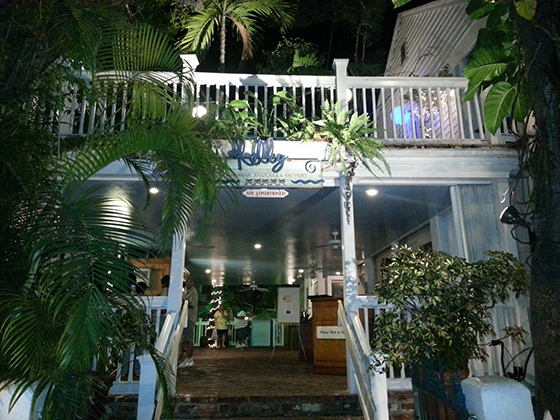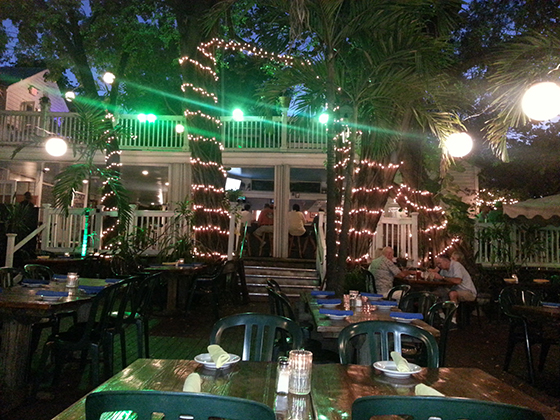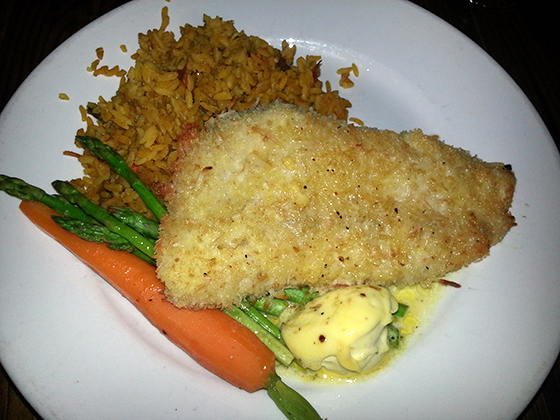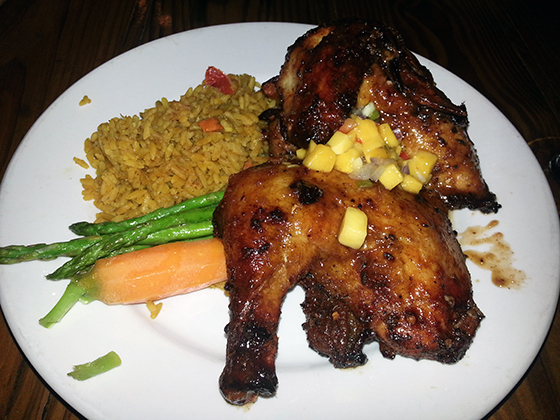 The next morning, we gave Croissants de France a try. I. Loved. This. Place. They have a little bakery on one side and the restaurant (Le Bistro) on the other. They do not mess around with breakfast and I think this was my favorite by far. We started with our usual vacation mimosas and theirs were served with blueberries. We both ordered Americanos. Open-faced buttered croissant topped with three scrambled eggs, lightly dusted with paprika and scallions, served with a side of whole grain mustard sauce and roasted potatoes. Ah-may-zing! Thank goodness we walked everywhere to burn off all the calories!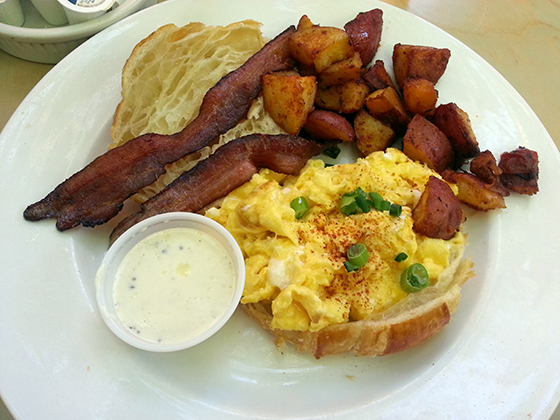 Oh look, it's snack time again! We had to try Kermit's Key West Key Lime Shoppe. They have anything and everything key lime (plus a Koi Pond!). Was it the best Key Lime Pie? No, but a close second. Very good, just not quite as scrumptious as that very first slice we tried.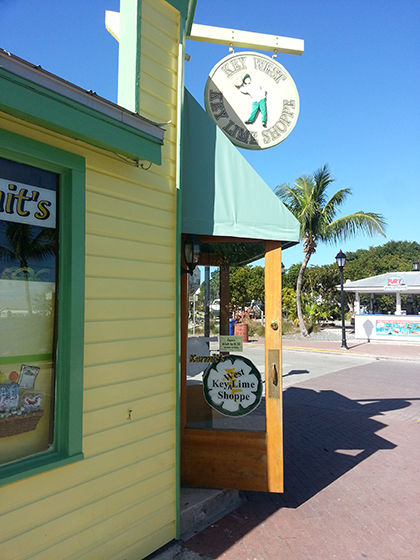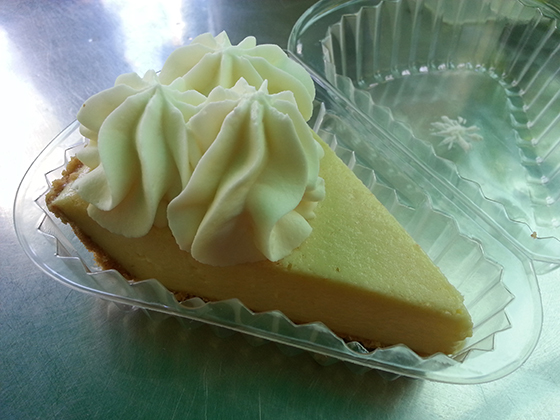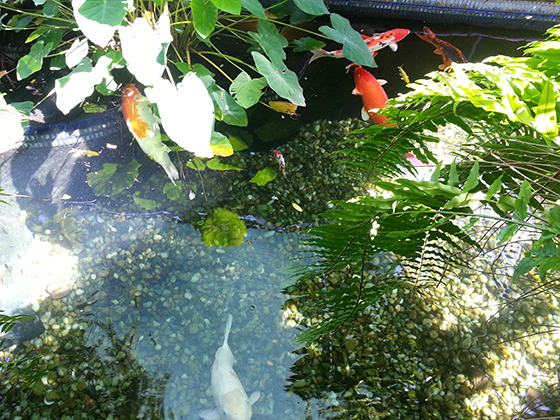 As it got close to sunset (we called the pie lunch), we headed back to our hotel's restaurant, Bistro 245, for a drink. We both had frozen strawberry daiquiris. Very good, but very pricey. Twelve bucks each plus tip! (Sorry, no pic!)
For dinner, we walked to Duetto. We were both in the mood for good ol' pizza. We each had a slice of cheese and a slice of pepperoni. Our eyes were definitely bigger than our stomachs because the slices were huge! The pizza was outstanding and hit the spot. We sat outside and thoroughly enjoyed pigging out on pizza in 70-degree weather in February. 🙂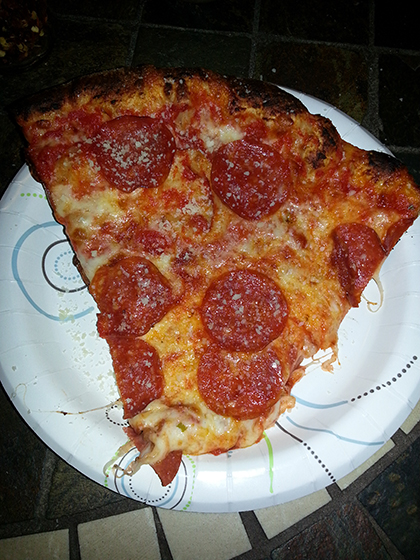 Guess what time it is? Pie time! We figured we had tried enough different Key Lime Pies, so we wanted to visit our first stop to have our favorite one more time. Mom stuck with the original, but I opted to try their Coconut Key Lime Pie. Say what? Yes! Coconutty goodness layer on the bottom and original key lime on the top. Holler! I really couldn't decide if this one or the original was my favorite. Hands down, the Key Lime Pie Factory is definitely where you want to get your pie on the island!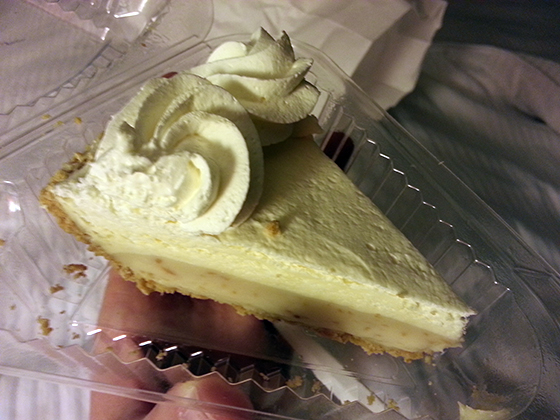 For our last morning in Key West, we decided to eat breakfast at our hotel's restaurant, Bistro 245, despite their expensive drinks the night before. We had our eyes on a few other spots, but they weren't open early enough for us to eat and catch our plane. I have no regrets about their breakfast! I ordered the Caribbean French Toast, coconut-cinnamon-dipped texas toast stuffed with sliced bananas, strawberry jam, fresh strawberries, and maple syrup. Mom was kind enough to give me a strip of her bacon. I didn't even use the maple syrup because it was perfect without it. They went a little heavy on the strawberry jam, so I just scraped a bit off. Delicious!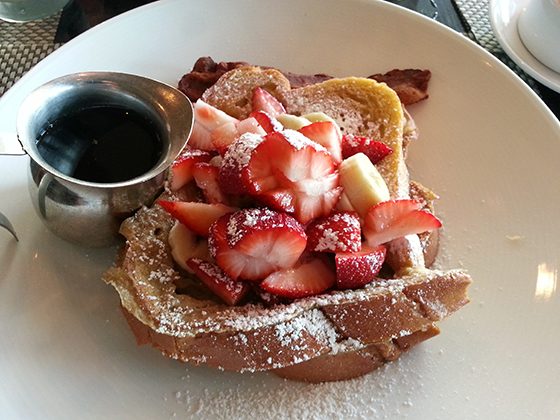 That capped off our eating adventure in Key West! As you can read, we did not starve. I'm working on an upcoming post featuring what we did when we weren't eating. Oh how I wish I was back in that heavenly warm weather!