It seems like every other day a new restaurant is popping up in Nashville. My "to dine" list is growing and growing and growing! Last month I finally got the chance to check out The Mockingbird. This place is the cutest, down to the plates. It had a great atmosphere and I can't wait to go back when the weather is warmer and check out their patio.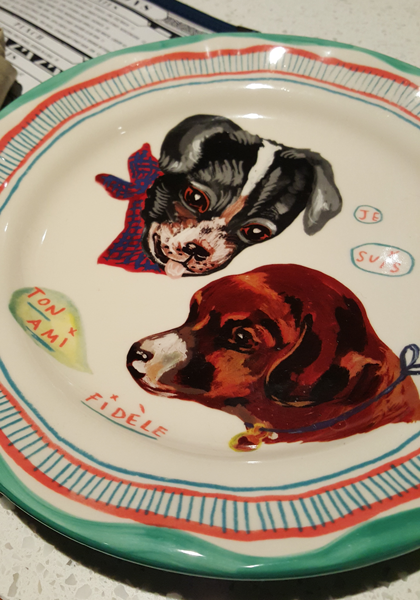 Luckily I went with a group of friends who love to eat, so we ordered several small plates, entrees, drinks, and dessert! It was a feast and I can't wait to go back! First up was drinks. I ordered their Punchin' Bag, which is kind of like a grown up version of a Capri Sun. They come in a few different flavors and mine was a lemon mint with bourbon. It was really good and refreshing, but hard to toast with one of these!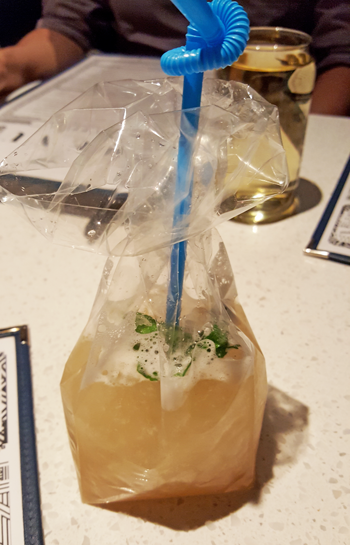 Next, we ordered a series of small plates. I'm a big fan of pickled okra so we had to try Southern Livin'. It's fried pickled okra, corn chow chow, and heirloom tomato remoulade. It was good, but could've been better. This was one of two fried foods we tried and both were really greasy. I'd bite into one and get a pool of oil in my mouth which took away from the flavors.
The Tatchos are popular here and I can tasty why! I'm not a big lamb person, so I was hesitant on these, but I'll order them again and again. So good! It's tator tots topped with lamb chili, beer cheddar, and scallion.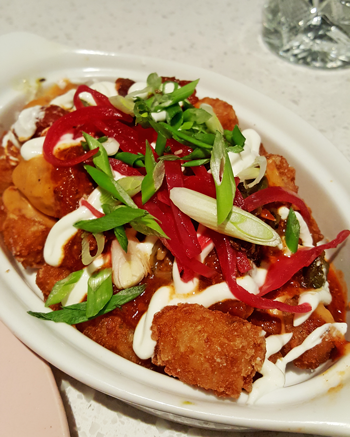 Feeling Grate! (love the names of these dishes) is mac and cheese made with cheddar, gruyere, and manchego, with persillade on top. It is the creamiest, richest, most decadent mac and cheese I've ever had. I'd order this and call it dinner any day.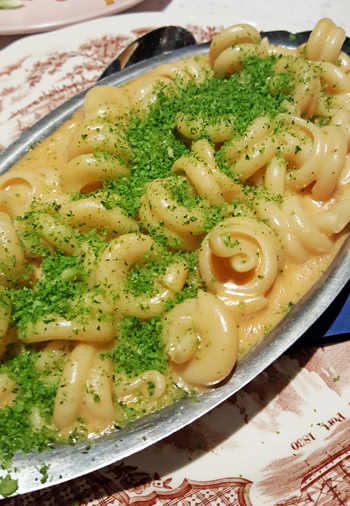 I was really looking forward to Rice, Rice, Baby. It's pimento cheese arancini with pickled pepper, grilled scallion, and chamoy. Unfortunately these were just like the fried okra – too greasy and it took away from the flavor. I couldn't detect the pimento cheese at all. It comes with two sauces and both of those were really good though.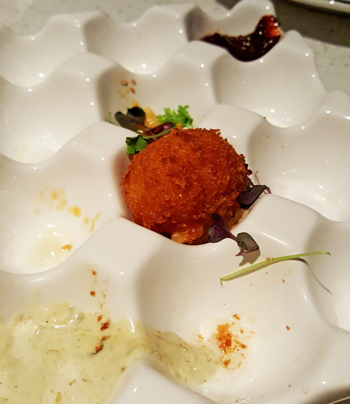 What's Kraken? is another popular menu item. It's toast, black sesame spread, chorizo, octopus, and giardiniera. I didn't taste this one (I'm not an octopus fan), but my fellow diners enjoyed it.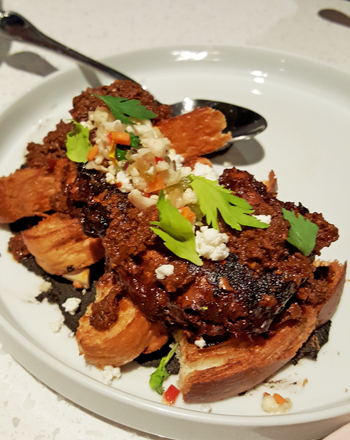 We had to order the Cabbage Patch Kids – fried brussels sprouts, pickled raisins, red onion, and pastrami. They were really vinegar-y and a tad bit overcooked. Not the best brussels sprouts I've ever had, so I'd probably skip these next time.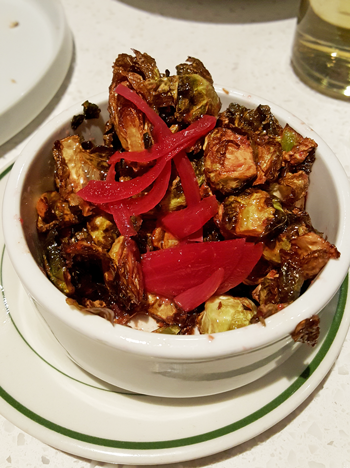 On to the entrees! I had two favorite dishes of the night and this Oooooh Barbacoa was one of them. It's beef short ribs, anson mills red field peas, pork bits, and escabeche carrots. It was perfection. Perfectly cooked, perfectly tender, perfectly seasoned.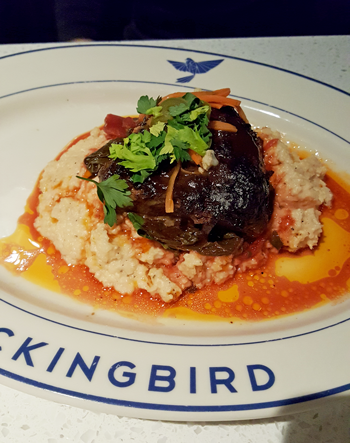 In Pie We Crust is a coq au vin pot pie with pearl onions and thyme in a homemade pie crust. This entree was huge and oh so decadent. It's a real splurge if you're looking to treat yourself. Bring a buddy and split this one or plan on taking leftovers home!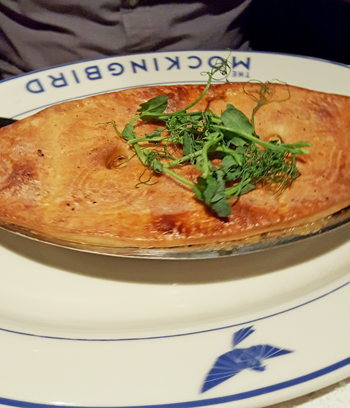 The Bird is the Word is another popular entree. It's chicken fried chicken thighs, chorizo white gravy, and salsa verde mashed potato. It left us kind of underwhelmed though. My fellow diners said the the chorizo didn't come through enough like in the What's Kraken? dish. I tasted the potatoes and they were good, but nothing special. With better options on the menu, I probably wouldn't order this one again.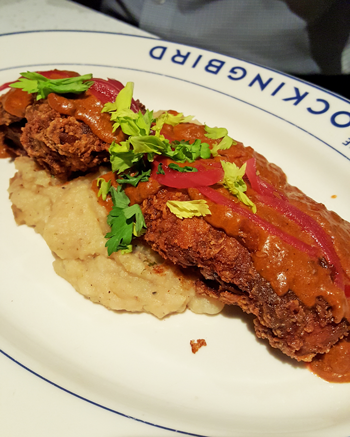 I ended up ordering Get Reel, which is their fresh fish of the day (that day it was salmon), farro and squash risotto with apple and preserved lemon. This was the other entree that was my favorite. I would order this again and again. The farro was wonderful cooked risotto style and the flavors were so fresh and bright. My salmon was overcooked just a bit, but not enough for us to stop scarfing down this dish!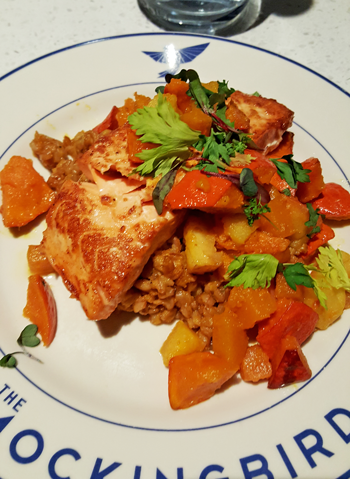 The last entree was In Perfect Hominy, which is a pozole rojo in five chili broth with pork, cilantro, lime, cabbage, and hominy. I didn't taste this one (almost stuffed and holding out for dessert!) but my friend who did said it tasted good, but she wasn't wowed by it.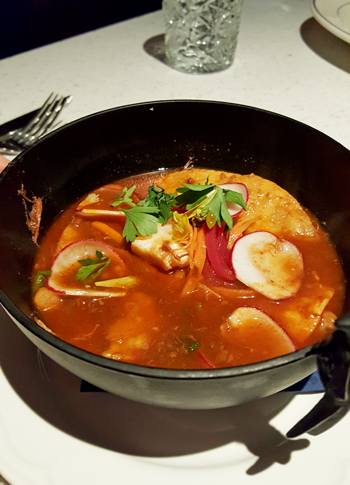 We were probably crazy to order dessert after all this food, but I wasn't about to leave without making an attempt. We decided to narrow it down to one dessert and share. We picked the Cake of the Moment, which that day happened to be devil's food. Sold! I am a chocoholic, so that was an easy choice. This was the stuff chocolate cake dreams are made of. So, so good! Definitely save room for dessert when you go!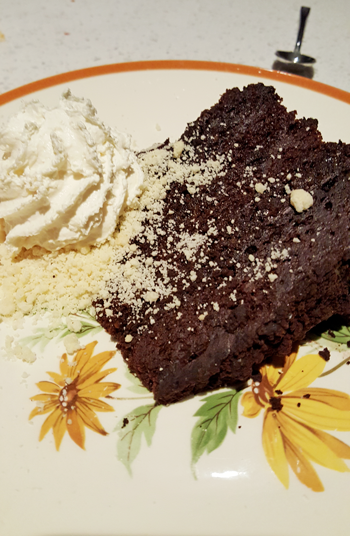 Now I'm not one to usually take pictures of a restaurant's bathroom, but this one was so cute! I love how they paid attention to so many details in this place. Take a look at the sinks.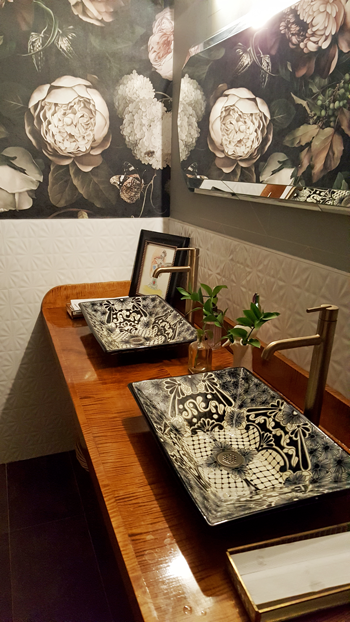 And the toilet! Even the toilet is cool!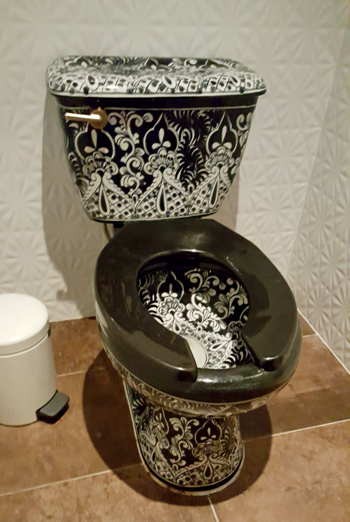 Even though we had a few dishes we didn't love, I'd highly recommend this place. I am so looking forward to going back very soon!