This is my final entry about my eating adventures in New York City. And what better way to end it than how you end any meal…with a delicious dessert! Here's a recap of three spots Carol and I "popped" in to on whims just to have a sweet treat. That's what I love about NYC. It never sleeps, so you can always find dessert at any hour!
So, how'd those desserts taste?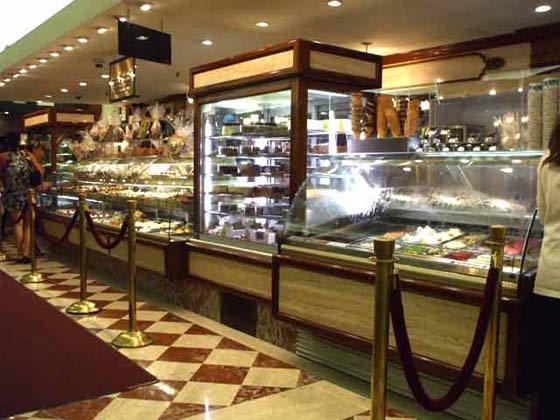 First up is the Ferrara Bakery & Cafe located at 195 Grand Street. Carol and I walked around Little Italy and couldn't resist stopping in. They were selling gelato and sorbet right outside so that's all it took to get me in!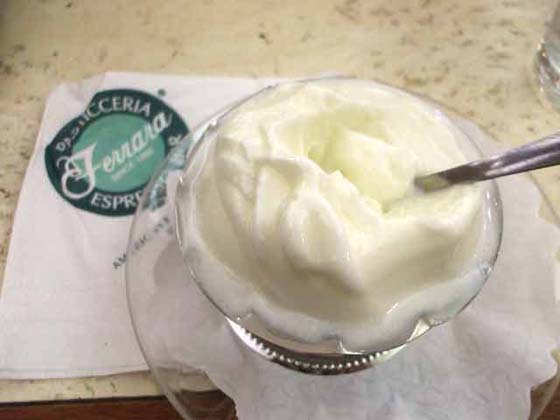 I opted for a scoop of the Key Lime Sorbet. It was so refreshing and perfectly tart with a hint of bitterness. We had eaten a big dinner before walking around Little Italy and a scoop of this sorbet hit the spot. The shop was so cute. I could have stood for hours staring at all the cheesecakes and pastries. Ferrara has been open since 1892 and definitely worth paying a visit.
A few days later we went to see Rock of Ages. Sounded totally cheesy and right up our alley with 80s music from Journey, Styx, Poison, Whitesnake, Twisted Sister, etc. It had the potential to be really, really bad, but we loved it. It was hilarious and the music was fantastic. I'd see it again in a heartbeat.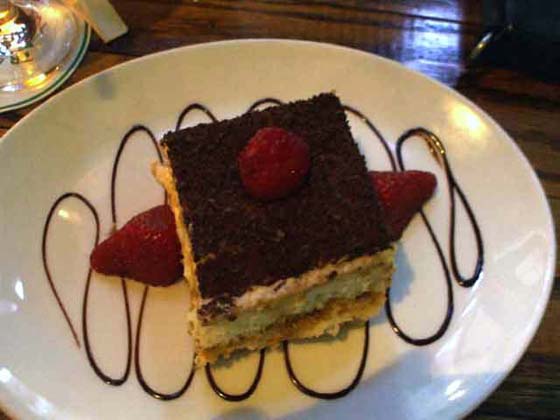 We got to the show a bit early and decided it was dessert time. We went right next door to Maria Pia, located at 319 West 51st Street. I picked the classic Tiramisu. I mean I'm in New York at an Italian restaurant. I had to get it, right? It looked pretty enough on the plate, but it left me wishing I had ordered something else. It was kind of bland for tiramisu. Where was the creamy, decadent mascarpone taste? And the hint of coffee on the soaked ladyfingers? The ingredients were there, but not the flavor I wanted. It seemed like a nice restaurant, but I'm not sure I'd go back to an Italian spot that can't get tiramisu right.
Our last stop was the cream of the crop. Carol and I had just taken the night double decker bus tour (which was awesome) and the tour ended in Times Square. As we headed toward the subway, Carol suggests, "Hey, want to just walk home?" Um, home is about 50 something blocks…say what?! But after hearing she's done the walk before and it's only about 45 minutes, I was game. Plus I'd eaten like food was going out of style all week, so some exercise would do some good!
On our walk, we started pondering what to do next. Stop in a bar along the way? Nah, once again, it's dessert time! (We deserved it after all that walking!) Carol remembered Cafe Lalo, located at 201 West 83rd Street, was on our way home. You know, it's the cafe seen in You've Got Mail! It was so cool on the outside. Windows open and white lights strung outside around the trees.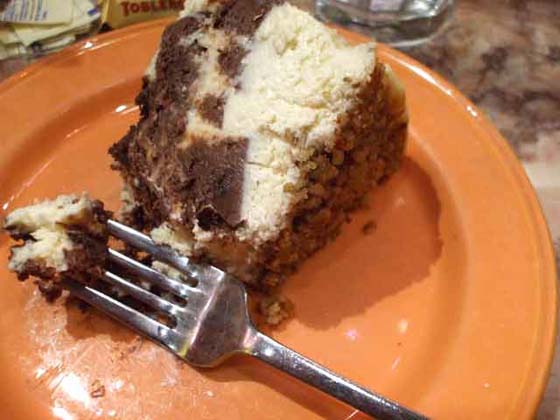 I ordered the Brownie Chunk Cheesecake. Oh baby was it a tough decision! I must've stood at the counter for 20 minutes trying to narrow my decision down. I was so excited about dessert I dug right in before snapping a pic. Just look at those big chunks of chocolatey brownie, surrounded by dreamy cheesecake. I chose wisely. Paired it with a cup of coffee, my BFF Carol, and good conversation, and we had ourselves one fabulous NYC night! 54 blocks of walking and all!
Part 1, Flavors of NYC Food Tour
Part 2, Throwdown
Part 3, What the Locals Eat
Part 4, Fun Foods