I am not kidding folks! My first encounter with Thai food was a few years ago when visiting a friend in New York City and it was love at first bite. I get Thai cravings at least once a week, so I'm happy to have found Royal Thai here in Nashville. It's located at 120 19th Avenue North, with locations in Brentwood and Franklin as well. Luckily I'm not the only Nashvillian that has these uncontrollable Thai food urges. I'm slowly eating my way through the entire menu!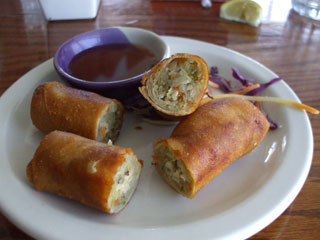 So, how's it taste?
As if you couldn't tell, I really really dig Thai food and Royal Thai is the best in town. I seriously think about it several times a week, so you will no doubt see me there quite a bit. On my last visit, I enjoyed their Crispy Spring Rolls (Poh Pia Tod) and my Thai food partner in crime had the Tom Ka Gai soup. Yummy, yummy, yummy! And those are just to get you started. The spring rolls have such a nice crunch from it's crispy outer shell, to the cabbage goodness inside. They are served with a red sauce that I'm not quite sure what it is, but it's such a good dipping companion to the rolls. It's sweetness brings a nice flavor to the savory of the rolls. The soup is a nice appetizer to get you geared up for some good eatin', too! It's a coconut milk based soup with chicken and mushrooms. Very light and packed full of flavor.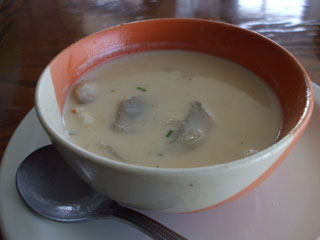 I was so excited when I received my entree that I dug in and forgot to snap a picture! If that doesn't tell you how good the food is, I don't know what will. I can recommend the classic Pad Thai (rice noodles stir fried in a sweet and sour sauce), the Khaeng Ped (red curry), the Pra Ram Long Song (a rich dish with fresh peanut sauce on a bed of noodles). Like I said, I'm eating my way through the menu, so expect a Royal Thai part deux in the near future!