Merridee's Breadbasket is one of my favorite places to have lunch. It's located at 110 Fourth Avenue South in Franklin. I have had this chicken salad sandwich, chips, fruit tea, and slice of pie combo so many times, that I really need to branch out and try more of their menu. But I just can't bring myself to stray from this tray of goodies!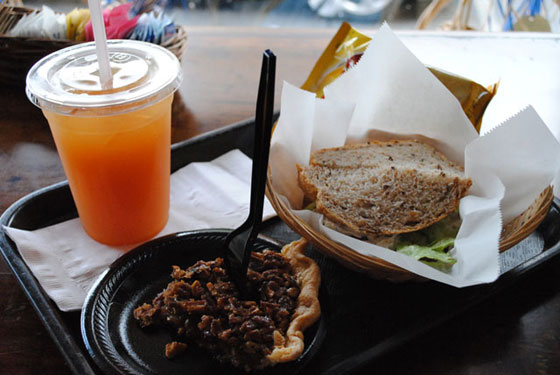 So, how's it taste?
Fresh, homemade chicken salad just can't be beat. You get your choice of bread and I chose the Viking. It's four-grain bread made without eggs or sugar. It includes wheatberries, flaxseed, sesame seeds, and sunflower seeds. It's the perfect texture to accompany the chicken salad. I love chicken salad with all the bells and whistles like grapes, apples, pecans, etc. But this chicken salad is so simple, it's just perfect. It's mayo and tiny bits of celery topped off with a crisp piece of lettuce. I absolutely cannot stand celery, but I love Merridee's chicken salad. All the flavor is in the chicken. I don't know how they prepare it, but it's a hit. On this particular visit, it was a tad bit heavy on the mayo, but it's not normally. I highly suggest ordering their fruit tea with your meal. It's not too sweet, but flavored so well that you still taste the tea.
The highlight of the meal is the sweet ending of a slice of pie. They've got a ton of varieties to choose from, so it makes ordering quite difficult for an indecisive person like me. Key lime, cherry, peach, chess, chocolate, pumpkin. I could go on and on. The one I usually opt for is the pecan. It's crazy good. It's got more pecans in it than most pies I've had and I love that. The filling isn't too syrupy sweet and the crust is buttery and flaky. Sometimes I end up eating my pie first before the sandwich! Stop in to Merridee's soon if you've never been. Your mouth will thank you!