What whiskey will not cure, there is no cure for. Words of wisdom from an Irish proverb. What better way to test this theory out, than a stop at Nashville's Whiskey Kitchen. This fairly new restaurant located at 118 12th Avenue South is a popular spot with the locals and a handful of celebrities that pay our fair city a visit. One look at their menu and whiskey selection and you'll see why. The variety of whiskey alone makes this place more than just an everyday bar. (For $75 bucks you can get a tasty 2-ounce pour of single malt scotch whisky!) Also on the drink menu are speciality selections that turn your average cocktail into a flavor collision in your mouth — try the Blackberry Julep or the Marmalade Whiskey Sour. Two nice twists on some old favorites!
But it's the food that keeps me coming back for more. It's really difficult to narrow down to one choice, so I suggest going with friends that don't mind sharing (and don't mind pigging out)!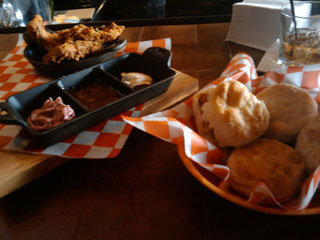 So, how's it taste?
Wowza! This place has got it down, from the food to the drinks. It's a perfect combination. The pictures above and below are from my most recent visit where I ordered the Southern Sliders with fried chicken. Yep, that's right, fried chicken on buttery, delicious biscuits. We are in the South after all! You can also choose steak, smoked ham, or fried green tomatoes. I felt like a pig when my food came out though. Whiskey Kitchen is big on presenting your meal on large wooden blocks and arranging everything in separate dishes. But hey, I'm a condiment junkie, so these sliders were right up my alley. As if the fried chicken wasn't flavorful enough, you can slather on some blackberry-peppercorn butter, mandarin-horseradish jam, and Boursin cheese. I didn't care for the butter. I couldn't taste the fruit or pepper in it and the biscuits are already so buttery you don't need it. But oh the cheese and jam! Sounds like an odd mix, but I smeared on both and couldn't get enough of it.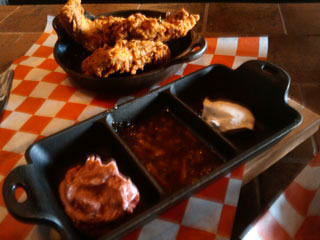 We also sampled the Yam Fries, served with jalapeno ketchup — fantastic! If you're looking for something lighter, I highly suggest the Rocket Salad. Spinach with strawberries, blue cheese, spiced pecans, and a citrus vinaigrette that I could drink by itself it's so good. On previous visits I've also had the Fried Green Tomatoes appetizer (where Boursin cheese makes another appearance!) and the Baja Fish Tacos. Both I give a big thumbs up! Whiskey Kitchen is a great place for food, drinks, and to see and be seen. Get there a little early on the weekend, claim your seat, and stay awhile. You won't be disappointed!