A few weeks ago, my coworker Ryan and I headed to Etch for lunch. Neither one of us had ever been before and we were both so giddy about it, I think we skipped to their front door from the parking lot (ok small exaggeration). I won a gift certificate a few months back from Beth at Eat. Drink. Smile. and from her rave reviews, I can't believe it took me this long to get there. We both really liked the atmosphere. I was expecting it to be stuffy for some reason, but it was quite the opposite. There's a lot of large windows that let in so much natural light, it was really nice and laid back. We sat at a table right next to the window. It was perfect. I asked our server what all our gift certificate included and you should've seen our faces when the response was "anything you want." Um, one of each please!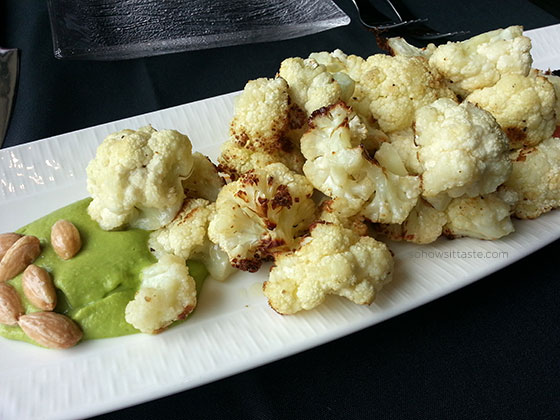 So, how's it taste?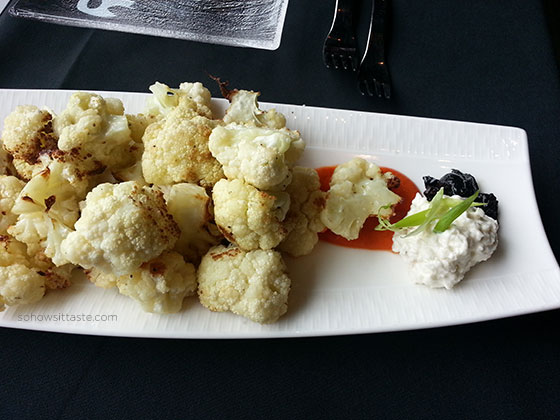 We started off with the Roasted Cauliflower appetizer. I had heard so much about this dish that I didn't want to pass it up. Boy, does it live up to its reputation. I'm a huge fan of roasting vegetables. It brings out such great flavor and I think cauliflower sometimes get overlooked. It definitely shines here. The cauliflower is roasted and then finished with, wait for it…truffle oil! It's presented with three condiments: truffled pea pesto with almonds, feta lime crema, and a red pepper sauce I can't remember the name of. That combination of flavors sounds a little odd, but trust me, it works. The red pepper sauce was our favorite, but I also couldn't get enough of the crema. So many different flavors and textures. It's a huge amount, too. We almost couldn't finish it.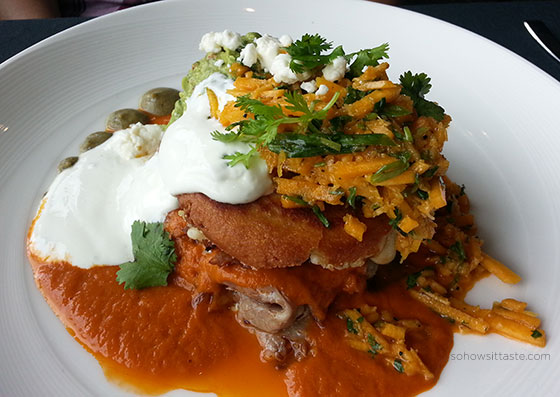 Ryan ordered the Brisket Pupusa. It's corn cake, smoked brisket, chihuahua cheese, onion, peruvian butternut slaw, roja and poblano sauces, celery leaf avocado smash, lime crema, and queso blanco. Hello! I can't say enough about this dish. It's beautiful on the plate and insanely good. The corn cake is still crunchy, even with all those toppings. So the crunchy with the smooth sauces and cheeses and crema with the chunks of brisket give this such great texture contrast. I'm really at a loss for words to describe how good it was. I wanted to snatch his plate and finish the rest of it by myself. I'll order this one next time.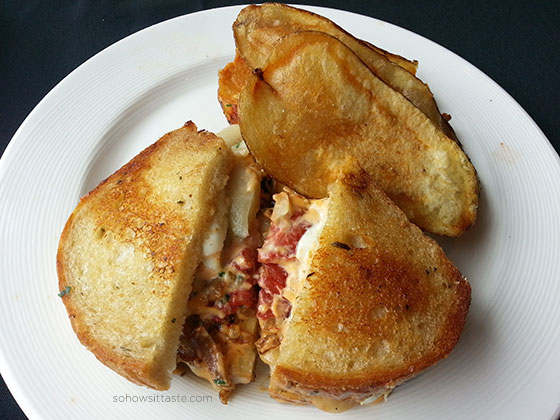 I decided on the White Bean Patty Melt. It's marinated gigandes white beans, charred fennel, roasted tomato, red chili mayo, fresh mozzarella, aged fontina, and rosemary bread. It sounds crazy decadent, and it is. I was expecting a patty made of the beans, but instead it's the beans in well, bean form. I don't know what they marinate them in, but oh my they were so tasty. I could just eat a plate of those marinated beans and be happy. There's so much going on in this sandwich! I really enjoyed it, but I could barely eat a fourth of it because it was so rich. The two cheeses, mayo, and the uber buttery rosemary bread take this over-the-top. While I appreciated the flavors, I probably wouldn't order it again because it's just too much. I think I'd like it better with one cheese, hold the mayo, and go light on the buttered bread. It is worth getting just to taste those beans, but plan on sharing or taking home leftovers because you do not want to miss dessert at Etch!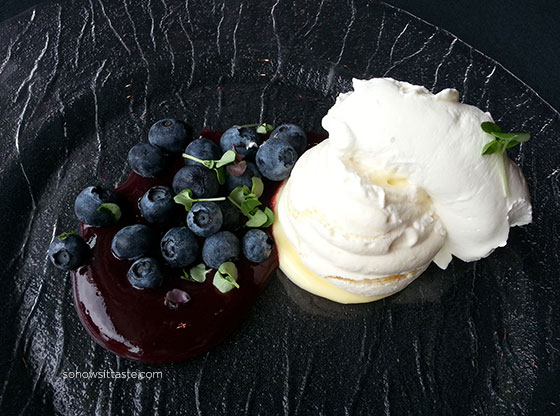 Ryan loves dessert as much as I do and even though we were both about to burst (Etch is quite generous with their portions), we couldn't resist each getting one. You want to see two people struggling? That was us narrowing down the dessert menu to two. I suggest you go with a big party and split them all! We decided to do one heavy and one light. Ryan chose the Lemon Meringue. It's lemon curd filled, blueberry sauce, fresh blueberries, and lavender whipped cream. Isn't it pretty! This dish was so light and airy. The meringue was perfect and crunchy and paired so well with the tart curd. The blueberries added a fresh touch and a bit of sweetness from the sauce. I couldn't really taste the lavender in the whipped cream, but that was ok by me as I'm not a fan of that flavor in my food. Even if you're stuffed from your meal, you're safe getting this light dessert.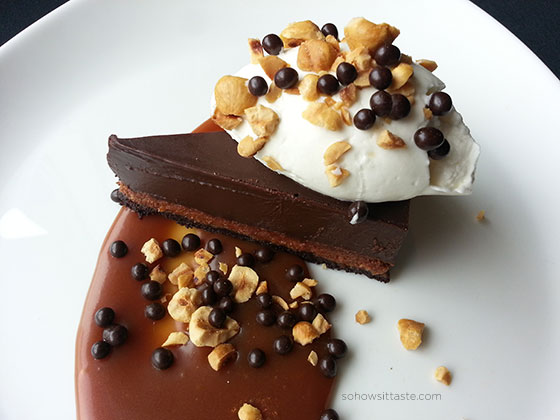 Now you know me. I had to have chocolate! I picked the Chocolate Hazelnut Crunch. It's a chocolate crumb crust, hazelnut milk chocolate crunch, dark chocolate ganache, cocoa nibs, caramel sauce, and whipped cream. Dark chocolate ganache was all I had to read and I was sold. This dessert is the most chocolatey, heavenly masterpiece I've ever had. The crunch is perfect with the smooth ganache and the caramel sauce is something spectacular all on its own. I was ready to pop, but there was no way I was letting this dessert go to waste. It's smooth and creamy, and full of chocolate. If you're a chocolate lover like I am, you will adore this slice of perfection. Get it to go if you're too full. You'll kick yourself later if you don't.
We both really enjoyed our lunch and I can't wait to go back!
Etch
303 Demonbreun Street
Nashville, TN 37201
(615) 522-0685
Hours:
Monday-Thursday: Lunch 11-2 Dinner 5-10 (bar opens at 4)
Friday: Lunch 11-2 Dinner 5-10:30 (bar opens at 4)
Saturday: Dinner 5-10:30 (bar opens at 4)
Sunday: closed