If you follow me on Twitter, or know me on Facebook, or in person, you've probably heard me talk about sushi…repeatedly…ad nauseam. I've blown it up with social media about my new found love for it. I'd written it off years ago after trying a few rolls and being completely repulsed by it. It tasted like fishy, dirty seaweed to me. That all changed thanks to Suzy Wong's House of Yum. A friend of mine convinced me to try their avocado maki and I had no idea there was other sushi out there that tasted as delicious. Enter PM, located at 2017 Belmont Boulevard. Another one of Arnold Myint's Nashville restaurants and this one has a long list of yummy sushi. I couldn't wait to try it out!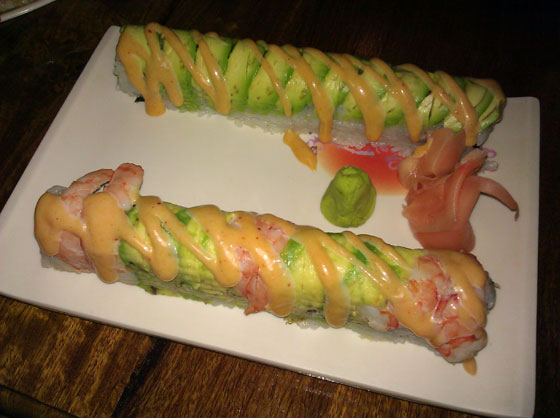 So, how's it taste?
PM has created a monster. I now completely understand when I hear people talk about getting their sushi fix. I never got how folks could crave it, but boy do I now! I have been to PM more times than I can count. I just can't get enough of it. The sushi is incredible and decently priced. Pictured above is the Florida roll on top and the San Francisco roll on the bottom. These two rolls are my absolute favorite and they are very similar. The Florida roll is crunchy shrimp inside, avocado and spicy mayo outside. The San Francisco is crunchy crab with avocado, shrimp, and spicy mayo on the outside. I love the contrast of the crunch with the creamy avocado. The spicy mayo is to die for!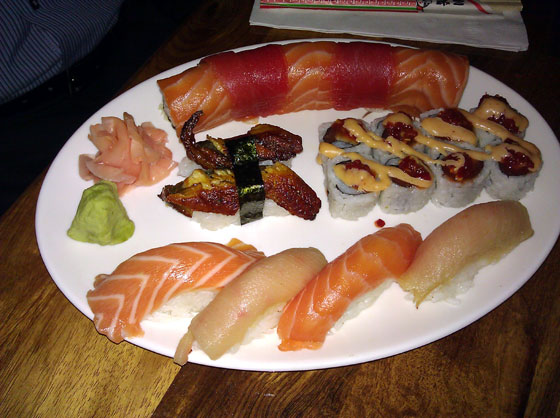 Next up is a Nigiri plate. I don't dig the raw stuff, unless it's tuna, but my friend really enjoyed his. Pictured above is a Spicy Tuna roll, yellowtail nigiri, and eel. I can't remember the other raw goodies. I gave the eel a try and it's not my cup of tea. The spicy tuna roll was really good though. It really packs a nice heat kick.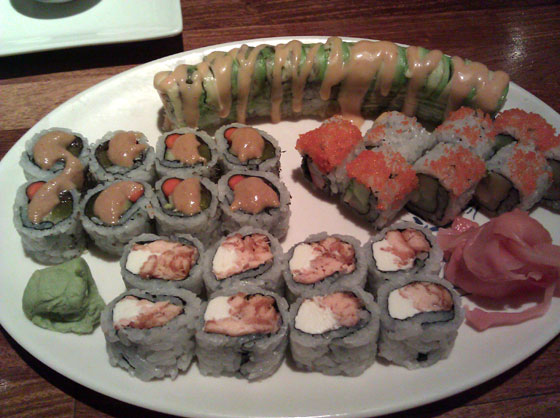 On another visit, we tried a variety of the rolls. Pictured above (starting at the top going clockwise) are the Florida (again because I love it!), California roll, Canada roll and the PM roll. The California roll is your basic roll I've learned. Crab, avocado, and cucumber. The crunch of the roll from the cucumber is fantastic and the flavor of cucumber lingers, which is quite refreshing. The Canada roll was a nice surprise. I'm a sucker for anything with cream cheese and this one has that and fried salmon. I'm not a salmon fan, but I really enjoyed it in this roll with the cream cheese. The PM roll is Thai basil, peanut sauce, pickled radish, daikon and vegetables. I liked the peanut sauce, but this roll didn't have a ton of flavor for me. It also has a veggie inside that is over-the-top crunchy. So crunchy that the texture really bothered me. I've never had daikon, so I'm not sure if that was it or something else. Not a bad roll, but I won't order it again.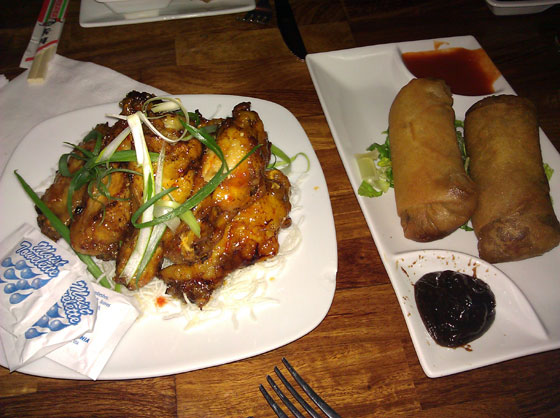 PM has a lot of other eats besides sushi. We tried the Singha Chicken Wings and the Peking Duck Spring Rolls. Both really good appetizers. The rolls had a perfect crunch without being too greasy.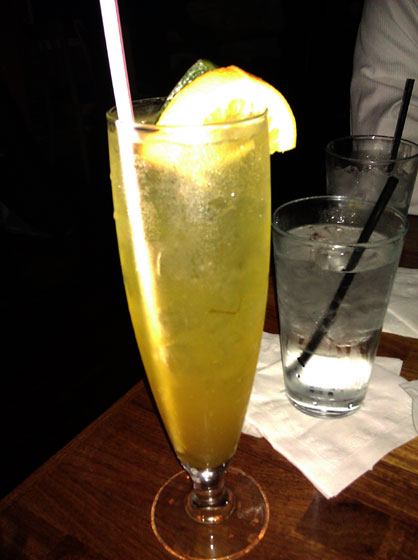 I also really like their White Sangria. Great drink with sushi!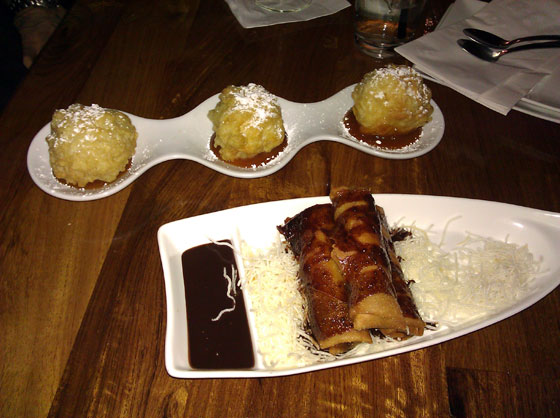 And they have desserts. If you somehow have room for them (or are like me and just keep on stuffing it in). I chose some pretty heavy desserts, but they also have lighter ones like sorbet on the menu. We picked the banana spring rolls and these fried doughnut bites with brownie inside. I thought I was going to explode! Both were really good, but very, very rich. The banana rolls were excellent, especially with the chocolate dipping sauce.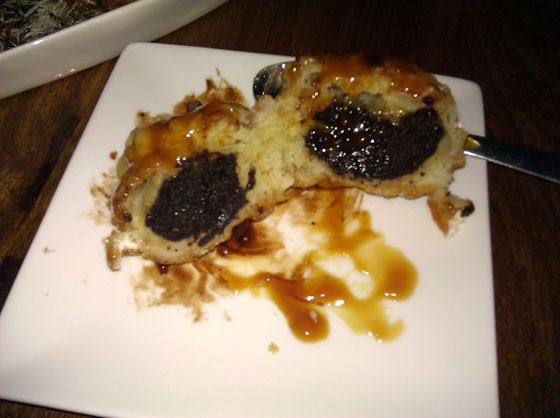 The brownie was good, but a bit much for me after the frying and the caramel sauce.  I enjoyed the desserts, but on subsequent visits I've pigged out so much on the sushi that dessert has been out of the question!